EDITOR'S NOTE: Longtime Baptist Messenger columnist Walker Moore passed away on June 26. The Messenger continues to honor Walker with publishing his columns from the archives. Ten years ago, Walker made an extraordinary achievement, carrying a large wooden cross to the top of Mount Kilimanjaro. The following is Walker's column from July 2013, a month before his trek.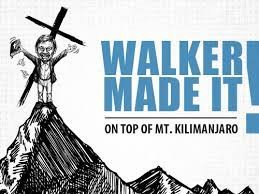 Lots of people think I'm crazy for attempting this feat. You don't know how many times along the way I've thought they were right. What would possess a man only months from his 62nd birthday to walk 42 miles in a 19,341-foot climb to the top of the highest mountain in Africa with a full-size cross on his shoulder?
The answer is simple. I'm trying to thank Jesus for allowing me 40 years of serving Him in ministry. How do you thank Jesus for such a fantastic journey? Simple. You carry a cross to the top of a mountain.
I haven't taken this climb lightly. Many of you have written, called and even visited to tell me you're concerned and planning to pray as I attempt this journey. I'm grateful and will need those prayers. But I've trained long and hard. In fact, preparation, prayers and thought have gone into every aspect of the trip, including the wood that makes up the cross.
That in itself is a story. Where should the wood come from? How should we turn it into a cross? I decided to cut the wood from the jungles of Panama where the Wounaan people live. Twelve feet high and six feet wide, the cross has been signed in many languages by village chiefs.
I've trained for this journey physically, mentally and spiritually. I've lost weight, reducing my waist size by six inches. I've tripled the strength in my legs. The week before I left on the trip, I got up early every morning and climbed the highest point of Panama City, Ancon Hill, a 5.2-mile journey. I don't think there is anything more I can do to get ready. It is time, as a friend of mine says, to quit petting the mule and load the wagon.
To be honest, I'm anxious. This climb is way out of my comfort zone. It seems like God is always calling me to do things I'm not comfortable with. He called me to preach when I was scared to speak in front of others. He called me to write when it's the thing I least enjoy. And He has called me to climb a huge mountain when I know nothing about mountain climbing.
God knows if I ministered out of my strength, I'd get a big head and take all the credit. He's a jealous God Who doesn't want to share His glory. To protect me from that, He's always called me to follow Him out of my weakness.
Isn't that just like God? I want you to know ahead of time that if I make it, He gets all the glory and credit. And if I don't? Nothing changes. He still gets all the glory.
Now, where's that mule? Onward and upward!