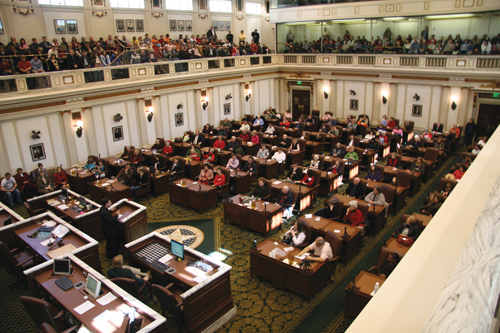 A record crowd that overflowed from the State House Chamber into the Senate Chamber took a stand for life Feb. 6 at the 17th annual Rose Day pro-life rally at the Oklahoma State Capitol.
"We were very pleased with another record-breaking crowd at Rose Day," said Heidi Wilburn, communications specialist for the Baptist General Convention of Oklahoma and Rose Day Committee chair, who also served as emcee for the event. "Year after year, we will continue to motivate and mobilize pro-life citizens for the cause."
Wilburn emphasized the importance for pro-life proponents to continue to make their presence known at the State Capitol.
"It is critical for our legislators to hear from their constituents. They are serving the people of their districts and need to hear where they stand," she stressed. "We all must be the voice for those who cannot speak for themselves."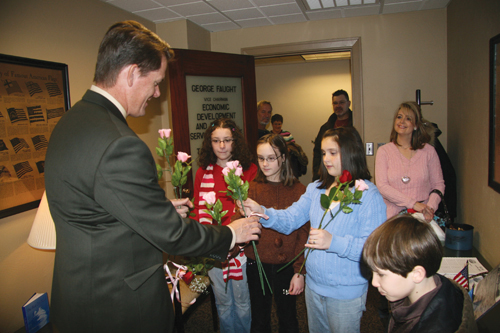 That was especially evident last year, Wilburn added.
"We believe Rose Day played a major role in the passage of significant pro-life legislation last year. Because of the response of the members of many denominations, we are anticipating another record-breaking year."
Frank Pavone, national director of Priests for Life and president of the National Pro-Life Religious Council, spoke to the standing-room-only throng pressed into the House Chamber and those listening in the Senate Chamber.
Touting the pro-life movement as "growing younger and across denominational lines," Pavone declared, "to say that one human being can kill another is to deny the human family has a God."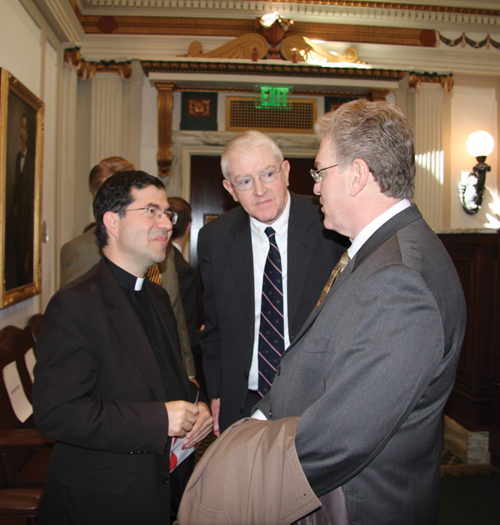 He opined that pro-choice activists no longer are concerned that current laws will be overturned, but that abortion providers will soon disappear.
"Did you know that in the last 12-14 years, over half of the free-standing abortion facilities in the United States have closed?" he shouted to loud applause.
"They haven't closed because court decisions were reversed. They closed because abortion on demand has never settled into the conscience of the American public and it never will . . . it doesn't fit!"
Pavone said believers are called by Jesus "to be actively involved in shaping public policy. He calls us to be actively involved in choosing our leaders, in selecting those among us who would be public servants, and He calls us to understand, and He calls them to understand that the first requirement of being in public service is to be able to tell the difference between serving the public and killing the public."
"What affects the baby affects the mother," he stressed. "You can't separate the two. You know, the difference between the two sides of this great struggle is not what the proponents of abortion want the public to believe. They want the public to think we stand for the fetus, and they stand for the woman. But, that's not the difference between the two sides. The real difference is they think you can separate the two, and we say you can't. The destiny of mother and child and inextricably linked . . . . You can't destroy one without destroying the other."
"Pavone was wonderful and very articulate in his pro-life message," Wilburn said. "We feel confident that those who attended left motivated to continue to fight the battle until we have won the war."
During Rose Day, participants were given a list of legislation to be introduced during the upcoming session, and asked to urge their Senator and Representative to support them.
Those bills are:
_ HB 3144 (Rep. Lisa Billy) and SB 1971 (Sen. Todd Lamb), providing a woman an ultrasound of her unborn child which she may view prior to undergoing an abortion.
_ HB 2814 (Rep. Dan Sullivan and Sen. Brian Crain), fostering respect for babies with disabilities by disallowing wrongful-life lawsuits that claim a baby would have been better off being aborted.
_ HB 3059 (Rep. Rebecca Hamilton and Sen. Jim Williamson), ensuring that a mother's consent to an abortion be truly voluntary and safeguarding against coerced abortions.
_ HB 2771 (Rep. Pam Peterson) and SB 1878 (Sen. Todd Lamb), protecting health care professionals' freedom of conscience by affirming their right to refuse to participate in the taking of a human life.
_ HB 2181 (Rep. Skye McNiel) and SB 1874 (Sen. Todd Lamb), regulating the use of the dangerous chemical abortion pill RU-486, which is used when the unborn child is about 2 months old.
During the rally, House members and Senators in attendance were introduced to the crowd.