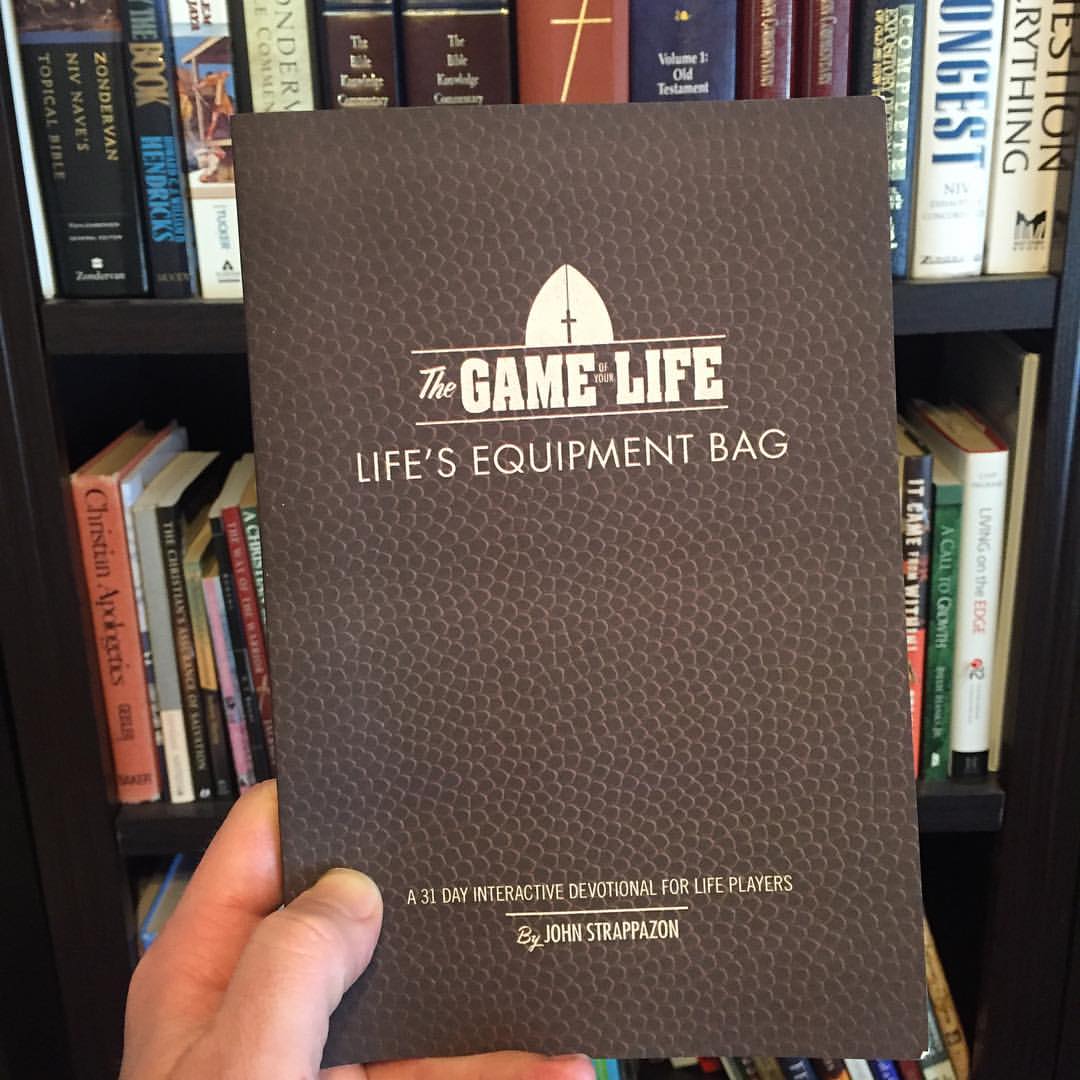 John Strappazon, a former college ministries specialist for the Baptist General Convention of Oklahoma, has written a book titled The Game of Your Life: Life's Equipment Bag. It features a 31-day devotional, and is the type of gift book that could be meaningful for a high school or college graduate. The Baptist Messenger met with Strappazon to ask him about his new book.
Baptist Messenger: Tell us about the book and how it came together?
John Strappazon: A lot of people are very interested in sports, and I feel like a lot of the truths of the Gospel can be correlated with sports. I got in to this several years ago when I became the volunteer chaplain of the Texas Tech Red Raiders football team. God opened a door for that, and when I left to come to Oklahoma, I didn't want to lose my influence in discipling these coaches. So I began to write what turned out to be for 10 years a one-page devotional because I knew average guys won't read much more than that. During the season I would write one every week and send it out to the coaches. For a long time people were talking to me about putting this together in a book. And so I picked out some very specific ones and put them together in a 31-day devotional study where a person could play their life in 31 days. I've got them broken down in chapters of pre-game, first quarter, second quarter, and so on, even overtime.
Messenger: What is it about sports that make it so relatable to life and ministry? What have you seen that makes it applicable?
Strappazon: There are so many things like how to deal with losing. Really, one of the things I've been surprised about is how to learn to be a good winner. Since in life there is a lot of adversity you face, you face that on the football field or the basketball court or the soccer field, you have to face adversity and learn how to press on. Life is very much like that and playing alongside other players. We all do that at work and at home. Some of us are calling the plays and others are running the plays, and it seems like it correlates really well. Even though our life continues to go on and on and on, sports has its period when it's over and you have to start over again. I wanted to bring these concepts to a person's life where Jesus said that we really can start all over again and begin to listen to Him. We run some plays that we call for ourselves and ignore the play call that He made and we can come back and get coaching from Him and begin to approach our life differently in a better way. It correlates really well.
Messenger: In one of your chapters you talk about turnovers. What is that about? How does that analogy play out?
Strappazon: Those are trials we face in our lives. We're trying to run a play with our life. We see things happening a certain way and something happens whether it's a mistake we've made or a sin we've committed or just something that happens in life. Bad things are just out there. Jesus said in this world we would have trouble, and we do. And how we deal with those turnovers—it's not an "if," it's a "when"—they are going to happen. When the field gets clipped on us; when we find ourselves moving the ball down the field in our life, and someone intercepts a pass; or we fumble the ball—what do we do then? Do we sit there and cry? Do we moan and groan? Or do we play the next play? One of the things I've learned as a chaplain to football players is that because there are so many twists and turns in football, you've got to learn to play the next play. You can't celebrate too long on good plays and you can't get down too long on turnovers. You have to get ready to go again. Life is lot like that.

Messenger: In another chapter, you mention the famous "5th down" that happened in the Colorado-Missouri football game, where the refs got it wrong. This idea where our conceptions of life should be fair, what were you thinking about with this football analogy?
Strappazon: We do have this preconceived idea that life should be fair. So many times, things happen to us that we have nothing to do with that things turn out not well for us. What I'm trying to do with this analogy is help people see that this preconceived idea of life being fair actually can work against us because it caused us to blame life or to blame other people, rather than just continue to trust God and do what's right and not get caught up with how life ought to be, but deal with life as it is.
Messenger: You have invested in so many people's lives through your ministry, through chaplaincy and your writings. This book has some really cool endorsements such as Baylor Head Football Coach Art Briles. Kirk Humphreys, former mayor of Oklahoma City, has endorsed it as well. How can people get their hands on this book? What's the best way?
Strappazon: Right now, the best way is to contact me through Facebook or at my personal email at johnstrappazon@gmail.com. I'm working on my own website, johnstrappazon.com. They will be able to buy it on there as well. I have one little outlet location in Fort Worth. Also, they can get it at the OU Bookstore in Norman, as well. Right now, it's just through me.