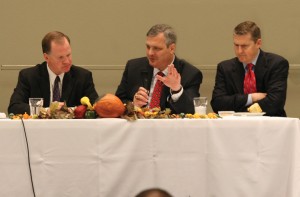 MOORE-Pastors were reminded by a variety of speakers during the State Pastors' Conference Nov. 12 at Moore, First that they stepped into "A Noble Task" when they accepted God's call on their lives to preach the Gospel.
Speakers included Danny Akin and Al Mohler, presidents of Southeastern and Southern seminaries respectively; state pastors Todd Fisher, Shawnee, Immanuel; Ted Kersh, Tulsa, South Tulsa and Tyson Wynn, Strang, First; and Ruffin Snow, Conover, N.C., Tri-City.
Also, longtime state pastors Bob Hammons, retired from Seminole, First; Bob Woods, retired from Muskogee, First, and Jery Fielder, interim pastor at Inola, First, gave testimonies about their ministries.
Kersh, speaking on "The Pastor and His Faithfulness to the Call," said his call to the ministry "is as fresh today as it was when I was called at the age of 17.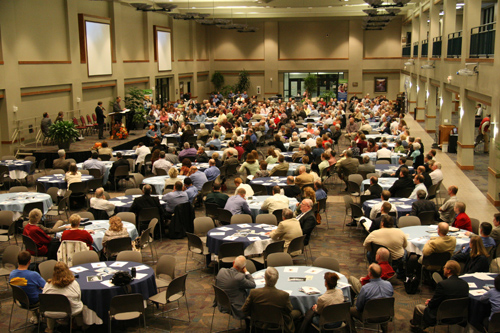 He recounted being called to preach and being told he would preach that night. His "12-minute" sermon led to 12 of his friends being saved, affirming his call from God.
"Preaching is a passion I live with every day," Kersh said, saying his constant prayer is, "Lord, don't let me finish this course and not be significant for You."
Kersh related three truths to those present: "My past will never determine my present; my relationships must be filled with purity; and my life's purpose will be to bring a smile to the face of God."
Akin, addressing "The Pastor and His Marriage and Family," referenced Song of Solomon Chapter 2 in cautioning pastors about "six little foxes" to watch out for. They include, gender confusion and abuse, intimacy stagnation, poor communication, time ill spent, outside interference and misunderstanding, he said, pointing out that despite the notions espoused in the famous book, "Men are not from Mars and women are not from Venus."
Akin said a big danger in a pastor's relationship with his wife is abuse. "Gentlemen, God has not called us to be knuckle-dragging Neanderthals," he stressed.
He also strongly cautioned about time ill spent, revealing that he placed priority on time spent with his sons as they were growing up and, as a result, all four went into the ministry as adults.
"Don't turn your ministry into an idol," he pleaded, then turning to the subject of adultery, which leads to disaster. "The wrong person and the wrong place and the wrong time will always equal the wrong thing happening," he said.
Wynn, a bivocational pastor, spoke on "The Pastor and His Integrity."
"Integrity means for us to be whole and complete," he said, and to do so, pastors must focus on three areas of faithfulness: being faithful to the Word of God, being faithful to his word, or being truthful at all times, and being faithful to the work he has been called to do.
"Being a pastor is a big task," Wynn said. "We have to be above reproach; God despises dishonest scales. We have to be faithful to the work He has called us to do above everything else."
Fisher, speaking on "The Pastor as Shepherd," told pastors they need to shepherd with humility, practice self-denial, and shepherd with empathy so they can relate and identify with their people.
"It troubles me the sense of entitlement most young pastors have today," he said. "We have to roll up our sleeves and go to work."
He urged pastors to preach biblical doctrine and to protect their flocks by becoming culturally aware.
"We have to educate our flock about issues such as books and movies which deceive our children," he said, referring to the movie "The Golden Compass," which will be released in theaters Dec. 7.
Mohler's assignment was "The Pastor and the Word." He addressed four aspects of the ministry-stewardship, preaching, the task and empowerment.
"We are stewards of the mysteries of God. The ministry is entrusted to us; we didn't volunteer for this, Mohler said, adding that "we may do more than preaching, but we may never do less than that. Preach the Word in season and out of season!"
Mohler bemoaned the fact that "there is not much admonishing going on in our churches today, reminding pastors that they are not going to know the result of their efforts "until you present them complete before Jesus."
He said pastors need to help their congregations "understand how much we labor when we labor in the study on our knees, striving according to His power which works mightily in us."
Snow spoke on "The Pastor as Evangelist." He said "we need encouragement to preach evangelism and to share our personal experiences. All we have to do to kill evangelism is for leadership to stop telling about our experiences of attempting to share the Gospel because the enemy of our souls tells people that we don't share, but only tell them to share," he stressed.
In addition to the speakers, pastors were treated to lunch , sponsored by the Ba[ptist Foundation of Oklahoma, during which the speakers participated in a question-and-answer session about various aspects of the ministry. The session was moderated by Brett Selby, BGCO leadership development specialist.
Elected officers for the Pastors' Conference for 2008 were Hance Dilbeck, pastor of Oklahoma City, Quail Springs, president; Rusty Fuller, pastor of Ada, Trinity, president-elect; and Tommy Clark, pastor of Seminole, First, second vice president.