EDITOR'S NOTE: As the Christmas/Advent season is in full bloom, BaptistMessenger.com is sharing this article series by Keith Getty to help readers learn more about the great carols that are being sung this time of year. From Dec. 2 through Dec. 12, an article will be published each day. The Baptist Messenger hopes this series will enrich the holiday season for you, as you celebrate the birth of our Lord and Savior Jesus Christ. 
This is one of my favorite carols. It's the one that makes me think of home, of Ireland, the most. It was written in the 19th century by Irish poet Cecil Francis Alexander, wife of Bishop William Alexander who, in 1896, became Primate of all Ireland.
While many of Ireland's poets and play writers promoted anything but Christianity, there is a wonderful legacy of Irish hymn writers, like Cecil Francis, who taught profound biblical truths through their poems, songs and hymns. Cecil Frances is one of my song-writing heroes!
She was deeply troubled by the shallowness of the songs the children were singing in the Sunday Schools; she believed that, if they continued to sing songs without any scriptural truth or depth, their faith would not last them into adulthood. And I believe our generation is proving this out. So, Cecil Francis took the Apostles' Creed and used its central theological truths to form the basis of a number of her hymns—so that children had the opportunity to hear, memorize and absorb every basic Christian doctrine.
All things Bright and Beautiful, perhaps her best-known hymn, takes the first two lines of the Apostles' Creed—I believe in God, the Father Almighty, Creator of heaven and earth—and creates a wonderfully evocative and memorable song which has taught children for generations about a loving God who created the whole world.
Then, in the hymn There is a Green Hill Far Away, Cecil Francis expounds the saving work of Jesus on the cross: outside a city wall / where our dear Lord was crucified / who died to save us all.
And to explain the incarnation to children, to embed doctrine from the Apostles' Creed in their hearts and minds—I believe in Jesus Christ/ his only Son, our Lord /who was conceived by the Holy Spirit / born of the Virgin Mary—Cecil Francis wrote Once in Royal David's City. It elicits a simple way for children to remember that Jesus, although divine, had once been a child just like them:
He came down to earth from heaven,
Who is God and Lord of all…
For He is our childhood's pattern,
Day by day like us He grew,
He was little, weak and helpless,
Tears and smiles like us He knew,
This hymn remains such a wonderful introduction for children to Christian doctrine; it's one of the reasons why the song always opens the Kings College Carol service each year and why it's sung by one of the youngest choristers.
Christmas is the celebration of the incarnation, but Cecil Francis recognizes the need to frame Jesus' birth in the light of eternity.
And our eyes at last shall see Him,
Through His own redeeming love;
For that child so dear and gentle,
Is our Lord in heaven above…
Not in that poor lowly stable,
With the oxen standing by,
We shall see Him, but in heaven
Set at God's right hand on high
In most of her hymns, Cecil Francis points to God's eternal plans and the hope of heaven and the life to come. She directs our eyes heavenward. Her words remind us to weigh up our actions in the light of eternity: what are we doing now that will still have value when Jesus returns?
In fact, 75 percent of the old hymns and 75 percent of the Psalms, as well as a high proportion of Christ's teachings and Paul's letters, talk about eternity. It's interesting to compare this to contemporary worship songs—less than five percent ever mention anything to do with eternity, heaven, hell or God's final judgement. Yet so many Christmas carols talk not only about Christ's birth but also his return to earth—they give us a full, 360-degree view of the gospel and this is sometimes something that is missing from our church services today.
Christmas is a wonderful opportunity to not only look back and celebrate that God became a helpless baby, but also to look forward to the time when all the earth will bow down and worship Him as King.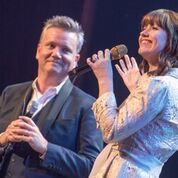 To get tickets for Sing! An Irish Christmas tour head over to: https://www.gettymusic.com/christmas