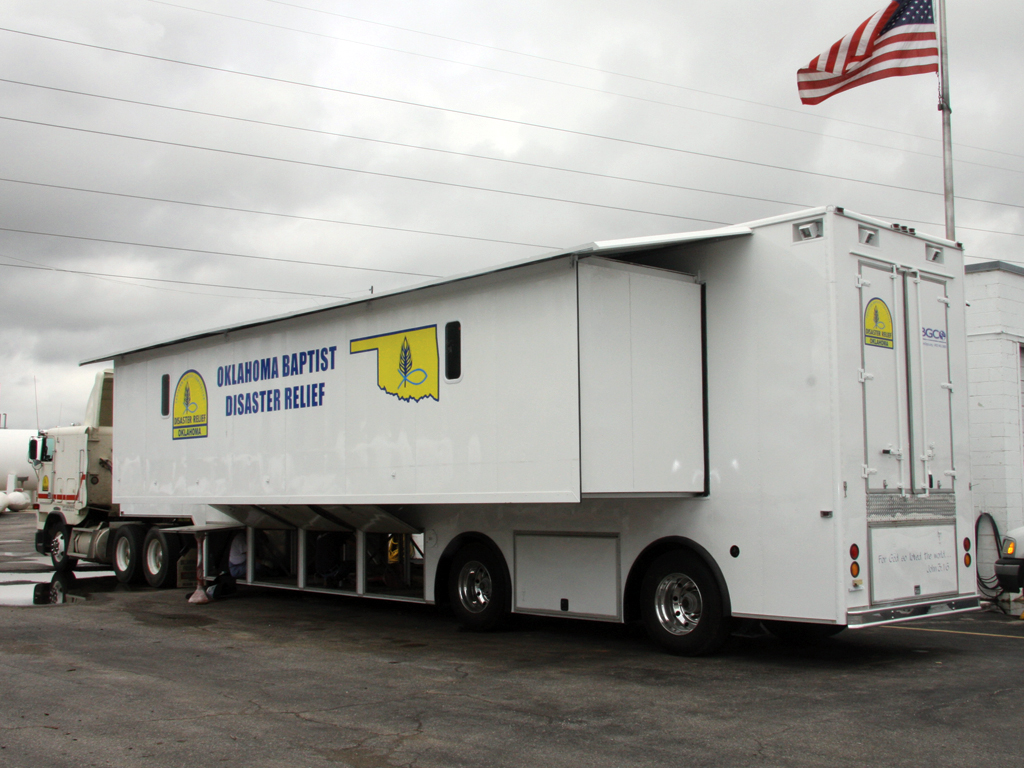 Oklahoma Baptists will send their new disaster relief feeding unit to Denver to help feed security people covering the Democratic National Convention Aug. 25-28.
Sam Porter, Baptist General Convention of Oklahoma disaster relief director, said he was contacted by Charlie Brown, disaster relief director for Colorado Baptists, last November about helping in the effort.
"Colorado Baptists have turned this into an opportunity to do evangelism and outreach," said Porter. "However, they cannot handle the massive amount of food it will take to feed these people."
Porter said there will be hot meals available 24 hours a day for security officers, and it is expected about 8,000 meals a day will be served.
"The Colorado convention has things well organized," emphasized Porter. "We're mainly going to support them because they don't have enough equipment to pull off what needs to be done."
Porter added that there is concern there may be a riot or terrorism event connected with the convention.
"Some people have said they want to reenact the riot over the Vietnam war at the 1968 convention in California," said Porter. "Initially there were supposed to be 100,000 people involved, but with high gas prices, that number has been reduced to 50,000."
Also, Porter said, security has been beefed up because the Democratic presidential nominee, Barack Obama, has decided to have his victory rally at Mile High Stadium instead of the convention center.
"All of a sudden, they go from a secure location with 20,000 people to a stadium that holds 70,000 with no cover," Porter said. "Because of that, they have ramped up security, which means there are more people to feed."
Colorado Baptists plan to saturate the city much like Oklahoma Baptists did with ACROSS Oklahoma, using the opportunity to touch people's lives with the Gospel.
In addition to the disaster relief effort, the Mile High Association is sponsoring a "Love Denver" event, composed of food and respite for first responders during the convention and intentional evangelism on the streets.
A spokesperson for the Colorado Convention said large events take their toll on police, fire and emergency workers, and this will give them an opportunity to relax in a comfortable atmosphere away from the crowds, have a hot meal that doesn't come from a cardboard box or wrapped in recycled paper and see the love of Jesus played out in real and relevant ways.
The event also presents an unprecedented opportunity to share Christ with large numbers as hundreds of people move into the area all at once.
Porter said some may see the effort of the Oklahoma unit as political, but while "we are there because of the Democratic National Convention, we're not going to have anything to do with it."
"We're supporting those who are guarding those at the convention," he pointed out.
Porter noted that Oklahoma Baptists have sent chaplains to places like the Sturgis Motorcycle Rally in South Dakota and to Mardi Gras in New Orleans.
"We go where we can be salt and light and win people to the Lord," said Porter. "That's what our situation is at this convention."
Porter said this is the maiden voyage for the new feeding unit which can prepare 20,000 meals day.
"We are looking at this as a good trial run, working the kinks out without pressure, unless, of course, some major event occurs while we're there," he said.
No disaster relief funds will be used for the venture. Support will come from the North American Mission Board, Colorado Baptist General Convention, Mile High Association, local churches and governmental funds set up for the event.
"Our only expense will be our fuel to get there, which should be expected," said Porter. "But otherwise, we are offering our volunteers and their vast experience to assist Colorado Baptists."
Porter said about 20 disaster relief volunteers will be going to Denver, leaving Aug. 22.
"Federal security will start locking down the city of Denver on Saturday, going through every building, every manhole," said Porter. "We'll be there to help take care of them when they start their business."
The Oklahoma feeding unit will be set up at a warehouse next door to Mile High Association, outside the "hot zone." From there, meals will be taken to designated feeding areas across the city.
"The main feeding place will be at Riverside Church, with strategically situated feeding places in different areas," said Porter. "That way, if something bad happens, it doesn't shut down everything we have. It's much like a military operation."
Porter added that the city of Denver is being proactive and wants to do the best it can to take care of the security people coming in.
"Love Denver" is a ministry evangelism event that hopefully will have an impact on world politics, and the global impressions of America will be impacted by the presence of praying servants giving a caring hand to those who serve and care about our country and city, a Colorado Convention spokesperson said.
Porter said he has learned Minnesota Baptists' disaster relief group is doing the same thing during the Republican National Convention, which convenes Sept. 1-4 in Minneapolis-St. Paul.
"Adjoining states' disaster relief teams are on alert in case of a riot or terrorist event there," he said. "This just shows that national government leaders and agencies recognize Southern Baptists are ready to respond when needed."