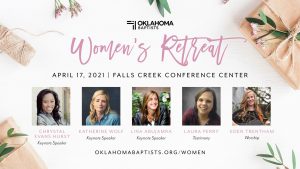 DAVIS—After a year of canceled or online events, Oklahoma Baptist Women are excited to gather in multiple formats for the annual Oklahoma Baptists' Women's Retreat. A condensed schedule for the one-day event on April 17 offers multiple options to attend.
With safety protocols in place, women have the opportunity to gather in person at the Falls Creek Conference Centers or online. Many churches across the state have opted to host the event by gathering in their community.
The theme of the 2021 Oklahoma Baptists Women's Retreat will be "Gifts," and is based on 2 Cor. 9:15, "Thanks be to God for His indescribable gift!" Those attending may consider the experience a gift, as Amy Cordova describes why the annual event at Falls Creek Conference Centers is something women cherish.
"One of the best parts of attending Women's Retreat is the fellowship women experience with the ladies from their church," said Cordova who serves as missions and women's ministry partner for Oklahoma Baptists. "With hundreds of women choosing to gather online or remotely, we have provided a platform for women to still connect with others from across the state. No matter how women choose to attend, there will be great opportunities for women to make memories but also learn from the Word and worship together."
The lineup of keynote speakers includes a couple of favorites from previous retreats.
Katherine Wolf is an impactful communicator and author who last spoke at the 2018 Women's Retreat. After suffering from a catastrophic stroke that nearly ended her life, Wolf miraculously survived and continues her recovery to this day.
"Katherine's newest book is called 'Suffer Strong: How to Survive Anything by Redefining Everything,'" Cordova said. "It's a fantastic book; it's an invitation to trust a known God with an unknown future. Katherine's life is an inspiration and testimony to our hope found in Jesus."
Another Women's Retreat favorite speaker is Lina Abujamra who is a pediatric ER doctor and author. This will be Abujamra's fourth appearance at Women's Retreat.
"Oklahoma loves Lina, and she loves Falls Creek," Cordova said. "For those who have been to women's retreat before, they know Lina loves her fried pies and driving around in a golf cart. She gets a lot of laughs. Her passion for women to know Christ is evident on and off the stage."
Chrystal Evans Hurst will be making her first appearance as a keynote speaker at Women's Retreat.  Being the eldest child of Tony and Lois Evans, Chrystal has been surrounded by the Word of God her entire life. Chrystal is a gifted writer, speaker and worship leader. Her passion is to encourage other women in fulfilling their full potential in Christ.
Laura Perry will be making her first appearance at Women's Retreat, but she is well-known among Oklahoma Baptists. Her story was first told through the Baptist Messenger with an article titled "Transgendered to Transformed," which is the same title as her autobiography.
Perry lived as a transgender male for nine years before making a profession of faith in Christ. She has been redeemed back to her God-given female identity and now ministers to those struggling with their sexual identity.
"As Oklahoma Baptists, we talk about embracing brokenness as an opportunity to advance the Gospel," Cordova said. "When we see our family members and friends broken, we know that only the Gospel can heal their broken hearts. Laura is a testimony of that."
Leading worship through music at the Women's Retreat will be Eden Trentham who serves at Jenks, First with her husband Brandon who is the student pastor.
In addition to the main stage, women attending through the Deluxe Digital Pass will have access until the end of the year to more than 25 sessions on topics including missions, spiritual gifts, mental health and more. Gifted speakers across Oklahoma and beyond will provide valuable content to Oklahoma women.
The offering taken at Women's Retreat will be for 111Project, an organization that exists to mobilize the local church so that no child is without a family. In every community, there are children and families at a point of crisis who need help. In those same communities, there are churches and people who care that want to take action, but they need a connection point. 111Project provides an amazing tool through CarePortal that helps churches connect with those in their community.
The deadline to register for Women's Retreat is Thursday, April 1. Registration to attend at Falls Creek for adults is $65, and for students ages 14-17, the cost is $50. Digital Pass registration include $25 and $50 options. To register or to learn about your church hosting this event, visit oklahomabaptists.org/women/retreat.
"In 2019, we had more than 400 churches involved," Cordova said. "We get to gather with churches from all over the state and come together to worship Jesus. It's the most beautiful thing to experience."