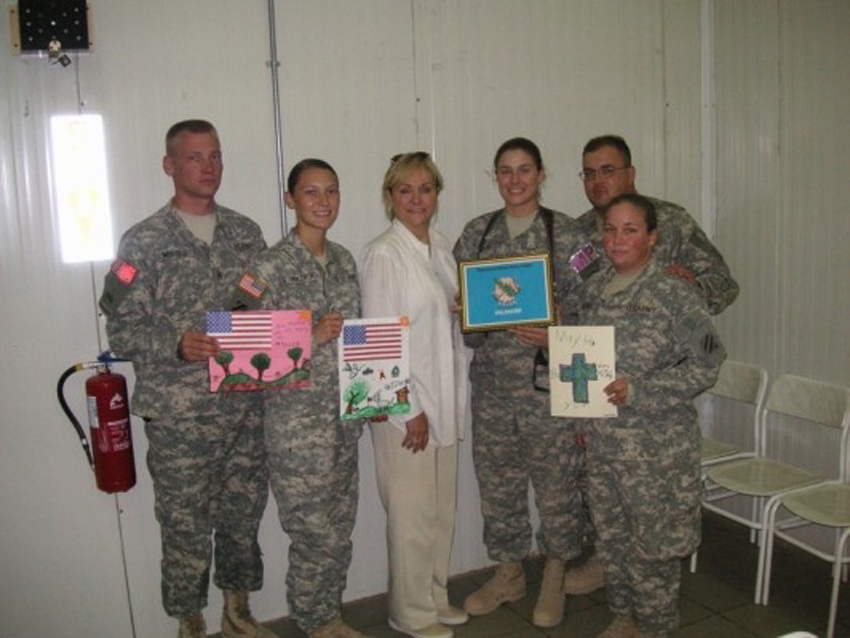 Before her recent trip to Iraq, Congresswoman Mary Fallin asked a general who worked for the Pentagon what she could bring to the troops. He answered that what the soldiers needed, more than toothbrushes or cookies, was prayer.
Congresswoman Fallin then turned to the Baptist General Convention of Oklahoma as a resource. Members of the BGCO worked diligently to gather as many letters as possible within the week. Cards were printed and sent to Falls Creek Baptist Conference Center for youth to write words of encouragement and send prayers. The directors of missions in Fallin's Congressional District also were contacted and asked to have churches write notes and letters.
"I don't know how to put it more elaborately or simple," wrote Katie, an attendee at Falls Creek. "You are more than a hero or a role model."
Chris' message to the soldiers was, "I just want to say thank you for protecting us. My cousin is in the Army, and I love all of you guys for your service."
The sincere and heartfelt notes from Oklahoma Baptist youth were exactly what Congresswoman Fallin was excited to take to the homesick troops.
By the time Fallin stepped onto the plane, she had more than 4,000 notes of encouragement from Oklahoma Baptists. The cards were delivered to soldiers injured in Iraq and among Oklahoma soldiers in Baghdad.
"It was a whirlwind trip," said Fallin in an interview for "Messenger Radio." While in Iraq, Fallin participated in many meetings with generals, government leaders, civilians and soldiers. She said she wanted to see first hand the truth of the situation. Fallin said she felt it was important to have an accurate picture of the war as she would be making decisions in Congress that would strongly affect the people involved in the conflict.
"I was encouraged to see their spirits be very high," she said in regard to the troops she conversed with. She said she was pleasantly surprised by the progress being made. Fallin said most people involved in Iraq seem to be optimistic, but there is still a lot of work to be done.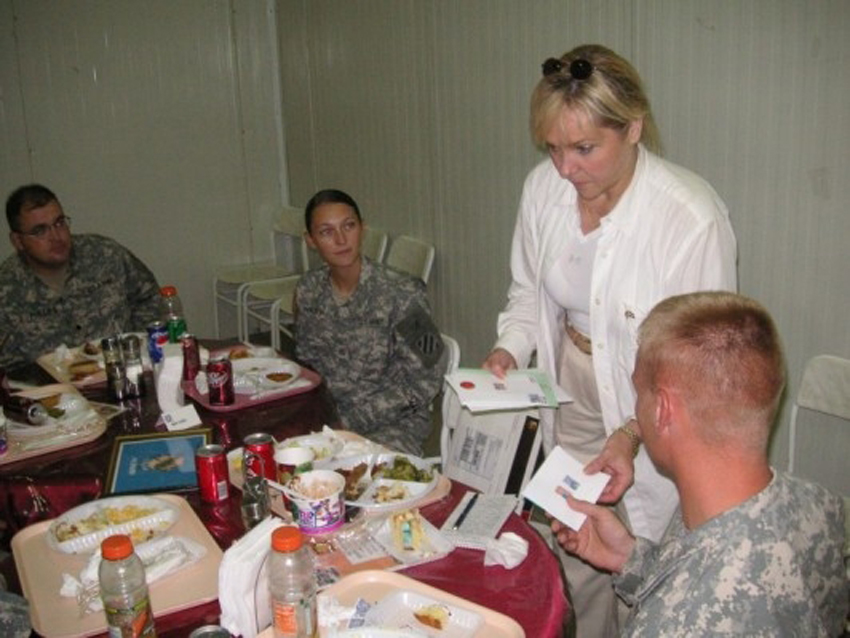 During her security briefings before her trip to Iraq, Fallin was warned that she would be entering a war zone and should practice caution. The congresswoman had many experiences that reconfirmed this fact. During her flight, Fallin wore a combat vest and hat. On her first night in Baghdad, she stayed in a trailer behind one of Sadam Hussein's palaces. When escorted to the trailer, she was told to hide under her bed if she heard sirens. Perhaps the most unnerving experience was when she was flying in a helicopter in the more than 130-degree-Farenheit heat. A missile was launched from the aircraft she was on as a warning signal to the area.
"I think I let out a little yelp," admitted Fallin.
The congresswoman said that despite the circumstances, she felt a sense of calmness upon arriving in Baghdad. She attributed this to being a woman of faith and trusting the plans God has for her life.
A graduate of Oklahoma Baptist University and Oklahoma State University, Fallin has served as an elected official since 1990. She was the first woman and Republican Lt. Governor for the state of Oklahoma. She currently serves as an Oklahoma Congresswoman for the 5th district.
To listen to a recent radio interview with Congresswoman Fallin about her trip to Iraq, visit www.MessengerRadio.com.