Oklahoma Baptist Disaster Relief (DR) is responding to a call for help from Louisiana in the aftermath of Hurricane Laura, according to Don Williams, Oklahoma Baptists' DR state director .
"We have been in close conversations with leaders coordinating the disaster response," Williams said. "Oklahoma Baptists have been called on to help, and we will answer that call."
Oklahoma's trained DR volunteers are being assigned to Lake Charles, La., Moss Bluff, which is "one of the hardest hit areas by Hurricane Laura."
According to reports, "the area currently has no running water or power." Williams said, "We are bringing our large generator to bring light to the church, which seems so fitting. We have a partnership with Red Cross and will be feeding those impacted. We will begin recovery work once our team members arrive."
Williams asked Oklahoma Baptists to pray for the volunteer force to "do the work safely and connect people to Jesus and connect them to the local church."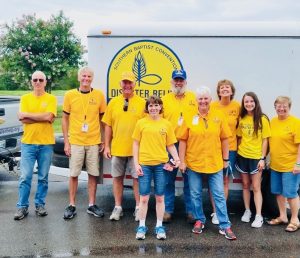 For DR updates or to donate to Oklahoma Baptist DR, visit www.okdisasterhelp.org.