From feeding efforts to offering overnight shelter to serving as warming stations, Oklahoma Baptist churches across the state have responded to their neighbors in need after February's devastating snow and sub-freezing temperatures took their toll on families and communities.
Anadarko, Bethel offered a multi-day soup kitchen, starting Feb. 13, along with overnight sheltering for the homeless and other vulnerable people in the community. Other churches and groups assisted in the efforts, which led to at least recorded one profession of faith.
"We have served dozens of meals and ministered to people. We have shared Gospel literature with people," said Duncan Blackwell, pastor of Anadarko, Bethel.  "The church and community are so engaged in this effort. I'm amazed and thankful for everyone who has helped. There was no way we could have planned for this. God has provided at every turn."
Pastor Brock Hardin, of Heavener, First, and others from the church delivered food to more than 100 families in need on Feb. 17, after the harsh winter storm affected people in the community. Oklahoma Baptist churches across the state have offered a helping hand, all in the Name of Jesus, in their communities after February's record snow and freezing temperatures led to vast needs.
"It is encouraging to see people turn to the church in their time of great need," Hardin said.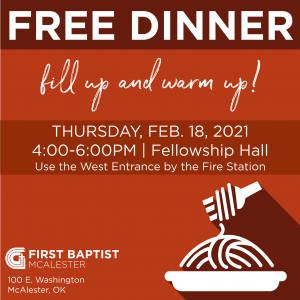 McAlester, First is offering a meal for any in the community on Feb. 17 at the church. Other churches, such as Chelsea, First, continued its food and milk service efforts that were previously offered, in spite of the challenging weather conditions. Still other churches, such as Coalgate, First, have opened their doors as warming stations or for other needs.
Even while Oklahoma Baptist pastors and churches deal with their own issues from the storms—such as power outages or frozen and broken pipes—they have sought to minister outside the walls of the church.
"I am so grateful for how Oklahoma Baptists are embracing brokenness as an opportunity for the Gospel," said Hance Dilbeck, executive director-treasurer for Oklahoma Baptists. "I'm thankful that our pastors and churches have stepped up to meet needs at this devastating time and how the light of Jesus is shining even more brightly amid the challenges."
To share photos or stories of how your church is serving, email the Baptist Messenger staff at baptistmessenger@oklahomabaptists.org.