On Thursday, Feb. 6, members of the Oklahoma State House of Representatives approved House Bill 1182, a bill that would direct the Oklahoma Board of Medical Licensure and Supervision to revoke the license of a medical doctor who performs an abortion in Oklahoma, for a period of one year.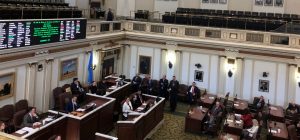 Seventy-one members of the House voted to approve the measure, which was authored by State Rep. Jim Olsen and numerous other co-sponsors. Twenty-one voted against the bill.
Rep. Olsen said, "In supporting this, we (are) thinking about the value of the life of the mother and equally the life of the baby."
The bill makes an exception for saving a mother's life, such as an ectopic pregnancy. During floor debate, it was noted that there are currently 10 licensed doctors in the state who perform abortions.
Affirming the lawmakers who approved the measure, Blake Gideon, senior pastor of Edmond, First, said, "This bill holds doctors to their Hippocratic Oath to 'do no harm.' Oklahoma Baptists have stated in the strongest possible terms our unwavering commitment to the unborn and desire to see the end of legalized abortion in Oklahoma. This bill does away with abortion at its very root, calling to account those who would perform and provide abortion."
Gideon, who is serving his second one-year term as convention president, established the Oklahoma Baptists' Pro-Life Task Force last year.
HB 1182 has drawn support from various organizations, including Oklahoma Faith Leaders, the Catholic Conference of Oklahoma and leaders with Oklahoma Assemblies of God.
The measure now moves to the purview of the Oklahoma State Senate.