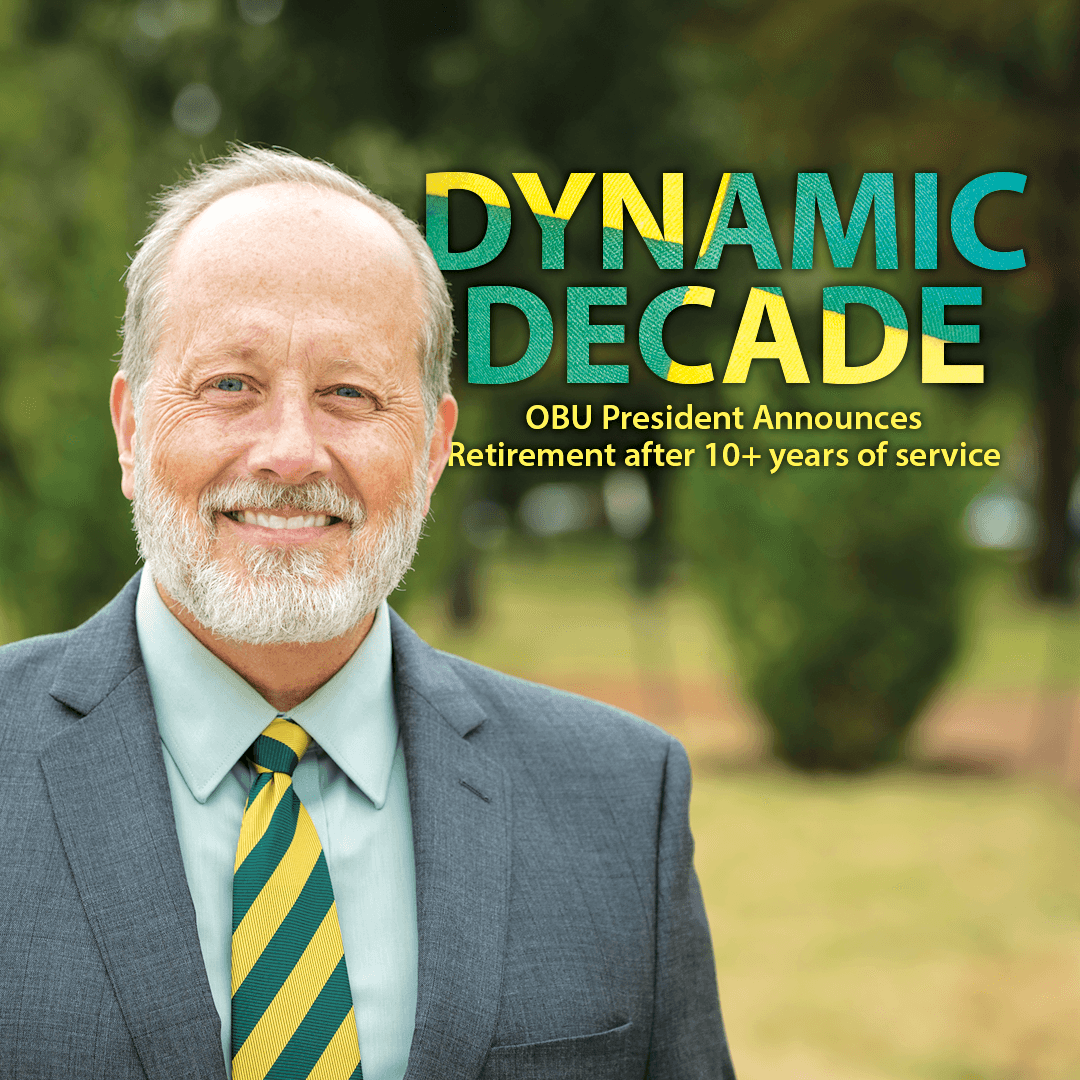 SHAWNEE—After more than 10 years of service, Oklahoma Baptist University President Dr. David W. Whitlock has announced his retirement from the University. Whitlock will step out of his role as president Jan. 8 and serve the remainder of the academic year as chancellor, assisting the OBU Board of Trustees with a smooth and efficient transition of the presidency. He will retire from University employment effective May 31, 2019.
"As my 10th anniversary as OBU president approached, my 36th year of full-time work in higher education, Dana and I began to visit and pray in earnest about the right timing for retirement from OBU," Whitlock said. "With the 'OBU 2020' strategic plan wrapping up this academic year, the planning for a new five-year strategic plan to be written this next year, and many other factors including primarily our sense of God's calling, we believe that now is the time for my retirement from Oklahoma Baptist University.
"My purpose in life is to glorify God by inspiring and empowering others to lead lives of consequence, love and laughter. Serving as president of OBU has allowed me to exercise my gifts and calling in a most fulfilling manner for which I am eternally grateful. What God has done during my tenure here has been extremely gratifying and this season of service has been a privilege. Becoming part of the 'OBU Story' has been the honor of a lifetime. To write of my deep appreciation for OBU and its students, faculty, staff, its trustees, alumni and donors, and the Baptist churches that own and govern her would fill a book. I am most blessed and remain at the ready to serve OBU and her mission in whatever other platform God allows me to minister."
In his new role as chancellor, Whitlock will continue fundraising efforts, serve as OBU's representative/board member for the Consortium for Global Education, participate in missions opportunity development, and perform other duties as requested by the board or interim president.
As OBU's third-longest tenured president, Whitlock led efforts resulting in a 20 percent growth in enrollment; construction of six new buildings on campus; significant renovations of multiple locations on campus including academic areas, residence halls, and student and spiritual life facilities; a variety of campus beautification projects; expanded undergraduate and graduate programs; the Vision for a New Century Capital Campaign which raised $52.3 million; and the transition of OBU's athletics programs from NAIA to NCAA Division II.
"On behalf of the Board of Trustees, I want to thank Dr. Whitlock for his commitment and service to the University over the last 10 years," said Stephen Allen, chair of OBU's Board of Trustees. "The many significant accomplishments achieved under his guidance and leadership are a testament to his dedication to the mission and purpose of Oklahoma Baptist University."
Whitlock was named OBU's 15th president in October 2008 and assumed the presidency Nov. 1, 2008. Prior to his service at OBU, Whitlock worked for two years in student life/auxiliary services and then taught for 14 years at Southeastern Oklahoma State University. In 1999, he joined Southwest Baptist University in Bolivar, Missouri, where he served as a professor of business, associate provost, dean of the College of Business and Computer Science, and dean of SBU's adult and off-campus programs. He completed a bachelor's degree in chemistry from Southeastern in 1984, a master's degree in business administration from Southeastern in 1985, and a doctorate in educational leadership and policy studies from the University of Oklahoma in 1995. He was licensed to preach in 1993 and served in bi-vocational pastorate roles in Missouri and Oklahoma.
"Dr. Whitlock and Dana have poured a decade of their lives into Oklahoma Baptist University," said Dr. Hance Dilbeck, executive director-treasurer of the Baptist General Convention of Oklahoma. "On behalf of Oklahoma Baptists, I express deep gratitude for their leadership. We pray for God's grace and peace in this transition to the next chapter of their Kingdom service."
Dr. Will Smallwood, senior vice president for advancement and university relations, will serve as acting president while the OBU Board of Trustees forms a committee to begin the presidential search process.
Additional highlights from Whitlock's tenure at OBU include:
Construction of three new apartment buildings in the Village Apartments, designed to accommodate 230 students, was completed in August 2013 and August 2014.
The Lodge was opened in August 2015 and provides housing for 160 students in suite-style accommodations.
The 32,000-square-foot home for the College of Nursing was completed in January 2016 and dedicated as Jane E. and Nick K. Stavros Hall.
The Mathena Center for Sports Medicine was added in fall 2014 thanks to a gift from the Mathena family.
Completely repurposed and remodeled, Ford Hall reopened in Spring 2018 with new furnishings, modernized practice rooms, a recording studio, an art and animation lab, and Steinway-designed Boston pianos among other features.
Shawnee Hall underwent extensive cleaning and renovation of the exterior during the summer of 2015 ahead of its centennial celebration. Two main classrooms were also remodeled and updated with state-of-the-art technology.
Montgomery Hall's second floor was remodeled to house the Hobbs College of Theology and Ministry faculty and was dedicated in May 2012.
A gift from Sara Lou and Bob Cargill provided the funding to renovate the president's house into offices, meeting rooms and gathering spaces for alumni and friends. The offices of alumni and advancement moved to the Cargill Advancement and Alumni Center in May 2014.
Agee Residence Center was renovated in phases during 2012, 2015 and 2018.
A former restaurant located close to campus was purchased and remodeled into the Kemp Marriage and Family Therapy Clinic thanks to a grant from the Avedis Foundation and a major endowment from alumni Dr. Ronald and Mrs. Lou Kemp.
Through a new partnership with food service vendor, Chartwells, the first floor of the Geiger Center was renovated and a new grill, Chick-fil-a and coffee shop were added. On the second floor, the entire cafeteria and kitchen area were expanded and remodeled.
The first floor of the Geiger Center was renovated in the summer of 2018 to house a new combined area for Student Life and Spiritual Life. The family of Dick and Sue Rader provided the lead gift for this renovation and the Women of Vision provided a donation for the Women of Vision Spiritual Life Center.
A building close to campus was acquired and remodeled in 2013 to use as the Science Annex for the Wood Science Building.
Three life-sized Bison sculptures were placed on the northeast corner of campus at the intersection of Kickapoo and MacArthur. The work is named "Virtus," meaning valor, excellence, character, courage and worth.
OBU has been awarded a level I accreditation by the ArbNet Arboretum Accreditation Program and The Morton Arboretum, for achieving particular standards of professional practices deemed important for arboreta and botanic gardens.
The Higher Learning Commission (HLC) reaffirmed OBU's status as an accredited institution of higher learning through 2027.
Two new online Master of Arts degrees in Christian Studies and Intercultural Studies were launched.
The Master of Science in Nursing moved to a fully online program and an RN to MSN program was added.
The Master of Science in Marriage and Family Therapy program began along with a certificate in Medical Family Therapy.
The Master of Business Administration became available fully online and a new on-campus program in Shawnee will begin fall 2019.
The Vision for a New Century Capital Campaign met and exceeded the goal of $42 million, raising $52.3 million.
Endowments for scholarship have increased by $20.8 million and University funded student scholarships increased from $8.3 million to $28.9 million.
Athletics successfully transitioned from NAIA to full membership in NCAA DII and the Great American Conference in 2017. Athletic accomplishments include:
o          28 National Championships
o          3 NAIA Five-Star Champion of Character awards
o          8 coaches named NAIA Coach of the Year
o          2 coaches named Coaches of Character
o          3 Learfield Sports Director's Cups
For more information about OBU, visit www.okbu.edu.
With its campus located in Shawnee, OBU offers 10 bachelor's degrees with 88 fields of study and five master's degree programs. The Christian liberal arts university has an overall enrollment of 2,011, with students from 37 states and 40 other countries. OBU has been rated as one of the top 10 regional colleges in the West by U.S. News and World Report for 27 consecutive years and has been Oklahoma's highest rated regional college in the U.S. News rankings for 25 consecutive years. OBU is one of three universities in Oklahoma and the only private Oklahoma university listed on Great Value College's rankings of 50 Great Affordable Colleges in the Midwest. Forbes.comconsistently ranks OBU as a top university in Oklahoma and the Princeton Review has named OBU one of the best colleges and universities in the western United States for 14 consecutive years.
# # #