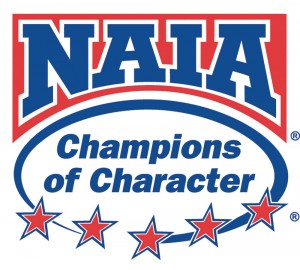 SHAWNEE—Oklahoma Baptist University was recently named a 2013-14 National Association of Intercollegiate Athletics (NAIA) Champions of Character Five-Star Institution.
The vision of the NAIA Champions of Character program is to change the culture of sport. Its mission is to provide training to instill the values that build character so student-athletes, coaches and parents know, do and value the right things on and off the field. The program teaches the true spirit of competition through the five tenets of integrity, respect, responsibility, sportsmanship and servant leadership.
Student-athletes learn to understand how these values play out in both practice and competition. Coaches are taught how to intentionally define, model, shape and reinforce the values through their coaching and mentoring. Parents learn how their behavior is key to supporting their athletes.
"Being selected as a Champions of Character Five-Star Institution is very telling of the student-athletes here at OBU," said OBU Director of Athletics Robert Davenport. "Our coaches go above and beyond to instill the attributes into our student-athletes that allow OBU to be selected for this honor."
The Champions of Character initiative is an integral part of the overall athletic program at OBU. Some components include a chaplaincy program for each athletic team, service projects, assembly programs, small group support, outreach programs and opportunities to nominate and recognize student athletes and coaches of character.
"Over the past several years, I have had the privilege of serving as the Champions of Character Liaison for OBU," said Dale Griffin, dean of spiritual life. "I've had the privilege of seeing firsthand how impressive our coaches and students are in character on and off the field."
OBU has won the top Champions of Character award eleven times in recent years. The Champions of Character Institution Award was established in 2001-2002, and it changed to the Champions of Character Five-Star Institution Award beginning with the 2009-10 academic year. Institutions are evaluated on character training, academic focus, character recognition, character promotion and conduct during competition.
The OBU Lady Bison volleyball team won the 2013-2014 Volleyball Buffalo Funds Champions of Character Team Award. Two OBU coaches, Baseball Coach Bobby Cox and Track Coach Ford Mastin, have received the Sooner Athletic Conference Coach of Character Award. Mastin also won the 2014 NAIA Coach of Character Award. To date, 49 OBU coaches have completed the program's online coaches training course, "Character Driven Coaching."