FORT WORTH, Texas—The Oklahoma Baptist Children's Chorus (OBCC) performed the AgencyD3 2014 LifeWay musical for Vacation Bible School (VBS) leaders at Fort Worth, Travis Avenue Jan. 17.
The special concert capped the second of five two-day VBS Preview Events sponsored by LifeWay Christian Resources of the Southern Baptist Convention, which provided an overview and training for leaders who will be using LifeWay's VBS materials this year.
OBCC director Wynn Anne Hook said while the trip provided valuable experience for the choir members, leaders and parents alike, it also was a fun experience for all involved. Sixty-three members of the choir and seven adult sponsors traveled on the buses. Capital Association helped make the trip a bit easier by providing gift bags with snacks.
"We left the Baptist Building that morning with two buses and about nine cars in a caravan behind us," Hook said. "Randy Lind, Baptist General Convention of Oklahoma worship and music specialist, traveled with the group and arranged for the children to eat lunch at Southwestern Seminary and then tour the campus. Then, the kids sang in the music hall and in the new chapel."
After traveling to the church and a short rehearsal, the OBCC performed the musical—"AgencyD3, Discover, Decide, Defend" at 5:30 p.m.
"The musical includes six songs with a short drama between each song, and we repeated the theme song at the end," Hook said. "It leads you to discover Who Jesus is, decide what you're going to do with that knowledge and then defend your faith. The teaching is wonderful, and is one of those lessons in song that you pray they'll still be singing when they're 40, and can remember the great truth they have learned.
"The kids did a great job. It was a long, one-day, wonderful experience. I think for some of them it was their first trip to Texas. We were barely out of Oklahoma City before some of them were asking, 'Are we in Texas yet?'"
Hook said the trip provided time for the choir members to grow closer together as individuals.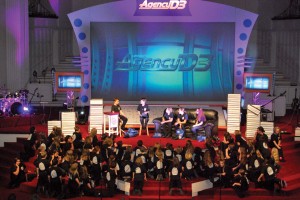 "They had such a good time on the bus. We watched movies, played games and had a great time getting to know each other better," she said.
But, deeper issues are involved, too, as the chorus, which was formed only months ago, moves forward.
"We are encouraging them to seek to know what God has planned for their life, even at this young age," Hook explained. "I encouraged them in learning this musical that they are the next generation to defend our faith, and that they need to be learning God's Word so they can do that.
"These kids are very, very talented, and have great support from their parents. Some  come from large churches and some from small towns and churches where there is no music in the church or school and their parents just want them to be a part of this. It's an auditioned group, and some of them travel more than threeand-a-half hours to come to rehearsals, so they are committed to be in the group."
The next event coming up for the OBCC is Rose Day, Feb. 5 at the Oklahoma State Capitol. The chorus will sing for about 15 minutes in the Rotunda and then sing before the program begins in the House Chambers.