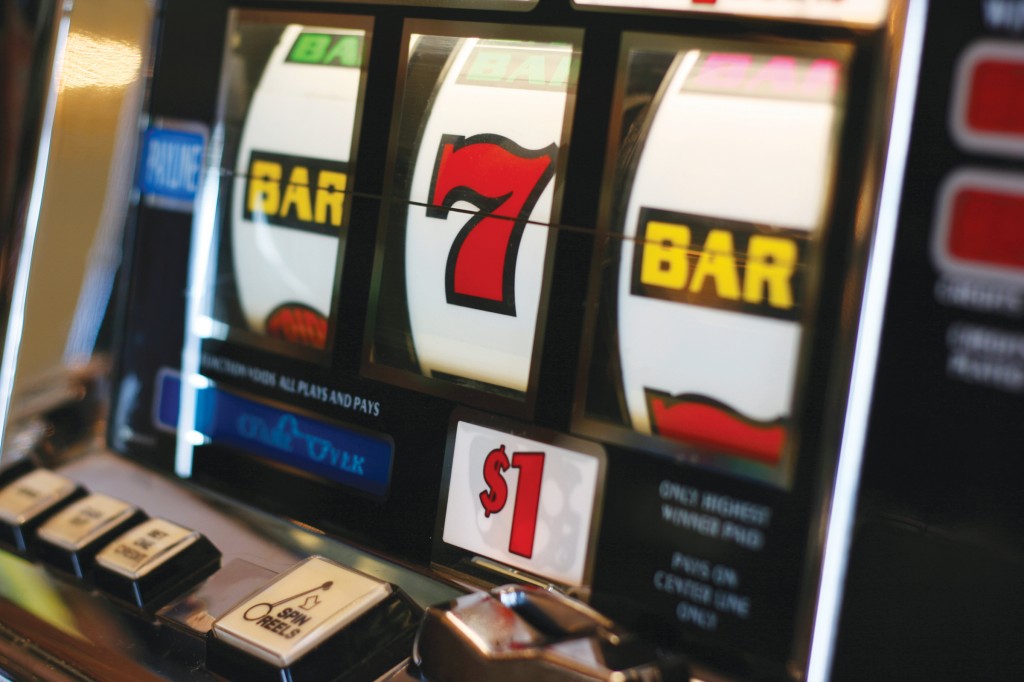 "Adam" doesn't consider himself one of the lucky ones, although there were many days he hoped he would be as he stuffed every last cent in his pocket into a slot machine hoping he'd hit the jackpot that would change his life forever.
No, luck never entered into the equation for the man who grew up in a Southern Baptist church in a small Oklahoma town. But Adam is grateful to a loving heavenly Father who never gave up on him, especially that day he drove up a mountain intent on providing his wife and two daughters with a better life through the money they'd receive from his life insurance policy.
Today, he helps oversee a Gamblers Anonymous (G.A.) group of about 100 people that meets at Oklahoma City, South Lindsay three times each week. G.A., which began in Los Angeles, Calif., observed its 50th anniversary Sept. 13.
"Even though G.A. is not affiliated with any sect, denomination or creed, many of our members experience a spiritual presence and eventually put God in the center of their recovery," Adam said.
Adam said going to G.A. helped him in two ways. First, it made him realize that his gambling is a sickness for which there is no cure. Second, it drew him into a closer relationship with God.
"You know, even though you're active in church, the devil finds a way to really prey on your problems," he confessed. "I can go back to when I was young and went to the State Fair of Oklahoma when I would spend $100 to try to win a $1 toy, just because I didn't want to lose."
That desire to "win" eventually led Adam to slot machines and blackjack tables.
"I am a compulsive gambler until the day I die," he said. "But, G.A. helped me focus on the problem. There is no pill or no psychological help, but it also put me in a closer relationship with God. I feel that if God is not also a part of the solution, then there is no permanent resolution to the problem."
Adam first entered the G.A. program in June 2005 after he got heavily in debt with credit card bills and had withdrawn a portion of a retirement account to pay them off. His wife found out and suggested he join G.A.
Since then, he admits he relapsed a couple of times, but points to his "clean," or sober, time as beginning Feb. 10, 2006.
The weeks before that date were the darkest, however, and that's when his thoughts turned to suicide.
The first time, he made it half-way to his destination before he turned around and returned home. The next time, he actually found himself standing on the precipice in despair.
"But, when I looked out there and saw all those green trees and the beauty of God's nature, I wept and cried out to God and prayed and asked for His help," Adam recalled. "I think God was telling me that my time was not up and He still had a lot in store for me. I have now seen that come true, being as active in the church and the group as I am now, and I think He made me realize I was going to destroy a lot of people, not just myself."
Adam wants Oklahoma Southern Baptists to recognize that compulsive gambling is a huge problem in our state. He says reports show that there are possibly 250,000 persons or more afflicted with the disease in Oklahoma.
A copyrighted story in the Sept. 9 Oklahoman reported that Oklahoma is home to 92 tribal casinos, which "took in nearly $2 billion in 2006, up 22.7 percent over the previous year."
With so many opportunities to gamble, it's no wonder so many people have become ensnared by the lure of "striking it rich."
Adam says Southern Baptists need to pray for everyone-especially a fellow believer-who has a gambling problem, even if they don't know who they are, because they may be sitting next to them in the pews every week. He said he can point to his church as an example.
"There are people in my church that I know personally who go (to the casino), because I have seen them there in the past," he said.
The Oklahoma City, South Lindsay G.A. group meets at 7 p.m. on Tuesdays and Thursdays and at 5 p.m. on Saturdays. There are several G.A. groups across the state, with meetings held somewhere every evening of the week, except Sunday. A complete listing of all G.A. meeting locations is available in the Gamblers Anonynmous International Directory at www.gamblersanonymous.org/mtgdirOK.html.
Hotlines also have been established in the state for those who may need to seek immediate help. They are:
_ Broken Arrow-918/284-6514
_ Oklahoma City-405/525-2026
_ OKC metro area-405/912-2200
_ Tulsa-918/760-4349