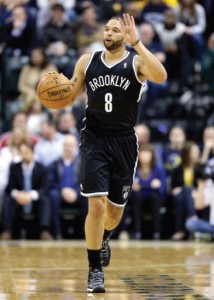 >> by Bill Sorrell  The Alabama Baptist
There was a time in Deron Williams' life when the ball wasn't bouncing his way.
"I saw that I wasn't living the right way. I wasn't on the path to Heaven, and that is why we are here on Earth," said Williams, the premiere point guard for the Brooklyn Nets.
However, two spiritual decisions got him pointed in the right direction. After his salvation experience in 2009, Williams was baptized Jan. 24, 2010.
"People who have been around me for years definitely notice the changes in the way I act and the way I carry myself," Williams said. "People who didn't know that I was a Christian have commented and said things to me. I played better since I found the Lord. I think my focus was better; my mind was clear."
Clearly, stats and awards confirm it. He has been an NBA All-Star three times (2010, 2011 and 2012). For the second time, he was an Olympic gold medal winner on Team USA at the London Summer Olympics in 2012 (the first being at the 2008 Beijing Summer Olympics).
This season, he averaged 18.4 points, 3.1 rebounds and 7.7 assists. The Nets also made their first NBA playoff appearance since 2007.
"The team goes as he goes," said Toronto Raptors small forward Rudy Gay. "He is one of the best point guards in the league and has been for a long time. He has been great."
First round draft
This is Williams' eighth season. He was the Utah Jazz's first round draft choice (third overall) in the 2005 NBA Draft. He was named to the NBA All-Rookie First Team for the 2005–06 season while averaging 10.8 points, and he sparked the Jazz to the Western Conference finals in 2007 and to the playoffs in 2008 and 2010 before being traded to the Nets in 2011.
At every place he has been, the team has been a championship contender. Born in Parkersburg, W.Va., Williams and his family moved to The Colony, Texas, a Dallas suburb. His Cougars team reached the 5A state semifinals both his junior and senior years.
Recruited by the University of Illinois, Williams played three years for the Fighting Illini, where he twice was first team All-Big Ten and in 2005 a consensus All-American. He left after his junior season after leading Illinois to the NCAA national championship game, where the Illini lost to North Carolina.
"God has blessed me," said Williams, 28. "He has given me opportunities and skills. I have been able to make the most of them through hard work. God has just blessed."
Williams was baptized while playing for Utah. He and his wife, Amy, were members of Salt Lake Christian Church, a nondenominational church in Salt Lake City.
A commitment to read the Bible, pray and surround himself with other Christians has helped him grow spiritually.
"It's a crazy world we live in," he said. "Everywhere you look there is sin and temptation. You have to ignore it and stay focused on the Lord."
One of Williams' teammates at Utah was Kyle Korver, an evangelical Christian who is now a shooting guard with the Atlanta Hawks.
"We have a good relationship," Williams said. "He is a great brother in Christ."
Utah small forward/shooting guard Gordon Hayward was also a teammate of Williams. Hayward called Williams a leader offensively, defensively and spiritually.
"As far as what he brings through Christ, he connects the way he plays. He leads by example," Hayward said.
Williams has invited Nets forward Jerry Stackhouse to church with him in New York City.
"We are still growing. It's a great thing," said Stackhouse, who is a Christian. "The good thing about him is his faith is strong."
A friend of Williams, Gay has seen Williams' strong commitment to his family.
"He is a family man," Gay said. "Just being around him, he has always been a good person to me and a good person to talk to."
Williams said he enjoys being with his kids. "My family, they are my life."
Applying Scripture
Williams said he applies Rom. 12:1–2 to his daily life. The verse reads, "Therefore I urge you brothers in view of God's mercy, to offer your bodies as living sacrifices, holy and pleasing to God — this is your spiritual act of worship. Do not conform any longer to the pattern of this world, but be transformed by the renewing of your mind. Then you will be able to test and approve what God's will is—His good, pleasing and perfect will."
"It's been great to know the Lord better through reading the Bible and prayer," Williams said. "Anybody who is a Christian knows that it is tough. Every day is a struggle. It's something you have to work on like I do. I continue to be dedicated and focus on it. He is my Lord and Savior."