CONNECTICUT—Oklahoma Baptist Disaster Relief (DR) teams travelled to Connecticut recently after late-May tornadoes and a microburst hit an area of six or seven communities near New Haven.
Don Williams, state director of Oklahoma Baptist DR, said, "It is a heavily-wooded area. Trees there are 100 feet tall with a diameter of about 40 feet, but their roots are only about three feet deep so they are uprooted easily."
Meteorologists reported four tornadoes and one microburst caused the widespread damage of reportedly 3,000 homes with tree damage, destroyed 300 homes and killed two people.
"It's definitely one of the top five storms in the last few centuries for the number of tornadoes it created," said Paul Slaski, a meteorologist at the Connecticut Weather Center. "It's almost unprecedented."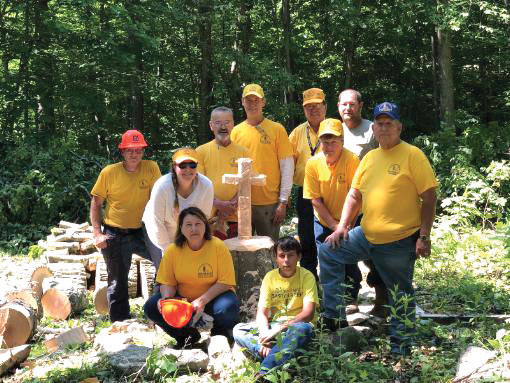 The first of four DR chainsaw teams began work on Mon., June 11 after days of travel, pulling trailers with work equipment.
The first two teams to arrive were from Tulsa Network Association and Frisco Association. Additional teams from Tulsa Network and Washington-Osage Association relieved the first two teams after days of hard work clearing downed trees.
As of Tues., June 12, Williams said teams had already completed 70 work orders for homeowners in affected areas, with nearly 260 additional orders filed by additional homeowners.
According to Williams, one complication the teams encountered involved large limbs and trees lodged high in trees that were still standing, making for hazardous work conditions.
Additional Disaster Relief teams from Texas, Missouri, Louisiana and Florida also responded to the aftermath of the storms. Williams said while Oklahoma sent only chainsaw teams, other states sent incident command centers and feeding units.
Volunteers were housed at the only Southern Baptist church in the seven-community area.
"Oklahoma Baptists are taking care of business. We'll be out there with our teams through the end of June, when their state director hopes to have all work orders completed," Williams said.
In the midst of the chaos caused by tornadoes, four people have made professions of faith in Christ.
"That's why we do it. We go do the physical work so we can minister spiritually to them. That makes everything worth it," Williams said.