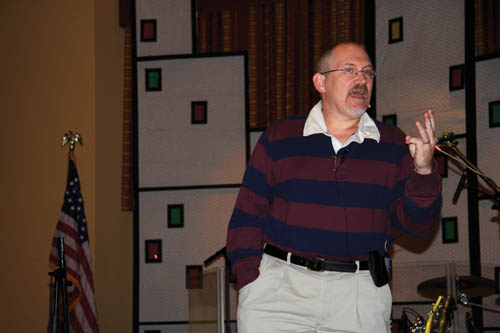 NORMAN—In case you hadn't noticed, the gap between generations—as far as worshiping the Creator of the Universe goes—probably has never been greater than it is today. With young people abandoning traditional church services by the droves, leaders with the Baptist General Convention of Oklahoma's Church & Family Equipping Team are doing their best to see that young adults, specifically those between the ages of 18-34, connect with God.
Thus, the Missional Ministry Conference (MMC) held March 12-13 at the Embassy Suites was devised to help church staff and young adult ministry leaders reach out to this age group. The featured speaker was Alvin Reid, professor of evangelism at Southeastern Seminary in Wake Forest, N.C., who has spoken at a variety of conferences in almost every state and continent, and in more than 2,000 churches, colleges and events across the United States. Reid also has written extensively on evangelism, missional Christianity, spiritual awakening and student ministry.
In addition, the results of a LifeWay Research study—Faces of a New Generation—which examined 17 Oklahoma churches doing ministry to young adults, were unveiled at the conference, which attracted 306 participants. (See sidebar article)
Worship was led by The Ryan Smith Band.
"We realize in Oklahoma that most of our Southern Baptist churches are not connecting with the younger generations," said Bob Mayfield, Sunday School/adult discipleship specialist with the BGCO. "The theme of the MMC was to focus on how to both reach and keep young adults. We drove everything from this perspective. We even featured young adult worship and young adult music.
"Our research project included churches that are both Baptist and non-Baptist. We are striving to be missional in our approach to young adults. To reach them, we must learn and respect the young adult culture. No one is interested in what anyone else has to say if you don't think that person respects and understands you."
The study and conference actually were phase one of a five-phase initiative called "One day . . . One Mission . . . One Planet," led by Mayfield. (See sidebar article)
"Everything I am doing this year is directly linked to the "One Day Initiative," he said. "The MMC was the first piece of One Day. Our efforts this year are aimed at helping every single person who belongs to a church in Oklahoma become a missionary in their neighborhood. We want every teacher of every small group or class in our state to make disciples who understand that they are sent by God to be a missionary and their community, job, school, ball team and family are their mission fields.
"Oklahomans know what Southern Baptists are against. The One Day Initiative launched at the MMC is about letting our state know what we are for. We are for them. The 3,000 class mission projects we are shooting for as part of One Day is to let Oklahoma know that we care, and we care unconditionally. Jesus loves every soul in our state, and we will love them, too."
Reid pointed out that young adults are flocking to the cities.
"They are wanting to go to the cities and dangerous places," he stressed. "This is an underchallenged generation . . . . I want to be criticized for expecting way too much out of our teenagers!"
Reid insists we need a paradigm shift.
"The younger generation wants real worship, not a formula. They want truth; they want to be part of a movement. I argue that Christianity is a movement to be advanced, but we have turned it into an institution that we spend far too many resources on to maintain," he proclaimed.
He also said most Christians are "practicing atheists in our neighborhoods. You want to know what kind of Christian you are? Let me ask your neighbor."
He said it's a shame that most Christians are "judgmental, busybodies and mean" to their neighbors. The best neighbors I have are the ones who are lost!"
Reid said relationship is the key.
"Evangelism will be accompanied by, or even preceded by, discipleship," he said. "But, a missional witness will not be one size fits all. The method is the Gospel. We will share from the position of humility, not entitlement."
Those attending the MMC realized its benefits, from reading the responses many left on their evaluation form.
"I am so glad I came to the MMC. I didn't realize it, but I have become complacent in ministry. The MMC challenged me to go back home and lead our church to be more focused on our community than we are on ourselves."
"The MMC was great. I'm thankful that this conference is edgy. We need the convention to push us to the edge. We all know how to do the other stuff."
"The panel with the two pastors (Alton Fannin, Ardmore, First, and Dave Bryan, Mustang, Chisholm Heights) about traditional churches reaching young adults was great. I needed to hear what they said about giving up control as a pastor in order to reach these young people."
"The worship was incredible!"
"The forum with the pastors and youth ministers was just what we needed. We have issues there, and it gave us an opportunity to discuss them and have some healing."
"Our church has needed something like this (MMC) for a long time. We just didn't know what to do. Thanks for putting this together."