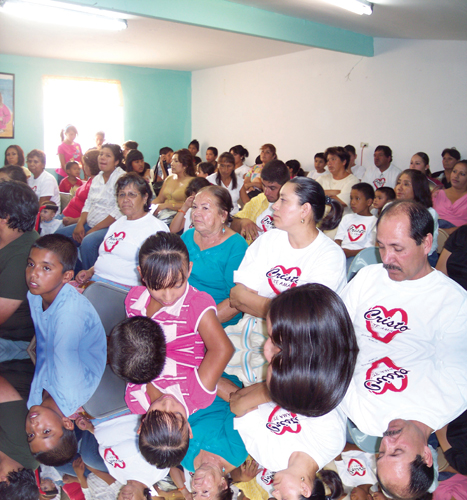 "Man on Fire" is the title of three movies made in 1957, 1987 and 2004. But for Joe Cannon, man on fire was all too real.
Cannon, pastor of Oklahoma City, Crown Heights, was returning to the U.S. Border from Juarez, Mexico, when a man carrying a torch literally set another man on fire right next to Cannon's car.
Cannon and an El Paso pastor and his wife were coming back from a church service at Mision Bautista Revolucion in Juarez, and waiting in a line of cars four abreast about a mile from the border for a green light to move forward.
"It usually takes about three hours to get across the border," Cannon explained, "so it's usually kind of boring sitting there waiting in line."
However, this night was anything but boring.
Cannon said there was a man waving and twirling a torch, trying to get the attention of those waiting in cars, presumably to get money from them for his "entertainment."
As he approached the car next to Cannon, the driver rolled down his window. About that time, a young man selling gum, came up to the driver's window. He and the torch bearer had words, and the man with the torch threw a cup of gasoline on him and lit him with the torch.
"He was on fire and started dancing around, patting himself to put out the fire," Cannon said. 'It was a terrible sight."
Cannon said the military police showed up and began chasing the torch bearer, who was running around, between and over cars to try to get away.
The light turned green and Cannon moved on. He said the last he saw, the young man on fire had put out the fire, but smoke was still coming from him. He was alive.
Cannon has been going to Mexico since 2003, and was instrumental in starting Mision Bautista Revolucion.
"I was pastor at Scipio Church in Pittsburg Association, when the association challenged us to send one person out of the country on a mission trip, "he said.
A professional baseball umpire, Cannon had served in the minor leagues in El Paso, and called the widow of one of his umpire partners to see if she knew of any mission opportunities across the border.
"She is Catholic, but said her sister was Baptist, and she would ask her," he said.
Cannon was put in touch with Leonard Gallegoes, pastor of Loma Terrace Church in El Paso, who said he didn't know of anything, but would check around.
A few days after Cannon talked with him, Gallegoes got a call from a man in Juarez who asked him to come and pray for his mother who was dying. Gallegoes went, laid hands on the woman and prayed for her. That night, 14 family members were saved. The mother, Lupe, eventually recovered, and told the pastor he could have a Bible study in her home.
That summer, Scipio Church, with about 60-70 members, took 32 people to conduct an adult Bible study and Vacation Bible School at Lupe's home. She was saved during that Bible study.
Cannon's wife organized the Bible School in Lupe's small back yard, and 100 kids showed up the last night. The Bible study was moved out into the street because Lupe's house was too hot.
After the group returned to the United States, Gallegoes called Cannon and told him there was property for sale just around the corner from Lupe's house. The asking price was $20,000.
Without prior notice, Cannon told his church members about the opportunity, and an offering of $19,400 was taken. The church put in the last $600 and the property, with three buildings on it, was purchased.
The next year when Cannon and members of his congregation went to Juarez, the church services were held in one of the buildings with open windows and doors. During a three-night revival, 30 people were saved.
By the third year, Cannon had moved to Crown Heights, and continued the annual mission trip. That year, he brought along a bubble swimming pool to use as a baptistry. Eleven were baptized the first night. The next year, 17 were baptized.
"There have been about 100 people saved since the mission started," Cannon said.
In addition to being pastor of Loma Terrace Church, Gallegoes, serves as mission pastor of Mision Bautista Revolucion, going there on Sunday and Wednesday nights. The congregation now averages more than 100 people in a 30-by-50-foot building.
Cannon said he didn't make a trip to Juarez in 2008 because of the crime problem, but he was convicted to go again this summer.
"I knew I couldn't leave them," he confessed. "I went on a trip with a mission rather than a mission trip. We have to take care of these people."
This year's trip included his wife, youth minister and nursery coordinator.
"We took 140 T-shirts with the name of their church printed on them, 250 Gospels of John in Spanish, 150 gospel tracts and purchased 50 pounds of staple food items," Cannon related. He also took a bench pattern and three benches already cut to be assembled.
Cannon said Crown Heights has been blessed the last few years by selling property across the street from the church.
"We took a tithe from the sale of the property to help Mission Bautista Revolucion build a new 40-by-60-foot building," he said. "We're just a small church, but we've seen great things happen in this mission church.
And Cannon hopes the next fire he sees in Mexico is in the hearts of the people of Mission Bautista Revolucion, and not on the body of a man.