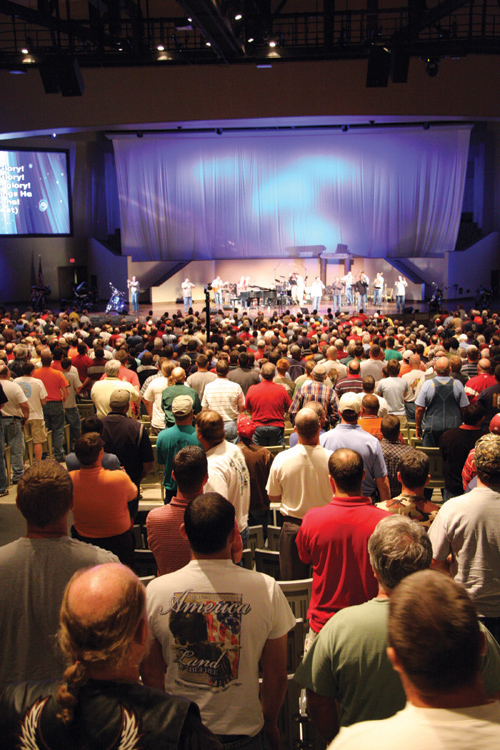 DAVIS-More than 2,200 men and boys attended the 2008 "Rewired" Oklahoma State Men's Retreat at the Falls Creek Baptist Conference Center April 25-26, and at least 30 left with their lives changed for eternity as a result.
"We had more than 30 recorded professions of faith," said organizer Keith Burkhart, Baptist General Convention of Oklahoma family and men's ministry specialist.
Burkhart said men "are electrified" after having attended the retreat.
"I'm absolutely humbled," he commented. "The testimonies are incredible. The revival spark is spreading in a lot of men's lives."
Burkhart said the retreat attracted men in different "sub-cultures."
"We were able to reach people groups of men where they are in life," he explained. "There are different kinds of men, of course, and we were able to capture those different types of interests that motivate men."
The retreat featured four specific venues: horse training with "Sermon on the Mount's" Lew Sterrett, fishing with ESPN's gold medal fly fisherman Chuck Farneth, bird dog/hunting with Steve Harris of "A Man and His Dog," and motorcycles with F.A.I.T.H. Riders founder Buddy Newsome.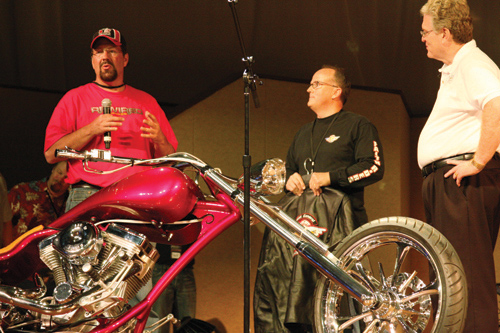 Other attractions/activities included muzzle loading riflery, trout fishing in the creek, the Falls Creek ropes course at the Alpine Tower, a cowboy camp which included chuck wagon cooking and roping and a Friday night bonfire and Bluegrass jam session.
More than 300 motorcycle riders roared toward Falls Creek Friday afternoon, causing a sensation along I-35, but the group winning the award for the most creative manner to arrive were the men from Harrah, First, who paddled their way to camp in canoes.
Featured speakers at the retreat were former University of Oklahoma, Houston Oilers and San Francisco 49ers running back Spencer Tillman and Del City, First Southern Pastor, Tony Lambert.
Worship was led by the Brad Henderson band.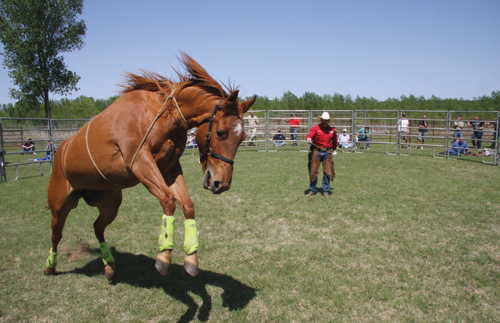 Tillman, who won a world championship ring with the 49ers in Super Bowl XXIV, encouraged the men to "go someplace on purpose," and to engage in a "purposeful pursuit of God's best for your life."
To do that, he said, we must do what a quarterback does when he approaches the line of scrimmage to run a play and studies the defense set against him.
To be successful, Tillman said the quarterback must do three things: identify the potential threats, call the play that gives the offense the best chance to succeed and then, finally, execute the play.
Using Nehemiah as an example, he pointed out that the prophet "did it right," and seized the moment for action to restore the gates and walls of Jerusalem. He pointed out that Nehemiah had a "core value" that the walls and gates of Jerusalem must be restored.
"And, when a core value is exposed (or challenged), we must respond to it," Tillman said.
Nehemiah was in the "red zone," Tillman added, using a football analogy of a team with the ball inside its opponent's 20 yard line.
"The decisions we make in the red zone determine our character," he stressed.
Nehemiah answered the challenge to see the walls and gates restored, even though the process was not an easy one.
"Creative processes always take longer than destructive processes," Tillman concluded.
Lambert, speaking Saturday morning, said men need to know there is hope and that "God wants us to deal with the faith factor," instead of a fear factor.
He used Abraham as an example in Genesis 22, when Abraham was asked to sacrifice his son, Isaac. He cited the Patriarch's calmness of faith, obedience of faith and tenacity of faith.
He pointed out that Abraham was calm in the midst of an unimaginable action because "he had an intimate relationship with God," and as a result, there was no mountain or task he couldn't face.
Lambert concluded with an illustration of walking on the ice one time with his son holding his hand. His son asked him if he was going to fall. He told him the only way he would fall was if he fell first.
"Men, the only way we'll fall is if God falls, and He's not going to," he exclaimed.
During the retreat, the men gave an offering to help build a missions education center at Crosstimbers camp near McAlester, much as the ladies had done at their retreat, April 11-12. The offering amounted to approximately $26,000 in cash and pledges. Combined with the $19,173 received during the ladies retreat, the Crosstimbers offering totaled more than $45,000.