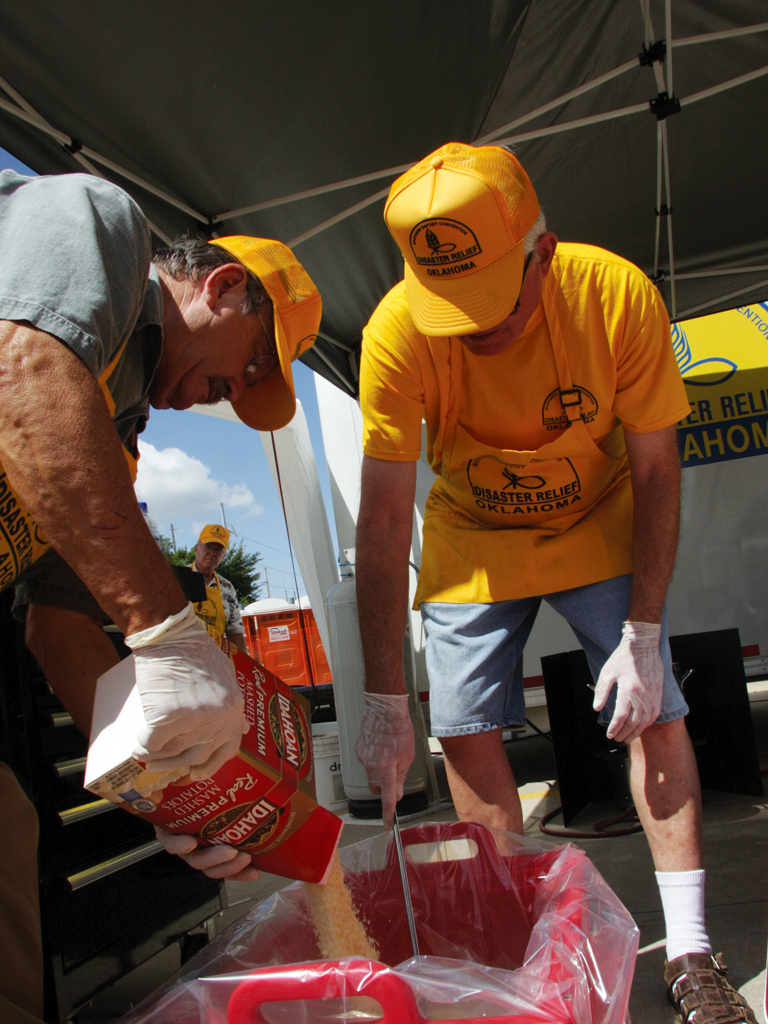 As Gov. Brad Henry officially welcomed evacuees from the Gulf Coast to Oklahoma on Sunday, Aug. 31, Oklahoma's Southern Baptist disaster relief teams rolled into the old Lucent Technologies building in Oklahoma City to prepare meals for as many as 4,000 people seeking shelter from Hurricane Gustav.
Nearly three years earlier to the day, Oklahoma Baptists were preparing Falls Creek Baptist Conference Center as a temporary home for victims of Hurricane Katrina. Despite being ready, the evacuees never arrived. Such was not the case with victims of Hurricane Gustav.
In a matter of minutes after having heard that busloads of people were on their way to Oklahoma, Sam Porter, disaster relief director for the Baptist General Convention of Oklahoma, and his more than 3,000 trained volunteers were called into action.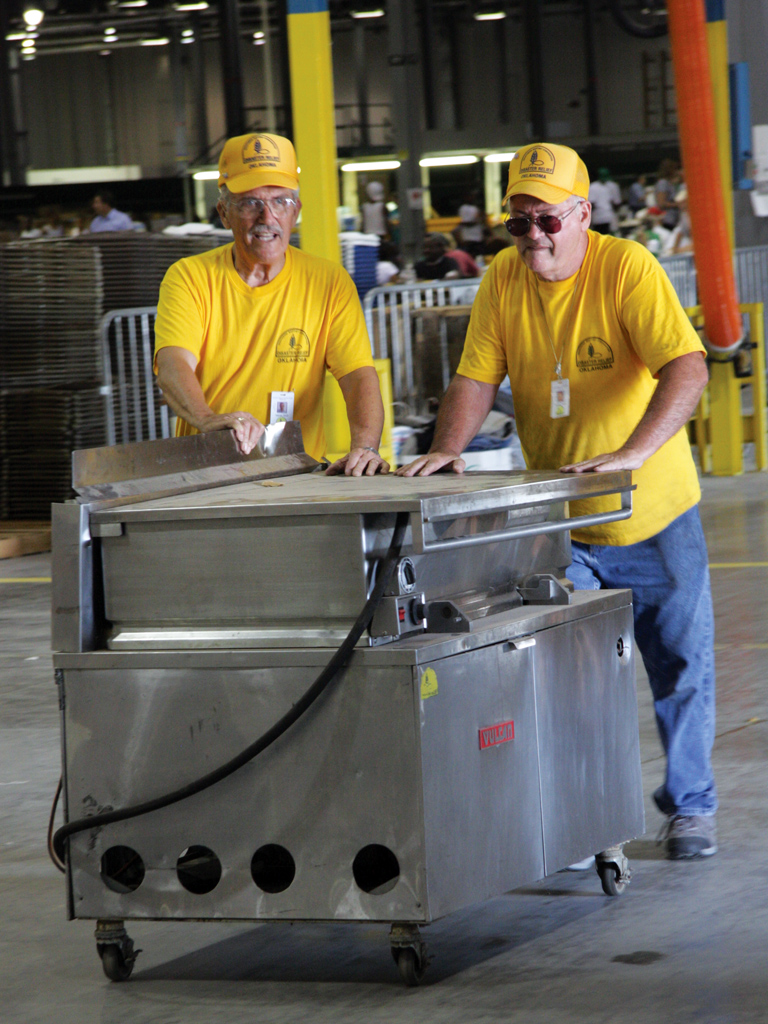 "We were ready when buses started to appear. More than 1,800 people arrived with the first wave on Monday. By Tuesday, we were preparing hot meals for nearly 2,000," Porter explained. "We called on our teams from around the state. Folks from emergency management kept asking if we could handle more. I assured them we could handle it. We were prepared to serve up to 5,000 meals a day at the Lucent location alone."
As many from the Oklahoma team prepared food and assisted children through the child care unit, additional teams began packing and organizing operations for relief efforts in the Gulf Coast region. "In addition to serving evacuees here in Oklahoma City, we are sending chainsaw crews, mud-out teams, laundry services, portable showers and feeding units to the Gulf Coast to assist victims and relief workers there," Porter said.
Recognizing that relief efforts had moved into their neighborhood, Bethany, Council Road (CRBC) mobilized members into action. The church is located less than three miles from the shelter. Upon hearing that nearly 2,000 people were moving in down the street from the church, Chris Wall, minister of outreach at CRBC, went into action. Shortly after the evacuees arrived, Wall and other CRBC members had a big screen and projector in place playing movies for their new temporary neighbors. By noon the next day, the church members were providing recreational activities for grade school through high school students.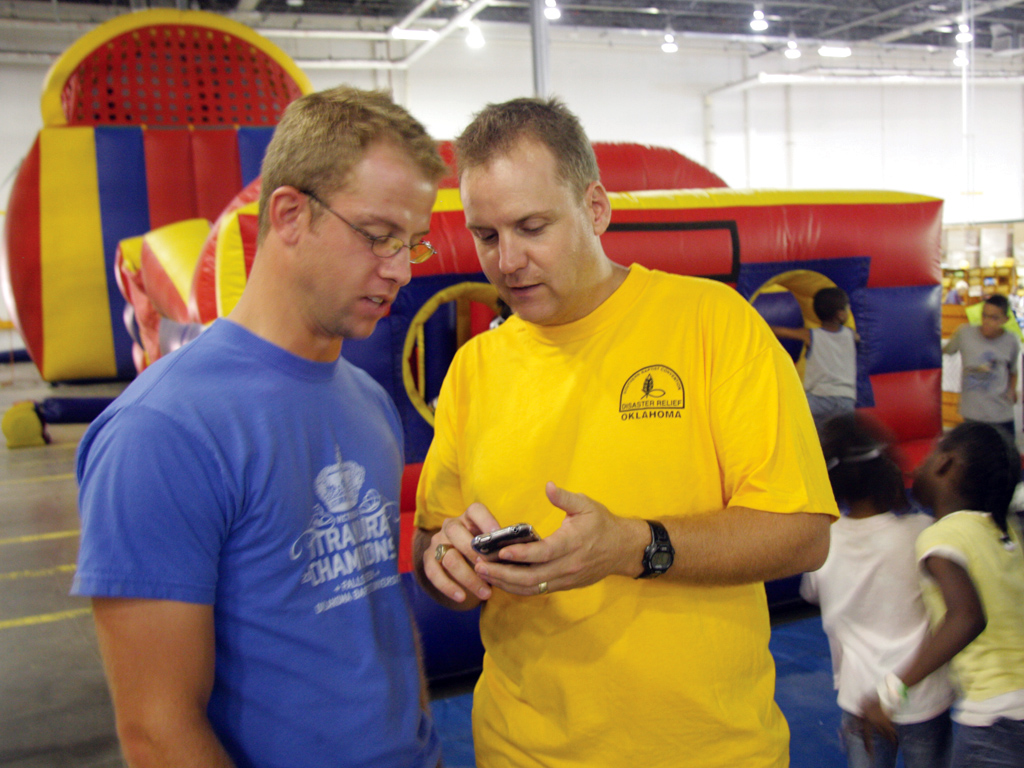 "It has been a lot of fun pulling this together. I think God had our church here for a reason. This is an opportunity for us to love on people and let them know God cares for them," Wall said. "It is not everyday that you have 2,000 people show up in your backyard. We have a responsibility as a church to minister to our neighbors, even if they will only be here for a little while."
Ministering to people in the name of Christ is at the heart of God's purpose for the Oklahoma Baptist disaster relief team. Day in and day out, faithful volunteers give of their time and resources to minister to those who have fallen victim to unfortunate circumstances.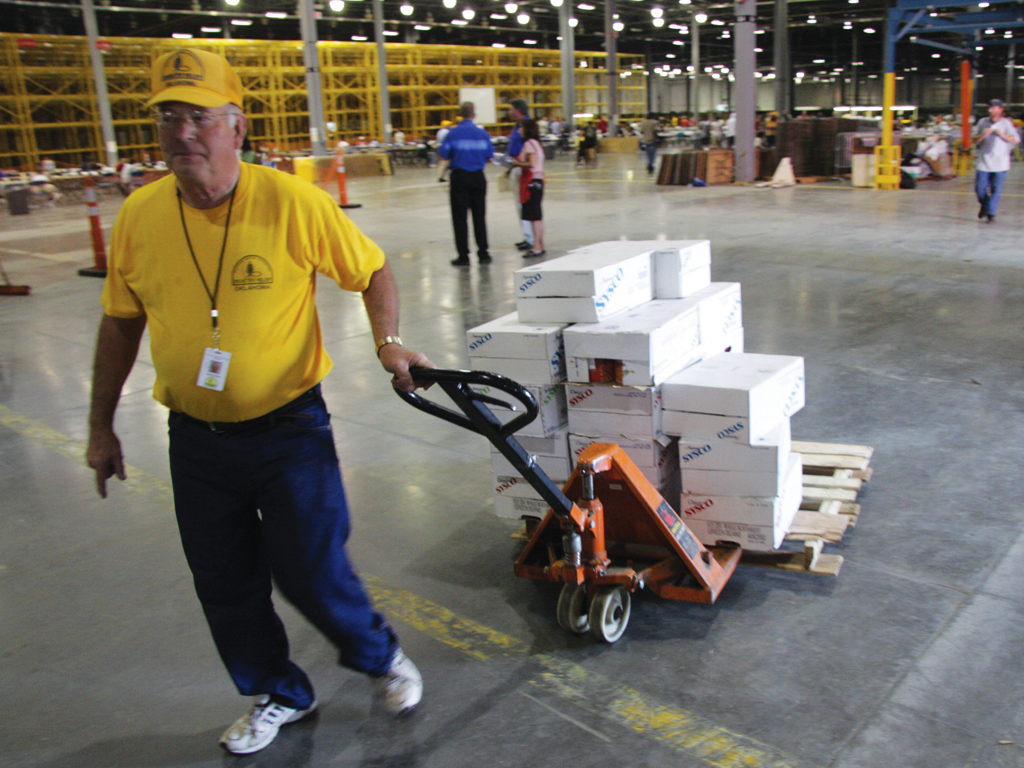 "Our prayer is that those we touch will sense the love of God as we attempt to be the hands and feet of Christ in a very practical way," Porter concluded. "I wish we could have met these folks under different circumstances; nonetheless, it is an opportunity to walk alongside them during a very difficult time. Sharing the love of Jesus makes it all worthwhile."
Individuals, churches or organizations interested in contributing financially to the disaster relief efforts of the Oklahoma Baptist Disaster Relief Team may make contributions or mail checks payable to Oklahoma Baptist Disaster Relief at 3800 N. May Ave., Oklahoma City 73112. One hundred percent of funds received for disaster relief are used for disaster relief. Oklahoma Southern Baptist churches and their members cover administrative expenses with their contributions made through the Cooperative Program.