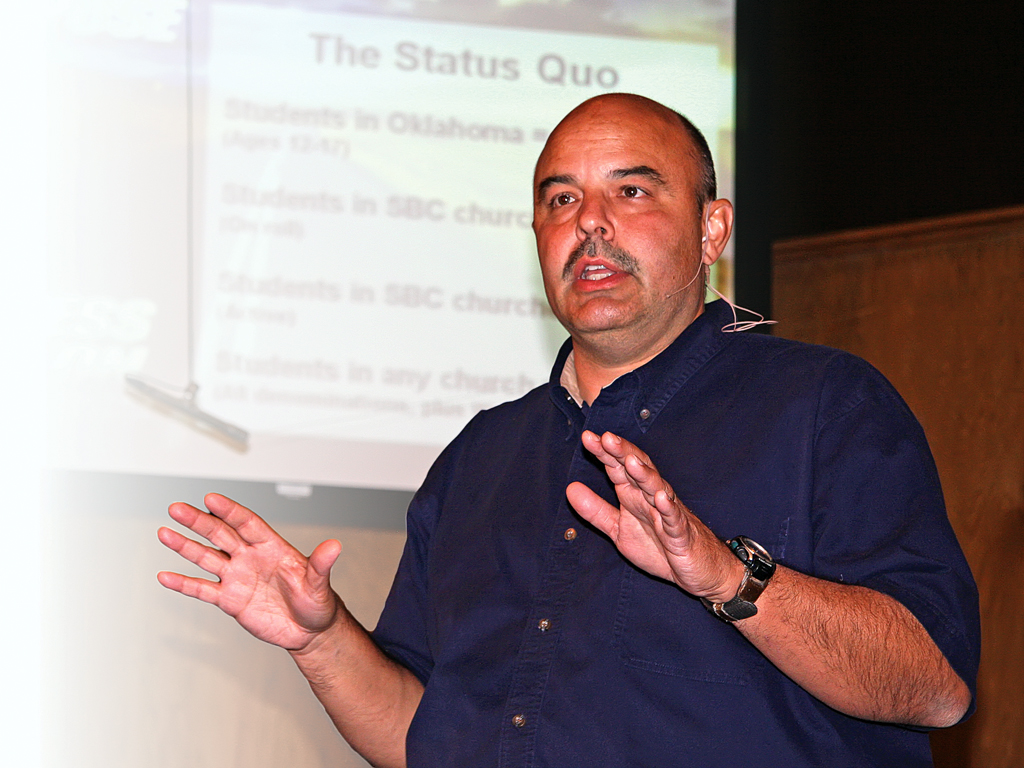 KINGFISHER – Four-hundred-and-ninety-three miles is a long way. If you go straight out of Oklahoma City north and travel 493 miles, you will arrive 30 miles north of Omaha, Neb. If you go south out of Oklahoma City, you will end up 48 miles south of Houston, Texas.
Or you could go from Guymon to Idabel. That is exactly what Andy Harrison is doing, and he is doing it on a bicycle. The logical question now is WHY! Harrison answers "The bike ride is a physical challenge that illustrates the spiritual challenge youth workers face in reaching students today."
After doing an intense demographic study, Harrison found that in Oklahoma, 80 percent of students, ages 12-17, are not connected in any way to a church. That unbelievable figure caught his attention, and God used that to move his heart to action.
In a day when we have more resources and people in place to do youth ministry, why are we reaching only 20 percent of the youth in our state? Harrison believes "We are not looking for them."
So, he spent 10 days (Sept. 6-18) traveling roughly 50 miles a day on what he called his "Press On Cycling Road Trip." Along the way he stopped at 12 churches to share this reality with as many youth and youth workers as he can. Recently he made stops at Watonga, First and Kingfisher, First to share not only the burden and concern of his heart, but also some practical solutions.
During the demographic study, Andy narrowed the information to each county through which he would be traveling. He shared this information with the youth and workers at each location to help them see that youth are hurting and need to be shown the love and mercy of Christ. Then he steered them to look at what the church can do to reach out to these hurting students through the five functions of the church (evangelism, discipleship, ministry, worship and fellowship) plus prayer.
After the rally in Kingfisher, students shared what impacted them most about the "Press On Road Trip." Shelby Jo, Ashlynn, Dalton and Peter, all from Kingfisher County, were surprised to hear that 80 percent of Oklahoma teens are currently unreached. Callan Bregenzer, from Hennessey, First said "This has been a real reality check," and Whitney Weems, from Kingfisher, First, said she learned that salvation is more of a process than a one-time shot of sharing.
Halfway into his journey, Andy also learned that equipment makes a difference, eight hours on a bicycle seat is not fun, and the first five miles each morning is the hardest. Looking at the demographic of 80 percent to 20 percent can seem almost impossible, but let us learn from Andy's experience "…after those first five miles, you start to loosen up and the ride becomes smoother."
Here's to taking that first step in reaching our youth for Christ.