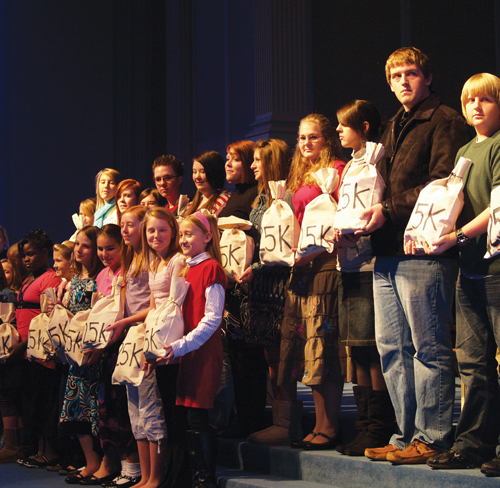 Spurred by an anonymous $1 million gift which effectively cut the church's indebtedness in half, Oklahoma City, Northwest Pastor Ben Brammer challenged his congregation Jan. 11 to reduce its remaining debt to zero by Jan. 1, 2010.
"There will be challenges," Brammer admitted, "but God is the great overcomer," he proclaimed to applause.
The indebtedness resulted from a 2000 program titled "The Investing in the Next Generation" (ING) campaign, which was begun under former pastor Craig Etheredge. Northwest financed a new 7,300-square-foot Ministries and Activities Center (MAC), which includes a full-size gymnasium, added multi-functional space for adults, youth and children-including a 3,800-square-foot children's area entrance and "The Factory," new space for youth activities-and remodeled its Fellowship Hall and kitchen, among other projects.
Ground was broken for the MAC in the Spring of 2003 and the church was awarded an occupancy permit for the structure on Sept. 14, 2004. Funding for the program included $2.75 million financed through the Baptist Foundation of Oklahoma on a 15-year note which matures on April 15, 2015.
Brammer, who has been at Northwest almost a year, reported to the congregation Jan. 11 that the indebtedness, which included the later purchase of some property near the church, totaled $2,062,945.15.
"Over the course of the years we have raised some money and a lot of sacrificial giving was done, yet today we still, as a church body, are in debt more than $2 million," Brammer said.
"But, that was two weeks ago. Someone has given sacrificially a certain amount of money to be a seed gift to challenge us to erase the rest of this debt by Dec. 31 of this year.
"Why is there a need to get out of debt? I'm a big believer in being as debt free as possible, and I don't believe that we can go forward at the North Campus and even here at our central campus on NW 23rd St. in the future without being debt free.
"Instead of telling you the amount, we're going to use our next generation to show us the amount of the gift."
The pastor then asked those present to help him count the gift as it was symbolically presented to the church by youth and children, who were going to carry in "bank bags" representing $25,000 each.
The congregants, who numbered almost 700, sat mesmerized as 20 youth walked in one-by-one with their bags and lined up across the platform.
Brammer then asked, "What is the total?"
"$500,000," was the reply as applause broke out.
"But, we're not finished," the pastor said."
Then, one-by-one, 20 children repeated the scene, joining their older counterparts on the platform as the crowd rose to its feet, applauded and cheered.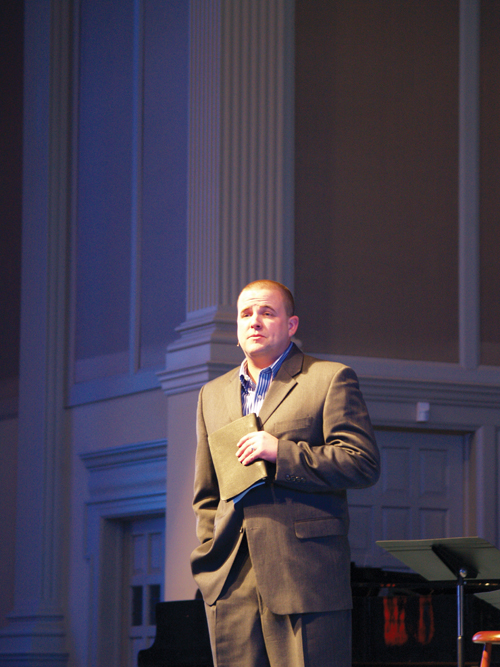 Brammer's challenge comes in the midst of a global recession. Only two days earlier, the U.S. Department of Labor reported the nation's unemployment rate was at 7.2 percent in December, as employers cut 524,000 jobs, bringing job losses in 2008 to 2.6 million, the most since 1945.
The situation is somewhat brighter in Oklahoma, however, where the unemployment rate in November 2008, the latest month for which the figure is available, was 4.7 percent.
The challenge is a sobering one, but Brammer insists the $1 million gift is a sign of new beginnings for his church.
"If anybody would tell you God is through with Northwest Baptist Church, today he has been proven wrong," he proclaimed.
"I want you to know, this calls for rejoicing, yes. It is the largest single donation ever in the history of Northwest. This is not to take away from the many dollars of many individuals, but this nearly cuts the debt in half outright."
The pastor said the debt-reduction campaign will include letters to church members, promotional DVDs and meetings with large groups.
It will not, however, include an expensive annual banquet, such as the church has held in the past.
"I'll be casting it over and over from the pulpit, as well," he said. "Some of our new members need to be educated about TNG, and some of our older members need to be re-educated, too. But, the quicker we pay it off, the less interest we have to pay."
Brammer said the effect of the large anonymous gift was virtually instantaneous.
"Giving is contagious," he said. "Sunday night, a man handed me 10 $100 bills and said, 'Here, put this toward the debt.'"
It has affected the pastor as well.
"I couldn't sleep Saturday night, I was so excited," he said. "We had a large crowd at the North Campus Sunday morning (210) and we baptized six there, so I was on an adrenaline rush for several reasons."
Brammer said the timing of the gift was, "huge. We needed it big time. Anytime there is a transition, people wonder what's going to happen. (We face) the challenges of maintaining a suburban campus and an inner city campus and how do we revitalize certain ministries, especially children's ministries?
"I think the congregation needs to realize, 'Hey, God still knows we're here.'"
Since he came to Northwest last February, the church has had a virtual turnover of ministry staff.
"There has been so much happen in a year," Brammer said. "We have so many new wonderful people on our staff, and we've had some good growth. The future is bright.
"I was thinking about launching a master plan for the future next year, but with more than $2 million of debt, I knew people would question how we could even think about the future when we need to get out from under this cloud of debt. Now, they can see the future is here, and we need to start planning."
The pastor also said he hopes other pastors remember to count their blessings, big and small.
"I think it's important for churches to understand that every church's victory is different from the other churches," he said. "I don't want pastors to read this and say, 'Will that ever happen to us?' I want them to realize there are some great victories in store for them, too. God gives us grace in different measures."