With five pregnancy resource centers located across Oklahoma, Hope Pregnancy Center continues its vital mission of helping women and men have hope and choose life in the midst of an unplanned pregnancy.
For more than 30 years, Hope has brought life and hope to many Oklahomans at its various locations. In 2020, that Hope will now be on wheels.
Oklahoma Baptist Homes for Children (OBHC) President Greg McNeece recently announced, "After much prayer, research and God's generous provision, Hope Pregnancy Center will be launching its first mobile ultrasound unit in the summer of 2020."
The 27-foot-long mobile unit will empower Hope "to equip young men and women with tools they need to make an informed pregnancy decision and provide opportunities for Hope to share Christ's light of truth, love and hope into the lives of those overwhelmed with unplanned pregnancies," he said.
McNeece explained, "Hope has started working to determine the most abortion-vulnerable areas in and around the Oklahoma City metro area, which will allow us to park the unit in selected locations each week, building trust and relationships with those communities. Hope will partner with local ministries, helping provide a support system for the women being served."
He added, "Even with multiple pregnancy centers, it is difficult to reach the most abortion-vulnerable women who lack transportation to visit a pregnancy center. These include women who live in government housing communities, those trapped in human trafficking and those in nearby communities who do not have a pregnancy center near them."
While the annual abortion rate in the United States is reported to be on the decline, the abortion rate in Oklahoma is on the rise. Abortion in Oklahoma rose 12 percent in 2018 compared to 2017. This 12 percent increase led to a total of 5,014 unborn children whose lives were tragically lost.
Each year, Hope's ministry efforts save the lives of unborn and provide hope and help to women and men. With the mobile unit, opportunities are expected only to grow.
To equip the unit, Focus on the Family agreed to fund 80 percent of the ultrasound machine. Hope partnered with ICU Mobile for training and support. The unit will be staffed with a mobile operations manager and a registered nurse trained in sonography. According to  Hope Pregnancy Center, volunteers will be needed as back-up staff for pregnancy test intakes, ultrasounds as well as a "pit crew" to provide weekly maintenance.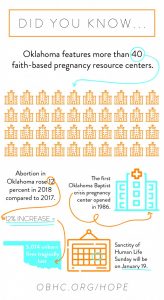 For information on staff positions, volunteer opportunities or ways to financially support this ministry, visit obhc.org/hope.
McNeece concluded, "Thank you, Oklahoma Baptists, for your continued support of Hope Pregnancy Center. As we look forward to what God will do through the mobile unit, please pray for Hope's staff as they work diligently the first two quarters of 2020 to lay the groundwork for this much needed ministry expansion."