With CP Sunday just around the corner on April 25, the Oklahoma Baptists Cooperative Program (CP) creative team has been hard at work, preparing some helpful new resources to help you jumpstart your church's CP advocacy.
CP Sunday is one of the traditional times in the Southern Baptist Convention (SBC) calendar when churches highlight the value of the Cooperative Program from their church pulpits. This is usually in the form of taking 5-10 minutes of the worship service to educate members on what the CP is and how it works. Often churches will invite a guest such as a missionary or a ministry leader from one of the national or state convention ministries to preach on that Sunday. Churches also often show promotional videos, create displays or give a report for how their church allocates part of its budget to the CP.
If your church is planning to have a CP Sunday this year, we have developed some brand new resources just in time for 2021 that we think you will love! These hot-off-the-press items are not dated just for April 25, so you can use them all year long.
Some churches prefer to have a CP Sunday in the month of October. They highlight the CP the entire month in many ways. This is also a great time to promote the CP, since it's about the time of year when churches are preparing and presenting their annual budgets.
All the resources mentioned below are available at oklahomabaptists.org/CP
Become a CP Ambassador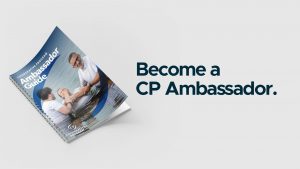 The first new resource we think you will like is the CP Ambassador Guide. This resource was developed to help pastors equip a leader within the church to become the point person, a CP champion in their church. The Oklahoma Baptists CP Ambassador's Guide is a PDF download that gives you resources and ideas to help you raise awareness about the CP and encourage your church to greater financial stewardship and support of missions and ministry through the Cooperative Program.
If you are a pastor, you'll like having a resource to help recruit someone to take on the much needed task of stewardship promotion.
If you are a CP Ambassador, you will love that the guide has everything you need in one place to help you plan and execute a contextualized CP awareness campaign in your church. CP Ambassadors always work closely with their pastors and ministry leaders to keep their CP promotions relevant to their church's goals.
In addition to downloading the guide, you'll want to subscribe to the CP Ambassador Email list. We will be sending quarterly updates from IMB, NAMB and Oklahoma Baptists about how the CP impacted the advancement of the Gospel in each quarter. Pastors and CP Ambassadors will enjoy having a bulleted update of "talking points." Pastors may even find a few items each quarter to talk about in sermons.
Get the CP Prayer Guide
One of the better kept secrets in our state is the CP Missionary Prayer Guide. This 52 week prayer resource is available in digital and print formats. The CP Prayer Guide also has image files, keynote and PowerPoint slides that will help tell the story of Gospel advance made possible through the Cooperative Program. Show them in your church's gatherings and use them with new member orientation classes. Help spread the word about how we are doing more together.
Show a CP video in your worship service
We have created scores of inspiring and yet brief videos that are ideal for your church to use to raise awareness about the CP. You will find stories of how, through your CP support, lives have been transformed by the faithful Gospel witness of CP-supported missionaries in Oklahoma, in the nation and around the world. These videos are ideal to show in church services, but also can be used in small groups, on your church's website and/or social media accounts. They are ready to download and use anytime you need them!
Download Printable Resources
We have also created a growing source of printable materials to use in your church for your CP advocacy. We have created inspiring posters and graphics that help you visually tell the story of Gospel advance in Oklahoma, North America and the World. Use them in your CP Sunday, CP Month promotions or any time of the year. Print and hang these posters in highly visible places around your church to give a subtle yet impactful reminder to your church members that their tithes and offerings are making an impact in the Kingdom of Heaven. Share the graphics on your social media accounts too!
Note: This section is expanding as we ramp up to CP Sunday April 25. Check back often as we add new resources in this section of the website.
CP promotion is important work!
Through your church's faithful Cooperative Program giving and seasonal offerings, Oklahoma Baptists are able to join in fellowship together in the advancement of the Gospel throughout the state, the nation and around the globe. The Cooperative Program ties all our giving together, so that every church can have a global reach through year-round budget giving.
It is our prayer that these resources will be helpful to you in your churches stewardship advocacy. Visit to start your CP advocacy planning today: oklahomabaptists.org/CP
Also, check out the national SBC CP website for even more helpful resources (don't worry we have included this link in the CP Ambassador Guide for you also)  sbc.net/missions/the-cooperative-program.
If there is a resource you have thought about that doesn't yet exit, tell us about it, maybe we can create it too. Just email us at cp@oklahomabaptists.org