NASHVILLE (BP) – A filmed stage adaptation of "The Hiding Place," the renowned true story of Corrie Ten Boom and her family's hiding of Jewish refugees from the Nazis during World War II, is set for a special theatrical release in early August.
The story follows Corrie, along with her sister Betsie and father Casper, as humble watchmakers in the Netherlands who risk their lives seeking to hide Jews from the horrors of the Third Reich just around the corner.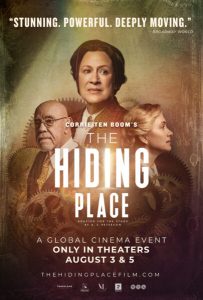 The stage play, adapted from Corrie's internationally best-selling memoir, was filmed last year in front of a sold-out audience in Nashville. It will show in select theaters nationwide Aug. 3 and Aug. 5 before an international release Aug. 16.
The project was adapted for the stage by A.S. "Pete" Peterson, who told Baptist Press about both the honor and the pressure of the task.
"I was really excited to be able to have a chance to work on it, but the more I dug into the project, the more I became aware of the huge, long-lasting legacy of Corrie Ten Boom," Peterson said.
"This is not just something that I can take lightly and potentially mess up. I really need to do the hard work of honoring how many people love this story. It was something I needed to take with enormous seriousness and responsibility."
The Ten Booms' story has gained notoriety among evangelical Christians over decades.
Corrie's memoir has sold millions of copies over the nearly 50 years since its publication in 1974. A film adaptation, produced by Billy Graham's World Wide Pictures, was released in 1975.
Peterson was commissioned by a theater founded by Jeanette Clift George, who played Corrie Ten Boom in the 1975 movie, to write the story for the stage to honor George after she passed away in 2017.
He said because the theater format is three-dimensional, it allows the classic story to be told in a fresh way.
"You necessarily have to figure out what works for the medium in which you're wanting to tell the story," Peterson said.
"The stage is necessarily three-dimensional, which is kind of what separates it from film and the novel artform.
"I had a lot of fun landing on the idea of the clock shop and the Ten Booms as watchmakers, which is kind of an important theological idea. The Dutch Reformed tradition believes really strongly in the sovereignty of God, that God is in control at all times and you can trust in that.
"In that context, leaning on this idea of the whole show almost being a clockwork that has been designed by its maker … kind of reinforces the story."
The project was directed for the stage by Matt Logan, who said it was not always easy for Corrie to hold strong to her theological beliefs.
"She (Corrie) was a real person, and she had doubts and the struggle for faith was real," Logan said.
"I think that's the powerful point of telling stories. That struggle allows us as an audience to go 'oh I struggle with that. I struggle with faith. I struggle with doing the right thing.'
"And this is showing me they did too, and yet were still able to be resilient."
Corrie is played in the film by Nashville stage actress Nan Gurley, who told Baptist Press portraying Ten Boom was a "wake-up call" for her own Christian faith.
"There's always the challenge when you play a real historical figure," Gurley said. "You want to get it right and you want to tell it truthfully and authentically.
"Telling this kind of a story can be a personal wake-up call, where you go, 'OK I profess to know Christ. I profess to follow Christ and try to live a life of obedience, but what hills would I die on?'
"The Ten Booms choose to put their lives at risk to save Jews. … It had a huge impact on me in a positive way to think, what will I die for if I'm ever challenged this way."
Gurley said Corrie and the Ten Boom family can be an example to Christian believers because they were prepared for their big moment before it came.
Before they helped hundreds of Jews escape to safety during the war, the family would often foster the children of missionaries in their home.
Even though Corrie struggled with doubt, she would later return to the very concentration camp where she was held and turn it into a rehab facility for survivors.
"The story of Corrie and her sister Betsie and her father needs to be told generation after generation," Gurley said.
"It's easy to look at Corrie and Betsie and Casper Ten Boom and go, 'Oh they were these icons of the faith.' These are amazing people who did the impossible and sort of put them on a shelf as an icon of the faith.
"I want people to be encouraged that these were ordinary, unknown people living hidden lives of obedience day after day. The rhythm of their lives was an open door in hospitality. The stakes were life and death, but they were ready for it."
Peterson hopes this new medium for the Ten Booms' story of forgiveness, love and hospitality will inspire believers to draw close to each other.
"In the middle of a shooting war … their weapon of choice was to love their neighbor and to be hospitable to the people around them no matter who they were," Peterson said.
"I believe that art creates gathering points for community. If we create a great stage play or a great film, people go to see that together and rightfully done, that should result in community. That's something that I believe is vital to the Church."