The theme for the 2017 BGCO Annual Meeting is "Disciple!" based on Matt. 28:19-20, in which Jesus said, "Go, therefore, and make disciples of all nations, baptizing them in the name of the Father and of the Son and of the Holy Spirit, teaching them to observe everything I have commanded you. And remember, I am with you always, to the end of the age."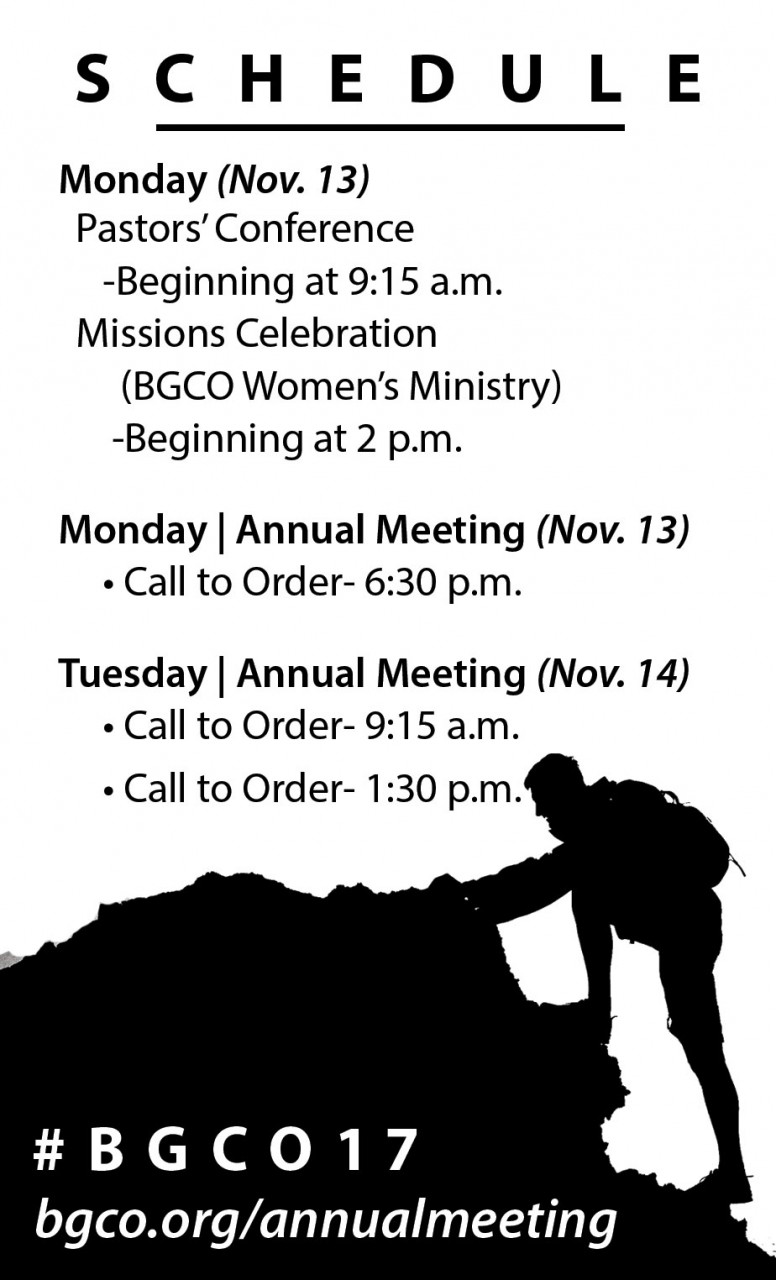 A sermon will be delivered on Monday evening by BGCO Executive Director-Treasurer Anthony L. Jordan, who just weeks ago, announced his forthcoming retirement from the BGCO effective April 2018. Following Jordan's address, there will be a special reception for Jordan and his wife Polla.
"For more than 21 years, Dr. Jordan has led this state convention in great ways, and this fellowship will be an important time in the life of Oklahoma Baptists. I pray that pastors and lay people from across the state will make a point to be at the Annual Meeting this year," said Joe Ligon, BGCO President and pastor of Marlow, First.
On Tuesday morning, Ligon will deliver his President's Address. On Tuesday afternoon, Rick Frie, pastor of Jenks, First, will deliver the annual sermon. Later that afternoon, David Platt, president of the International Mission Board (IMB) of the Southern Baptist Convention, will preach.
In addition to music and sermons, reports from various ministries, including Falls Creek, the ReConnect Sunday School initiative, Oklahoma Baptist University, Oklahoma Baptist Homes for Children, Baptist Village Communities and The Baptist Foundation of Oklahoma, will take place.
Hance Dilbeck, pastor of Oklahoma City, Quail Springs, said, "We are honored to host Oklahoma Baptists for the annual meeting, which I believe will be a time of great fellowship and inspiration."
Connected to the BGCO Annual Meeting are several longstanding events, including the Oklahoma Pastors' Conference and Missions Celebration, a BGCO Women's Missions & Ministry event. In addition to these, new events are scheduled, including Oklahoma Young Pastor Partnership luncheon featuring Platt on Tuesday at noon. For more information, visit www.oklypp.com/register.
Presiding throughout the meetings will be Ligon and Mike Keahbone, pastor of Oklahoma City, Cherokee Hills, who is serving a one-year term as BGCO first vice president; and Kevin Baker, pastor of Altus, Martha Road, who is serving a one-year term as BGCO second first president.
Officer elections, resolutions committee reports and other matters of business will take place on Tuesday.
For a complete schedule of the BGCO Annual Meeting, plus information related to lodging and travel, visit www.bgco.org/annualmeeting.