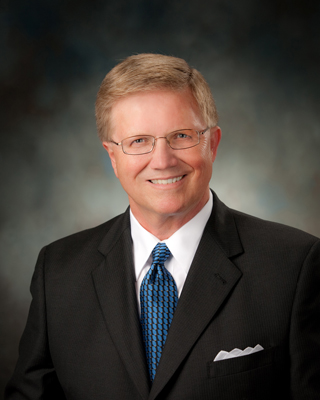 Richard Alan Day, 62, pastor of Edmond, First for the past 25 years, died following a motorcycle accident on Interstate 35 in Edmond, Wed., Feb. 16.
Oklahoma Highway Patrol reports said he was travelling on the northbound off-ramp to Covell Road from I-35 about 4:30 p.m. when he encountered some sand on the roadway, lost control and skidded more than 100 feet, hitting his head on the road. A helicopter transported him to OU medical center, where he died from injuries to the head. He was wearing a helmet.
Edmond, First associate pastor Keith Haygood, said the church staff found out about Day's death shortly before the church's fellowship dinner at 6 p.m.
"We told the church what had happened and called them to prayer," said Haygood. He added that Day had taken up riding motorcycles in the past five years and was a very safe biker and always wore his helmet.
Day came to the Edmond church in 1985 from First Church, McComb, Miss. He had also served churches in Texas and Louisiana.
A native of Bogalusa, La., he was a graduate of Louisiana College and New Orleans Seminary, where he received MDiv. and ThD. degrees.
Day served on numerous boards and committees of the Baptist General Convention of Oklahoma and Southern Baptist Convention, including the BGCO board of directors and International Mission Board. He served a term as president of New Orleans Seminary Alumni. He was currently vice chair of the Oklahoma Baptist University board of trustees, and would have assumed the chair in 2011-12.
A prolific writer, Day is the author of two books, Lordship . . . What Does It Mean? and Family First, and a contributing author for Baptist Theologians. He served the Baptist Messenger as a columnist for several years, writing a weekly Baptist Doctrine series from 1999-2002, then an "I'm Glad You Asked" column in 2005.
In 2006, he started a website, AskGodAnything.org, designed to give divine answers to people's questions.
He served as a Falls Creek preacher and Rose Day speaker, as well as speaking at the State Bible Conference and numerous other Oklahoma Baptist events. In 2007, he was presented the Faithful Sower Award by the State Evangelism office.
In 1993, Edmond, First built new facilities at 33rd and Bryant after being a downtown presence in Edmond for decades.
"Oklahoma and Southern Baptists have lost a great leader, pastor, theologian and friend," said Anthony L. Jordan, executive director-treasurer of the Baptist General Convention of Oklahoma. "Alan has contributed in immeasurable ways to our cooperative work. For me, the loss is very personal. Our hearts were knitted together from seminary days.
"I remember well sitting around the table in seminary cafeteria discussing ministry and theology. His remarkable intellect, passion for the church, evangelism and missions formed a bond between us that has spanned many years. I feel a deep sense of loss and will miss his wisdom, spirited laugh and love. I love Alice and their family, and ask you to join me in lifting them to the Savior in prayer. We also pray for the Edmond, First family."
David Whitlock, president of OBU, said the OBU family was saddened to learn of the death of Day.
"Alan Day was a consummate Baptist statesman. He had a pastor's heart and a servant's spirit, which was demonstrated in his love for his church family and his leadership role in the Edmond community," Whitlock said. "His warmth and caring were so strong that they sometimes overshadowed his keen theological mind. He was a student of God's Word and an innovative communicator of biblical truth.
"Alan is a respected leader among Southern Baptists, but for those who were blessed to call him friend, he will be most remembered for his exemplary roles of husband, father and grandfather."
OBU provost Stan Norman said Day embodied the traits that all pastors and denominational leaders should emulate.
"Oklahoma Baptists and Southern Baptists have lost a dear and precious friend in Alan Day," said Norman. "He possessed one of the most gifted minds in Southern Baptist life today. He was a faithful shepherd who lovingly served his congregation. He was a committed soul-winner, always ready and willing to share the Gospel passionately and winsomely."
Quinton Winter, who served on the pastor search committee that called Day to Edmond, First, called Day a tremendous reader and theologian.
"That's what we appreciated about him, that he was such a Bible-oriented preacher," Winter said.
Haygood agrees.
"He was a great theologian, knew the Bible, preached often from the Hebrew and Greek texts," Haygood commented. "The bottom line is he loved the Lord and loved to introduce people to him."
Haygood said he has no doubt how Day would want people to react to his death.
"First of all, he would want people to put their faith in Christ," he said. "Alan Day was a godly man. He was a man of great faith, and he spent his life carrying out his calling to encourage people to make themselves ready. Just as there's no doubt in anyone's mind for Alan Day that he's in God's presence now because he made himself ready, and he spent his life introducing people to faith in Christ."
Day is survived by his wife of 41 years, Alice, four children, Charis, Cheyne, Richard and Aaron and six grandchildren.
Marty O'Gwynn, OBU associate vice president for university communications, contributed to this article.