CrossTimbers Children's Mission Adventure Camp is back for 2023! The camp theme will be "WHATEVER!" Based on Phil. 4:8-9, the theme will help children learn to dwell on things above and how to follow Jesus in WHATEVER comes their way.
CrossTimbers focuses on reaching and equipping children for God's purpose. Throughout each session of camp, the program focuses on Scripture, worship, relationships and opportunities to learn how to live missionally after camp.
Alongside this mission, CrossTimbers seeks to have FUN each day at camp. Between chapel and devotional times, campers participate in rope, target and water activities.
Each camper will also go through three mission stops throughout the four-day session. Based on Acts 1:8, the mission stops at CrossTimbers focus on local, national and international mission locations, supported by the Go Students program through Oklahoma Baptists. This year's mission stops will focus on Deaf Culture/Ministry, Utah and Portugal.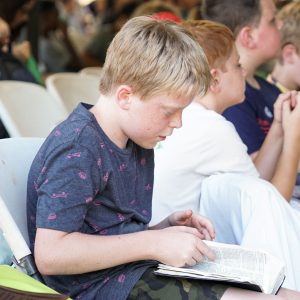 Each year, CrossTimbers encourages campers not only to focus on learning about missions but also giving to missions. This year's camp offering focuses on loving orphans. Based on James 1:27—"Religion that is pure and undefiled before God is this: to care for orphans and widows in their affliction"—campers will have the opportunity to give to an orphanage in Portugal.
Campers will help meet the needs of orphans by providing things like meals, clothes, education, transportation, birthday, Christmas gifts and more. Children from all over Oklahoma will come together to demonstrate Christ's unconditional love to at-risk children in Portugal!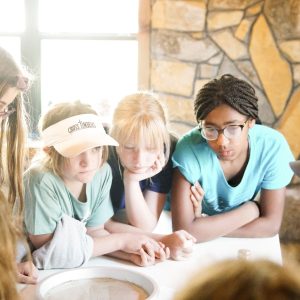 Oklahoma Baptists is pleased to welcome new CrossTimbers Program Director Sarah Hagar. She has served in children's ministry for more than 10 years.
Hagar began her ministry serving at Lawton, First, and for the last eight years, she has served at Bethany, Council Road. Not only has Sarah taken groups to CrossTimbers, but she has served on the CrossTimbers Planning Team for 10 years as well.
When asked about taking this new role, Sarah stated, "CrossTimbers has always been one of my favorite weeks of the summer. I am excited to see God move in the lives of kids and sponsors over the course of the entire summer. I pray that many will come to know Christ and deepen their faith while at camp."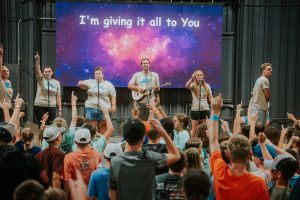 CrossTimbers strives to provide a great camp experience for children and churches. Make sure to join in on all the summer fun by attending CrossTimbers in 2023!
Visit oklahomabaptists.org/crosstimbers for more information on CrossTimbers.