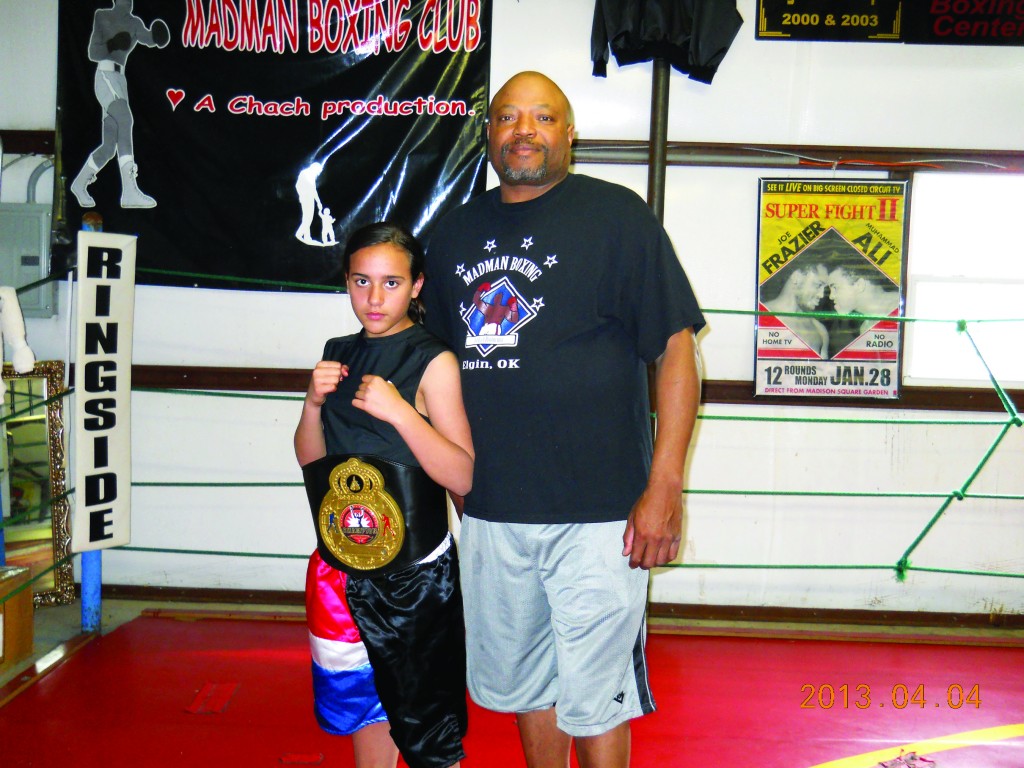 ELGIN—Fans of Sylvester Stallone's "Rocky" movies, remember Mick, Rocky's boxing trainer. Played by Burgess Meredith, Mick was a salty character with a gravelly voice who had a way of motivating his underdog fighter by making comments that seemed derogatory but eventually helped Rocky be the inspiring champion.
David Vaughn is a real life boxing trainer and has little comparisons to Mick. He is a soft-spoken, humble man who lives in the southwestern Oklahoma town of Elgin. For the past 10 years, he has trained 25 kids to box, and along the way he has taught them Godly character and discipline­—to be champions for Christ.
"I started the program after my son was killed in a car accident," said Vaughn whose son David, Jr., was 17 when he passed away. "I was training for the Toughman Competition before he died, and my son was my trainer."
Vaughn shared that when David, Jr., died, he got mad at God. However, he said he remembered a powerful truth.
"God helped me realize that He gave His own Son for me," Vaughn said. "After I realized that, I made a major change in my life. I started understanding more. I miss my son every day. (God) took one, but He gave me 25."
Right next to Vaughn's house sits a sheet-metal building. Called Madman Boxing Gym, this is where he has trained his young fighters who usually begin boxing when they are 11 or 12 years old.
"After (David, Jr.) was killed, I decided to build a gym to give back to the public," he said. "It's no charge for a kid to work out here. We work off donations. God put it on our hearts to open it up for the kids, any kids who wanted to come."
Vaughn has trained some very successful boxers. He has had three compete in national Golden Glove championships and one in the Silver Glove national championships, which is for fighters who are ages 10-15. He also has been involved in training professional Super Middleweight boxer, George "Comanche Boy" Tahdooahnippah, and he is training a young lady, Allyanna Bates, who hopes to compete in the 2016 Olympics.
"This is a way for me to show what God is doing in my life," he said. Of course, he is proud of his champion fighters, but he has even more appreciation for seeing his kids gain spiritual victories.
"I have seen three of my fighters get baptized," said Vaughn who regularly attends Elgin, Locust Grove and serves as a greeter and an usher. He said profanity is not spoken in the gym, and they also conduct modesty in what they wear.
Vaughn emphasizes prayer with his fighters. They have prayer time when they meet together. Whenever they travel to compete in tournaments, no one starts to eat until everyone in the group is served, and then Vaughn calls on the youngest to voice prayer.
Another way Vaughn honors his late son is through hosting an annual boxing tournament in Lawton every April. All the proceeds from the tournament go to the David H. Vaughn, Jr. Scholarship, which assists students wishing to travel to other countries.
"He was somebody who wanted to see the whole world," Vaughn said, sharing that David, Jr. was born in Germany. Vaughn's wife Sophia came up with the idea for the scholarship, and applicants for the scholarship are required to write an essay on history or foreign languages.
"David is a very strong family man," said Kenn Lane, pastor of Elgin, Locust Grove. "If there is anything about David, he is very committed to God and is a very giving person. I have seen how he works with his kids, and David is an inspiration to those kids."
Just as Mick was instrumental to Rocky's success, one day Vaughn will see his champions lay their crowns at Jesus' feet.