Recently, while searching online, I found a compilation of all of the prayers of Paul—(https://www.kevinhalloran.net/the-apostle-pauls-prayers-in-the-bible/ )
Since I had easy access to all the words of Paul's prayers through this list, I got curious about what a word cloud of the most used words Paul employed in prayer would be. I made the word cloud above, pretty cool, huh?
Word clouds are an interesting way to analyze words, and these days, they are easy to make using free online tools. You can try it for yourself, just copy and paste all the words of Paul's prayers from this page (https://www.kevinhalloran.net/the-apostle-pauls-prayers-in-the-bible/ ) into one of the many free word cloud tools you can find online. (https://www.wordclouds.com/)
Five Lessons from Paul's Prayer Word Cloud
I was very encouraged by reading what the Apostle prayed to deepen my own commitment to prayer. Here are five takeaways from Paul's prayer word cloud.
Paul made prayer a ministry priority. It strikes the reader of these prayers that Paul was not just a man of ministry action; he was a man of deep devotion to God. That's convicting to those of us who too often find ourselves steaming ahead to do God's work without waiting on God in prayer as Paul did. Let's take Paul's example and make prayer even more of a priority in our ministry.
Paul's prayers are models for us all. You can tell by reading these words of Paul that his powerful ministry was born in prayer. Thankfully for us, Paul wrote many of his prayers down. If you want a great lesson in how to pray, you can learn a lot by imitating the Apostle. Indeed his prayers can become your own prayers. I want to use his prayers as models for my own prayers, how about you?
Paul's prayers were theologically deep. I am no theologian, but it is easy to tell by reading his prayers that Paul had a broad grasp of theology. For example, when he talked to God, he referenced and addressed Father, Son and Holy Spirit. The Trinity is just one of the many doctrines you will find in his prayers. When Paul wrote his prayers, he was also educating his readers (us) about important doctrines. What we pray about most reflects our depth of understanding of God. Read and pray Paul's prayers, and your own prayers will deepen with accurate theology.
Paul prayed specifically. Reading the prayers, you can see how he tailored his prayers to the people for which he prayed. Note, he didn't pray the same exact prayer for the church in Rome as he prayed for the church in Corinth, etc. No generic prayers were offered by Paul. That's an important lesson for us all to engage relationally in prayer with and for those for whom we pray.
Paul had themes he prayed for often. Even though Paul didn't have one-size-fits-all prayers for the churches for which he prayed, he did have recurring themes in his prayers. Below I have created another word cloud from Paul's prayers, this time excluding the names of God.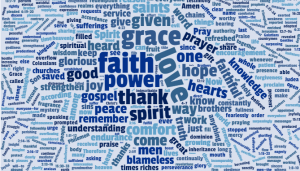 The words listed below are used most often in prayers written by the Apostle. You can do your own search to know the number of times the words are mentioned and to find more words. I encourage you to take these words and pray through them yourself.  Also, as they say, this stuff will preach!
Love: "I pray that you, being rooted and established in love, may have power, together with all the saints, to grasp how wide and long and high and deep is the love of Christ, and to know this love that surpasses knowledge—that you may be filled to the measure of all the fullness of God" (Eph. 3:17-19).
Faith: "For this reason, I kneel before the Father, from whom his whole family in heaven and on earth derives its name. I pray that out of his glorious riches he may strengthen you with power through his Spirit in your inner being, so that Christ may dwell in your hearts through faith" (Eph. 3:14–21).
Grace: "I always thank God for you because of His grace given to you in Christ Jesus. For in him you have been enriched in every way— in all your speaking and in all your knowledge—because our testimony about Christ was confirmed in you" (1 Cor. 1:4).
Power: "May the God of hope fill you with all joy and peace as you trust in him, so that you may overflow with hope by the power of the Holy Spirit" (Rom. 15:13).
Thanksgiving: "First, I thank my God through Jesus Christ for all of you, because your faith is being reported all over the world. God, whom I serve with my whole heart in preaching the gospel of his Son, is my witness how constantly I remember you in my prayers at all times; and I pray that now at last by God's will the way may be opened for me to come to you" (Rom. 1:8-10).
Hope: "May the God of hope fill you with all joy and peace as you trust in him, so that you may overflow with hope by the power of the Holy Spirit" (Rom. 15:13).
Comfort: "Praise be to the God and Father of our Lord Jesus Christ, the Father of compassion and the God of all comfort, who comforts us in all our troubles, so that we can comfort those in any trouble with the comfort we ourselves have received from God. For just as the sufferings of Christ flow over into our lives, so also through Christ our comfort overflows. If we are distressed, it is for your comfort and salvation; if we are comforted, it is for your comfort, which produces in you patient endurance of the same sufferings we suffer. And our hope for you is firm, because we know that just as you share in our sufferings, so also you share in our comfort" (2 Cor. 1:3–7).