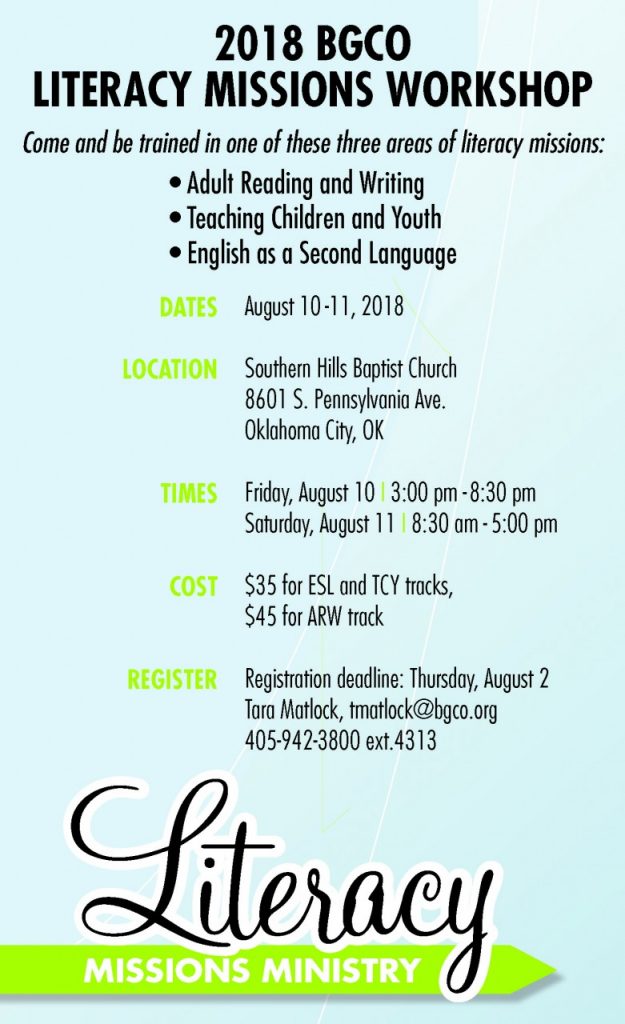 A wonderful opportunity to receive literacy missions training will be offered at the 2018 Baptist General Convention of Oklahoma (BGCO) Literacy Missions Workshop, Aug. 10-11 at Oklahoma City, Southern Hills, 8601 S. Pennsylvania Ave. Participants will receive 11 hours of hands-on training from 3-8:30 p.m. on Fri., Aug. 10 and 8:30 a.m.-5 p.m. on Sat., Aug. 11.
Three tracks will be offered simultaneously:
• English as a Second Language (ESL)—Learn to teach English to internationals.
• Adult Reading and Writing (ARW)—Learn to help English-speaking, low-level adult readers improve their reading and writing. Also learn how to assist those needing to complete their GED.
• Tutoring Children and Youth (TCY)—Learn to tutor students in reading and other academic skills needed for school success.
This training is useful for anyone desiring to make an impact in others' lives, meeting the very practical need of improving literacy skills while sharing the life-changing truth and love of Jesus Christ. In all three workshop tracks, how to share one's faith and how to use the Bible as a teaching resource are emphasized.
Both new and seasoned volunteers in any literacy work with children or adults can benefit from the training. For those seeking to establish a new literacy missions ministry, each workshop track also includes information about how to begin and administer a ministry.
Those who have previously attended the workshop are also welcome, as they may wish to refresh their skills or may wish to attend a different training track to expand their knowledge. For instance, ESL volunteers may wish to provide tutoring for children of adult ESL students, and the TCY training track would offer excellent guidance.
Cost for the workshop is $35, which includes a training manual, light dinner on Friday, and lunch on Saturday (ARW registration requires an extra $10 due to an additional manual that is needed). Upon completion of the training, a certificate from the North American Mission Board through the National Literacy Missions Partnership will be presented.
To register for the workshop or for more information, contact Tara Matlock in the BGCO Evangelism office at 405/942-3000 Ext. 4313 or tmatlock@bgco.org. The registration deadline is Thursday, Aug. 2.