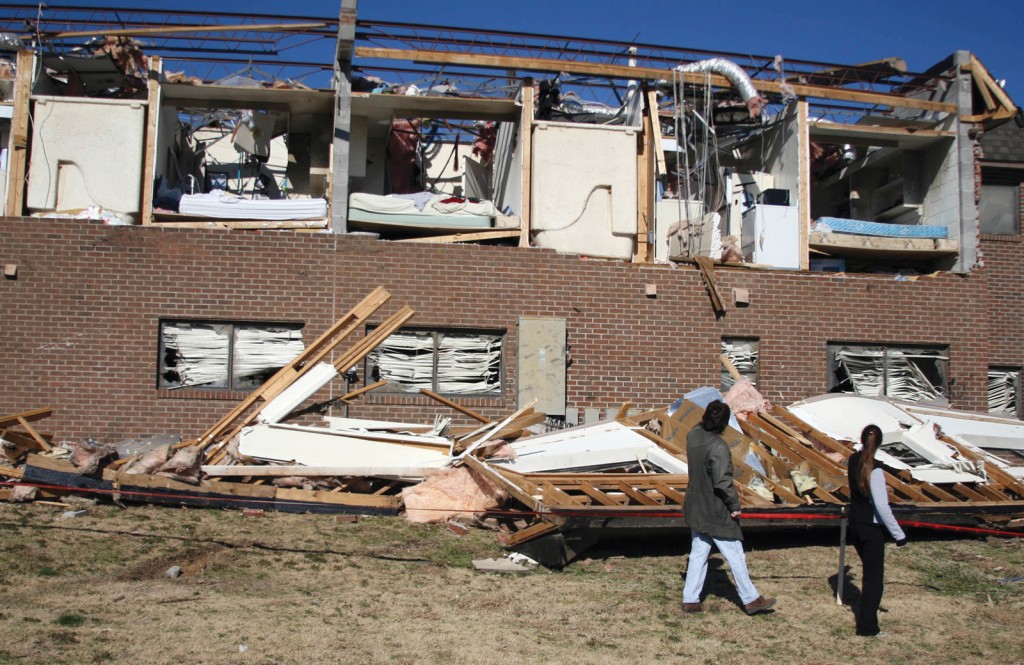 JACKSON, Tenn.-Union University moved from crisis to recovery Feb. 8 as volunteer teams began cleaning up debris strewn by the Feb. 5 tornado and construction workers began rebuilding two major academic buildings.
Former Oklahoma pastor and president of the Baptist General Convention of Oklahoma, Wendell Lang, is helping to spearhead the recovery effort through his church, West Jackson, which is located across the street from the university.
The BGCO sent $5,000 from disaster relief funds to West Jackson to help fund its ministry to Union students who lost virtually all of their possessions.
Lang, former pastor of Pryor, First, said his church began hosting relief workers Feb. 11 and will house the university's Christian Studies Department and Fine Arts School during the time of recovery.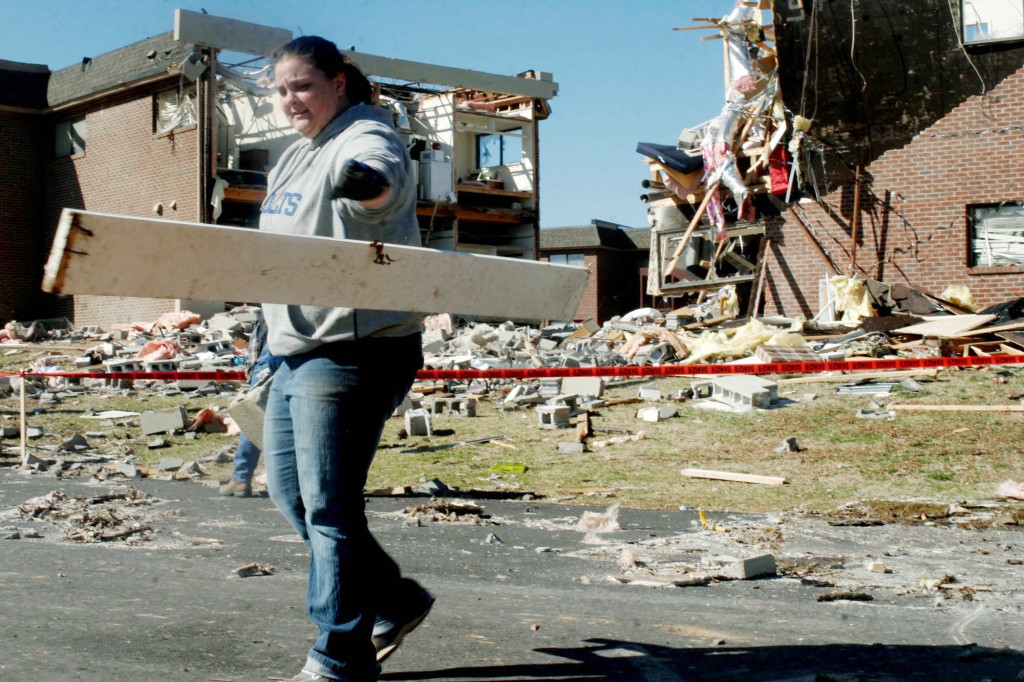 "Oklahoma Baptists' gift to West Jackson is greatly appreciated," he said, adding that the damage at Union "is only a part of our city that has experienced devastation."
"From the time the tornado hit, everyone is doing what they were designed to do to the best of their ability," said Josh Clarke, a Union alumnus and admissions coordinator for the university's pharmacy school.
Clarke said he has witnessed students, parents, faculty, staff, local residents and disaster relief veterans from Hurricane Katrina raking through the remains of the Jackson, Tenn., campus he continues to call home.
Larry Vaughn, director of Union's church relations department and coordinator for disaster relief volunteers, said about 500 people joined in the efforts in just the first day of the recovery phase.
"The response has been overwhelming from people all over the country," Vaughn said of people wanting to help Union after the tornado's devastation.
The volunteers worked to clear dorm rooms and faculty and staff offices, Vaughn said. Officials set up a "bag and tag" system to recover students' belongings from demolished dorm rooms. Another priority on campus is removing all vehicles whether they can be driven or towed off campus.
Meanwhile, Frank Page, president of the Southern Baptist Convention, asked Southern Baptists to support Union University with their prayers and with a special offering after the Baptist-affiliated school suffered extensive damage from a tornado Feb. 5.
"The vast amount of damage -perhaps as much as $50 million-leaves the institution in a desperate situation immediately," Page said in a statement Feb. 8. "I am calling on Southern Baptists to prayerfully consider giving a love offering to this dear institution on one of the next several Sundays, Page said. "I pray that we would give sacrificially and lovingly to a part of our family . . . which needs our assistance."
Most of Union's student housing buildings were destroyed or severely damaged, and at least 17 buildings on campus were damaged, including the library. Although the university was insured, Page said it may take months or even a year before an insurance settlement is complete.
Union President David S. Dockery said Feb. 7, "We are concerned at the large level with what appears to be untold millions of dollars of damage, and we have to try to restore and rebuild on this campus. But students need to know that is not our primary concern.
"We are concerned about them, their well-being, getting them back into the saddle, getting them back into trying to finish this spring semester. It's so important, especially for our seniors who are trying to graduate school next fall. We have got to finish this semester, and we're going to do everything we can to ensure that happens."
Dockery said he holds great hope for the future, reporting that a five-phase plan has been implemented to move the university forward in a positive direction: campus assessment, students' return to homes, damage cleanup, resumption of classes and rebuilding the campus.
Donations may be sent to "Union University Disaster Relief Fund" at 1050 Union University Drive, Jackson, TN 38305. The university also is suggesting that those who want to help students consider providing gift cards that can be used in stores like Wal-Mart, Target, Lowe's or Home Depot.
Vaughn said volunteer opportunities opened up to the community Feb. 11.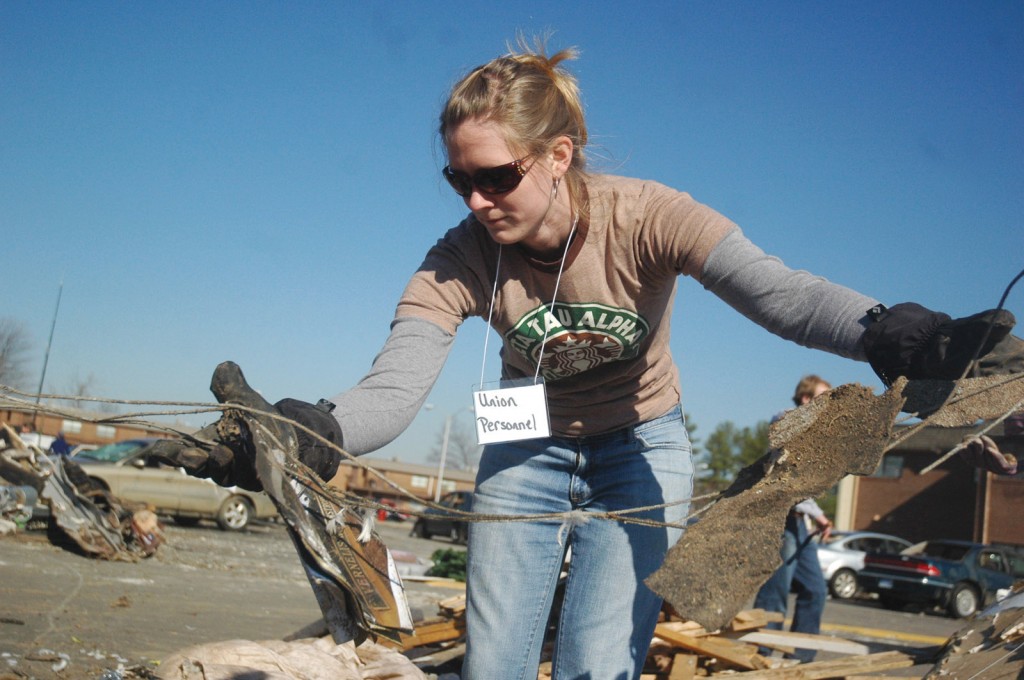 "We are taking names and numbers of people interested in volunteering, and we will call back," Vaughn said. "The recovery is going to be a long process and we need folks to help us with cleanup and feeding our volunteers and a number of other important functions.
"We are asking that people keep praying for us and keep volunteering and bringing needed items in."
Individuals interested in aiding in the recovery efforts should call Union's volunteer headquarters at 731/661-5160. They are asked to call before coming so coordinators are not overwhelmed and each volunteer is used effectively. For information regarding donations, interested persons should visit the www.uurecovery.com Web site.