In 1984, former President Ronald Reagan "issued a proclamation designating Sanctity of Human Life Day," in response to the U.S. Supreme Court's 1973 Roe v. Wade ruling and the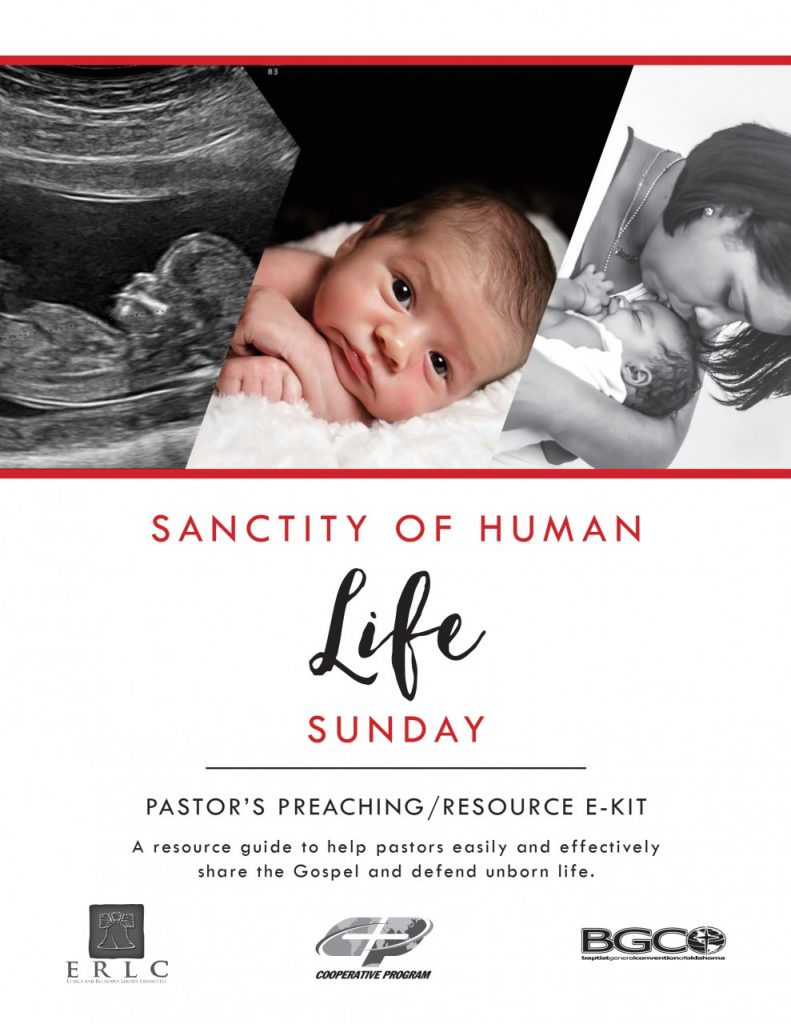 resulting surge of abortions in America.
Since that Sunday was designated, churches across America have observed the special Sunday to celebrate the sanctity of unborn human life and to emphasize the church's role in responding to abortion.
In time for 2017's Sanctity of Human Life Sunday (Jan. 22.), the Baptist General Convention of Oklahoma's (BGCO) Ethics & Religious Liberty Committee and Hope Pregnancy Ministries (HPM) have released resources that pastors and churches may use. The free resources are available online at www.bgco.org/shls and include sermon notes for pastors, videos, a bulletin insert, website links and more.
"Whether your church has never taken part in Sanctity of Human Life Sunday or does every year, January 22, 2017, offers as important of an opportunity as ever to protect unborn life in Oklahoma and across this nation," said Anthony L. Jordan, BGCO executive director-treasurer.
Brent Prentice, pastor of Stillwater, Eagle Heights, is one of authors of the sermon notes in the BGCO's Pastor's Preaching/Resource E-Kit. He said that Sanctity of Human Life Sunday is "a day we defend unborn girls and boys and advocate for hurting mothers and fathers. It's a day we call our churches to be for people, treating them the way we would want to be treated (Matt. 7:12). We must do more than be against people. We must be for people, and we must be for people daily. This special Sunday reminds and challenges us to be for every man, woman and child—both born and unborn."
Prentice added, "We must preach that abortion is wrong, but make it clear that through Christ, all who call upon the name of the Lord can be righteous in Christ and saved from the worst of sins. No one is beyond the grace of God through Jesus."
Other featured pastors in the BGCO e-resource include the following: Nick Garland, pastor of Broken Arrow, First; Michael Taylor, pastor of Ponca City, First; Hance Dilbeck, pastor of Oklahoma City, Quail Springs; Rick Frie, pastor of Jenks, First; and James Biesiadecki, pastor of Bartlesville, First.
The Ethics & Religious Liberty Commission of the Southern Baptist Convention also has resources for Sanctity of Human Life Sunday, viewable at www.erlc.com. ERLC President Russell D. Moore longs for a day in which we no longer need the emphasis.
Moore said, as Christians "we'll always need Christmas. We'll always need Easter. But I hope, please Lord, someday soon, that Sanctity of Human Life Day is unnecessary."
For more information about Sanctity of Human Life Sunday and the free resources, visit www.bgco.org/shls.