Oklahoma City, Quail Springs hosted the 111th Annual Meeting of the Baptist General Convention (BGCO) for the second consecutive year, Nov. 13-14. The meeting registered 682 messengers from BGCO churches across the state, as well as many more guests in attendance. All who attended experienced encouraging ministry reports, worship through song, as well as announcement of new ministry opportunities and the occasion to hear BGCO Executive Director-Treasurer Anthony Jordan deliver his final address before his retirement in April 2018.
// BGCO to accept Tulakogee Camp
A new ministry opportunity was announced by Jordan during Monday night's opening session. The BGCO will be offered "as a gift" Tulakogee Camp and Conference Center, located in Wagoner. The 199-acre campground will be given to the BGCO, Jordan said, after it has been managed by an "independent board of godly and good people."
"It is a beautiful camp located on Fort Gibson Lake," Jordan said. "It is a place where many Baptists have gone through the years. And many children have come to Christ as their Lord and Savior.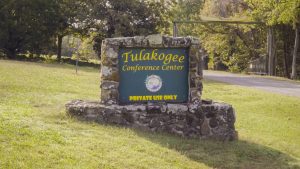 Jordan said the BGCO will take over "some debt and deferred maintenance" with accepting Tulakogee. A financial goal has been set to raise $4 million to refurbish the camp, and Jordan said the plan is to make Tulakogee a "CrossTimbers on the east side of the state," similar to the children's mission adventure camp located near Davis.
"It will become a place where more children will come," he said. "I'm so excited that Oklahoma Baptists will now have an anchor in the eastern side of the state. That's my side of the state, where I came from. We'll have the opportunity to invest and minister to our churches there and many children will come to know Christ because of the investment we will make in Tulakogee. To God be the glory."
// Jordan challenges churches to be how 'we ought to be'
His send-off sermon was passionate, speaking on what it means to be a disciple. Jordan spoke during the Monday evening session on the importance of pastors preaching that Jesus has called us to "a whole Gospel." Speaking on the Great Commission in Matt. 28:19-20, Jordan focused on the three actions in the well-known command Jesus gave to His disciples – go, baptize and teach.
Jordan emphasized how Oklahoma Baptists continue to be leaders in giving through the Cooperative Program. "We ought to lead the pack like we do and keep on leading the pack," he said. "There should not be a more missionary-committed people than Oklahoma Baptists. God has been generous to us. He has blessed us beyond measure. Our hearts ought to be so big for the world that whenever we open our pocket books and we commit our percentages from our church, we ought to just keep on moving it forward, so that we can take the Gospel to ends of the earth."
He pointed out that the BGCO has been the number-one giving state convention among Southern Baptists in terms of average percent given, and Oklahoma City, Quail Springs, where they were meeting, is the "number-one giving church to the Cooperative Program in Oklahoma" and has given the most in one year in the history of the Southern Baptist Convention (SBC).
Jordan challenged churches to reflect the people who live "around our churches." Jordan said, "Many of our churches in transitional neighborhoods are dying because they are unwilling to transition… The fact of the matter is, they ought to die. If you're not willing to reach everybody in your neighborhood, no matter what color they are, no matter what they come from, no matter what their background is, then you don't have a right to call yourself a New Testament church."
He elaborated that a New Testament church encompasses everybody Jesus encompassed, not holding back in presenting the Gospel and inviting them to be a part of church families. He said when people come to an Oklahoma Baptist church, no matter race or cultural background, they should look around and conclude "I'm at home here. This is where I belong."
"Going into the world with the Gospel—our 'next door world'—means that we must be willing to go to people that we don't like and who don't do the things we think they ought to do," Jordan said.
Jordan concluded his address with a word of thankfulness for leading Oklahoma Baptists for 22 years.
"Because of you Oklahoma Baptists, you have given me an opportunity of a lifetime. I can't say it any other way – Thank you, and I love you," he said.
A series of video presentations were shown after Jordan's address of many Baptist leaders, congratulating Jordan for his nearly 22 years of leadership at the BGCO. Those who spoke through video were Frank Page, SBC executive committee chief executive officer; Nick Garland, pastor of Broken Arrow, First and former BGCO president; and James Lankford, Oklahoma U.S. Senator.
Oklahoma City, Quail Springs also hosted a reception honoring Jordan and his wife Polla after the Monday evening session, as many attended to share their appreciation.
// Platt encourages pastors
David Platt, president of the International Mission Board (IMB), was a key speaker during the final session, Tuesday afternoon. He opened with a word of encouragement that more IMB missionaries are being sent in the mission field across the world, which reverses a trend in the past few years, as far as the number of IMB missionaries serving. Platt gave a word of thanks to Oklahoma Baptists for their giving, which makes it possible to send IMB missionaries.
Platt also encouraged pastors who may be struggling at their churches. "Maybe you're not seeing fruit," he said, "but do not underestimate lives of those sitting under your preaching. Stay faithful, brother."
His sermon was based on Ex. 32:1-10, and Platt addressed five "golden calves" that are demonstrated among churches today, which are being leaders without conviction, celebrating salvation without dedication, manufacturing worship without humiliation, creating a god without retribution and indulging in earthly pleasures while ignoring eternal direction. Platt concluded with a time of prayer and response.
// Other sermons inspire, challenge
BGCO President Joe Ligon, pastor of Marlow, First, gave his address during the Tuesday morning session. Speaking from 2 Tim. 4, he gave words of encouragement to pastors, telling them to fight the good fight, finish the race and keep the faith.
"If we fight about everything we win nothing," Ligon said and declared to identify who is the enemy. "Have the wisdom to know the good fight."
Ligon commended pastors of smaller churches of whom he said he identifies. "God knows where you are. The reason He knows where you are is He put you where you are," he said, acknowledging that he is a pastor out in "the hinterlands."
Rick Frie, pastor of Jenks, First, gave the annual sermon and spoke on Barnabas in the Book of Acts. He said Barnabas was one who personally got involved in accepting people even if they are "different." Frie also said Barnabas was one who demonstrated forgiveness.
"Barnabas was a pacesetter of (forgiveness)," Frie said. "He understood there was more than just showing up. Building and making disciples doesn't happen overnight. You and I have to come to the point that we believe what Jesus said and literally what Barnabas lived out is worth the investment."
// New officers elected, Financial Plan approved
Ligon was nominated by Rusty McMullen, pastor of Sayre, First, for a second term as BGCO president. He was unanimously re-elected to serve in 2018.
Mike Keahbone also was re-elected to serve as BGCO first vice president. Nominated by Chris Wall, pastor of Owasso, First, Keahbone won the election, 162-116, over Scott Watkins, pastor of Kingfisher, First, who was nominated by Shane Hall, pastor of Del City, First Southern.
Steve Dennis, pastor of Checotah, First, who was nominated by Johnny Derouen, pastor of Muskogee, First, was unopposed and elected second vice president.
Messengers to the BGCO Annual Meeting approved the 2018 Cooperative Program Allocation/Financial Plan, which carries a goal of $25.75 million.
// Reports highlight fruitful ministry
Messengers heard many reports from various BGCO officials during the three sessions. Scott Phillips, BGCO Operations Team leader, gave updates on facility projects for state Baptist Collegiate Ministries (BCM). The BCM at the University of Oklahoma (OU) plans to have its building completed for the next fall semester and has already raised the money needed to build.
Phillips also said the Oklahoma State University (OSU) BCM building is making progress on a property that was provided through a "generous gift." Both the new OU and OSU BCM buildings will be in locations adjacent to campus housing and "distinctive for the work of Oklahoma Baptists," Phillips said.
James Swain, BGCO Equipping Team leader, gave reports on Falls Creek and CrossTimbers summer camps. Swain underscored the significance of the Falls Creek Centennial summer, which saw 2,580 professions of faith, the most in Falls Creek history, as well as the Centennial Weekend over Labor Day 2017 in which thousands participated. Swain also spoke of GoStudents mission opportunities and a new training related to the ReConnect Sunday School initiative called the Beta Collective, which focuses on helping midsize churches.
Alan Quigley, BGCO Mobilization Team leader, shared about Disaster Relief helping in the aftermath of Hurricane Harvey in south Texas and in Puerto Rico. He also reported DR chaplains are serving in Sutherland Springs, Texas, leading in spiritual recovery efforts after the recent tragic church shooting.
Reports were given by the BGCO affiliates: The Baptist Foundation of Oklahoma, Baptist Village Communities, Oklahoma Baptist Home for Children (OBHC) and Oklahoma Baptist University.
During the OBHC report, a video tribute to Jordan was shown, talking about Jordan's instrumental role in establishing Crisis Pregnancy Center in 1986, which has become a flourishing network of Oklahoma Baptist pregnancy resource centers that have saved more than 10,000 babies since being founded.
Messengers approved the location and dates of the 112th Annual Meeting of the BGCO. Edmond, First will be the host church on Nov. 12-13, 2018.