Editor's note: This monthly series, "5 Family-Friendly Things," spotlights five family-friendly entertainment choices on film, DVDs, streaming or television.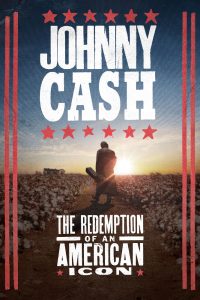 Few stars in American entertainment history have crossed the line between mainstream and Christian music—successfully—as much as Johnny Cash.
His music is loved by Saturday night bar-hoppers and Sunday morning church worshippers. That's because he sang at whiskey-drinking saloons and, later, at Bible-touting Billy Graham Crusades. If you want wall art depicting him making an obscene gesture, they're available. And if you're wanting a CD of him reading the entire New Testament, that's available, too.
A new documentary, Johnny Cash: The Redemption of an American Icon, tells the faith-centric story of the music legend by following his rise to fame and then his destructive fall. He nearly died of alcohol and drugs. He nearly died in a car crash. God, though, had other plans for his life.
The film, now on home video, is the first one to spotlight his faith.
"Johnny Cash transcends genres," Brent McCorkle, who wrote the music for the film and co-directed this year's box office hit Jesus Revolution, told me. "… You're looking at a guy who was a Christian and was really outspoken about his faith, and yet was so ubiquitous and had so much influence and was able to speak into so many people's lives."
The film includes interviews with those who knew him and follows his trajectory from a young boy in rural Arkansas to worldwide fame. His life was shaped by tragedy. (His brother was killed in a horrific accident when he was young.) On multiple occasions, he nearly died from recklessness and drug addiction. It was during one of those brushes with death that he had a spiritual transformation.
As the star of ABC's The Johnny Cash Show (1969-1971), he proclaimed the Gospel to millions. He did the same during appearances at Billy Graham Crusades.
The film includes interviews with sister Joanne Cash Yates and his son John Carter Cash as well as Marty Stuart, Wynonna Judd, Sheryl Crow, Alice Cooper, Greg Laurie and Tim McGraw. It was made by the same company (Kingdom Story) that produced Jesus Revolution and I Can Only Imagine.
It's uplifting and gripping.
Also worth watching this month:
His Only Son (Home Video)—Abraham is told by God to travel to a distant location in order to sacrifice his son, Isaac. This excellent Angel Studios film surprised Hollywood observers by opening at No. 3 at the box office and is the first in a planned multi-film series about Bible characters. It releases on home video, for free, June 25. Visit Angel.com for more information.
Chupa (Netflix)—A Mexican family takes in a mythical creature—a baby "chupacabra"—and hides it from a greed-filled explorer. It's a fun film that has elements of the award-winning movie E.T., with enough plot twists to make it unique. (The elderly man in the film was formerly a luchador.) Rated PG for some action, peril and thematic elements. VidAngel and Clearplay offer filters.
God's Country Song (Pure Flix)—A rising country artist sees his life changed forever when he learns he has a son he has never met. Adding to the plot: The boy's mother recently died. Real-life musician Justin Gaston portrays the country singer, who agrees to raise the boy. It's the latest original film from the Christian streaming service Pure Flix, which is one of the best faith-based alternatives to Netflix and Disney Plus. Visit PureFlix.com.
Nate Bargatze: Hello World (Prime)—Bargatze, who is one of the funniest comedians in America today, gives his unique take on life. The best part: He keeps his show family-friendly. He told Fox News, "I just can't imagine cursing in front of your parents. … So that's how I write. … I want them to be proud and be like, 'Oh, come watch my son do comedy,' and not be offended by it." If you've ever wanted to watch clean comedy with your kids, this is your chance.