The summer youth weeks at Falls Creek Baptist Conference Center, near Davis, will once again be an impactful time for Oklahoma Baptists. Thousands of young people will be coming to the Arbuckle Mountains, and what they will hear this summer will be a powerful, yet simple message.
Todd Sanders, Falls Creek program director, said the theme of camp this summer will be "Jesus. Period."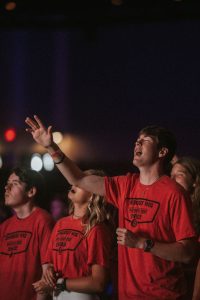 "I'm excited about camp this summer and what the Lord will allow us to continue to be a part of," Sanders said. "We have been praying for God to move this summer. This year, we are reinforcing with students the emphasis of the disciple-making lifestyle through personal evangelism."
Based on 1 Tim. 2:3-7, "Jesus. Period," Sanders said, is putting the focus on the Lord, who is the center of the Christian faith.
"We want to apply Jesus in our everyday space, letting Him be involved in our lives, and then sharing Him with others," Sanders said.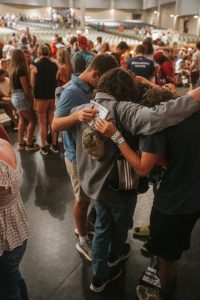 The theme is already being promoted by many students across the state. Sanders said they are applying stickers of the "Jesus. Period" theme on Bibles, in classrooms and on cars. Even some athletes are promoting the theme through eye-black while competing on baseball and softball fields.
This unique promotion is already bearing fruit. A youth minister asked a young person if they would like to go to Falls Creek this summer. Not only was the young person interested in going, they also made a profession of faith in Christ.
New features at camp this year include new topics for breakout sessions. Campers will be able to attend breakouts that cover loneliness, self-worth and identity, disciple-making, student leadership, as well as regular topics that campers enjoy, such as apologetics.
As far as new recreation activities, curling, pickleball, five-on-five soccer tournament, flag football and three-on-three basketball tournament will be added to the regular camp offerings.
Missions mobilization will once again be an emphasis at camp, connecting students with sending opportunities. This focus will now be featured at the pavilion, allowing for more campers to be involved. The Mission Center also will provide opportunities to connect students with mission work.
With the emphasis being on Jesus this summer, Falls Creek will continue providing the opportunity to advance the Gospel, offering the invitation to all young people to attend camp.
"As Oklahoma Baptists we need to continue to see Falls Creek as a welcoming and safe avenue to make a serious impact with the Gospel," Sanders said. "There is plenty of room for more churches to be involved and for more kids who need to come this summer."
For more on Falls Creek Youth Camp, follow @okbaptistyouth on Instagram, Twitter and Facebook or visit oklahomabaptists.org/youthcamp.