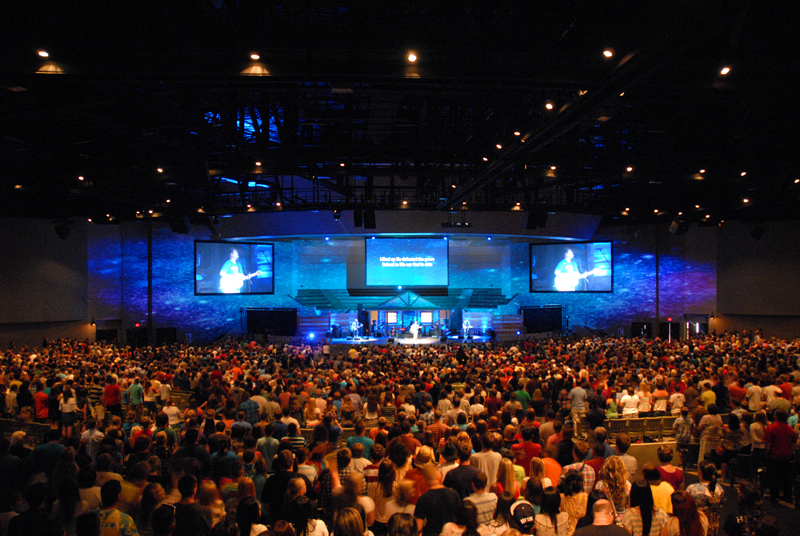 Oklahoma Baptists will be the first to tell you we have best camp experiences in the country. Falls Creek and CrossTimbers Children's Mission Adventure Camp lead the way to students and children making decisions that affect the rest of their lives and eternity, and summer 2012 is shaping up to be no different.
A record-number crowd is anticipated for Falls Creek, which has a focus this year on spiritual discipline and prayer.
"Our theme verse is Jeremiah 33:3," said Andy Harrison, program director for Falls Creek. "The Scripture says, 'Call to me and I will answer you and tell you great and unsearchable things you do not know.' The things mentioned in this verse which we 'do not know' are Undiscovered Territory that God will reveal, only as we pray. Visually our theme has the feel of the old west, and we use a western short film we have produced called 'Lone Pass' to teach the students the principles found in Jeremiah 33:3."
Each of the film segments and the entire teaching curriculum tie into the theme, according to Harrison. The evening session speakers as well will tie into the theme. The first three week's speakers at Falls Creek are Clayton King, Kevin Boles and Scott Pace.
At the time of this writing, decisions from students are already beginning to be seen. "We have asked people to pray for Falls Creek in unprecedented ways," said Harrison. "Because of this, we are hopeful that the Lord will bring about an amazing number of changed lives and decisions this summer."
Falls Creek participation is not limited only to attendees in Davis, the site of Falls Creek. Excitement surrounding the summer programs and camps was also found online. On Twitter, the popular social media site, Ethan Cunningham said "I go to Falls Creek every year because I love going to get close to God every year and to see old friends I haven't seen from my old churches." Shannon Higgs tweeted, "I'm going to Falls Creek this summer, and I cannot wait to learn more about God and His Word and have fun."
One student said on Facebook, "Going to Falls Creek the 11th! Can't wait. My first time!" A Twitter user said he had "goose bumps" on his arms when the first song came on at Falls Creek week one. Live video coverage of the evening sessions is available at skopos.org/livestream.
CrossTimbers Children's Mission Adventure Camp also is already making a huge impact. CrossTimbers (formerly known as Camp Hudgens) is situated in the Sans Bois Mountains and overlooks Lake McAlester near McAlester, and is meant for 3rd-6th grade boys and girls.
According to Mark Jones, BGCO childhood ministry specialist and camp director for CrossTimbers, the camp is designed to reach lost children and to raise up a generation of kids with an authentic walk with God and who actively serve others with missional living.
Through a wide range of activities, campers learn biblical principles for worship, missions, evangelism and life.
"They strengthen their relationships with God, family and others, all in a fun and safe environment," said Jones.
"A particularly powerful moment happened today (June 5)," said Jones. "During our chapel service, we raised a new cross at CrossTimbers, as the storms on May 31 broke the old one.
"As the cross was raised, camp pastor for the week Ray Griffin (of Oklahoma City, Quail Springs) read aloud the crucifixion account," added Jones. "It was emotional as the kids watched.
"God is blessing beyond what we could have ever asked or hoped," said Jones. "In the first weeks of camp, we have seen more decisions for Christ (especially salvations) than we expected. God is so good!"
The unseen power of the camp experiences at Falls Creek and CrossTimbers is prayer, according to Anthony L. Jordan, BGCO executive director-treasurer.
"Prayer has been and will remain the unseen dynamic of the Falls Creek experience," he said. "There is power in the thousands of individuals who focus prayer on the youth who attend as well as those who lead. In the end, all the preparation in the world will not produce what only God can do in the hearts of those who attend."
The summer's first two invitations at Falls Creek netted 450 professions of faith out of an attendance of 5,281 students from 128 churches. The first two weeks of CrossTimbers was attended by 423 campers with 66 making professions of faith.
For information on how to pray for the students and children, visit bgco.org.