As the 2010 SBC Conference continues and Baptist Leaders act on the proposals from the GCR Task Force, I hope we frame it in the reality that there are untold millions (perhaps billions) dying without the good news of Jesus and there are  those who are dying for the good news of Jesus.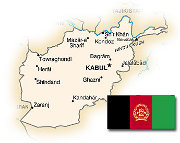 Here is a reminder from Afghanistan that demonstrates the seriousness of what we are about in getting the gospel to every nation as commanded by our Lord. We have brothers and sisters who are dying for the gospel. Are we making decisions about the GCR and all of life in a way that gets the gospel to the ends of the earth for God's glory and our joy? I hope that every person at the conference in Orlando is praying hard about doing whatever we need to do as a denomination to get the gospel to the untold lost. Even if it comes at our own expense. It is certainly coming at the expense of others. Here's part of the story and the link to the rest:
Afghanistan (MNN) ― Open Doors says various news agencies report that a member of the Afghan government has called for the public execution of Christian converts from Islam.
This is in response to a video broadcast on the Afghan television network which showed footage of Christian men being baptized and praying. Hundreds of students in northern Afghanistan burned an effigy of the pope while protesting against the alleged proselytizing by two Christian aid groups. Read the rest of the story.