by Tom Rust, Host of the radio program, Face to Face, which focuses on Christian athletes. Used by permission.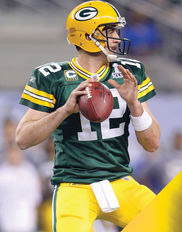 On Feb. 6, 2011, Aaron Rodgers led the Green Bay Packers to their first National Football League (NFL) championship in 14 years. The Packers defeated the Pittsburgh Steelers, 31-22, and reclaimed the Vince Lombardi Trophy, which was named after the former Green Bay coach.
Rodgers was selected the Most Valuable Player for his spectacular play and consistent leadership during  this game.
FOOTBALL
After Pleasant Valley High School in Chico, Rodgers played for Butte Community College in Oroville, Calif. He led the team to a 10-1 record and a number 2 national ranking. After one year, he signed to play for the University of California, leading them to a number 5 national ranking in 2004.
In the 2005 NFL draft, the Packers made him their number one pick overall. His uncanny ability to find receivers and get the ball to them has made him the NFL all-time career  leader in passer rating at 98.4
It hasn't been an easy road for Rodgers. After three years as a backup quarterback, he was called on to take the place of legendary Brett Favre, who had been the starting quarterback for the Pack since 1992. His steady play was largely overshadowed by Favre's "unretirement" and subsequent trade to the New York Jets.
FAMILY
Aaron and his two brothers grew up in a Christian home in Chico, Calif. His parents, Ed and Darla Rodgers, were a great influence in their lives. Rodgers says, "I grew up knowing what a stable relationship was by my parents' example, and how it centered on Christ." He went on to say, "When our family had its ups and downs, I knew my parents relied on God for everything, and He always got us through the rough spots."
FAITH
Until he was 17, Aaron says he went to church because his parents went to church. But about this time, he began to make some choices with his buddies that were not right. It was then that he rededicated his life to the Lord.
"Ever since then," he says, "I fall on my face and get back up, get on my knees and confess, and keep on trying to live for Jesus."
Aaron says, "I try to live my life in a way that reflects the Lord. I use that as a model as I relate to my friends and family, teammates and coaches. I want them to see that I really love and care for them as individuals. I try to build relationships. This is what I like about Jesus. Jesus is about relationships."