Recently, my wife and I took a much-needed vacation. It was a short one, just five days, but we loved the rest and the time away. Flying back into Tulsa, we were excited, because we knew Titus the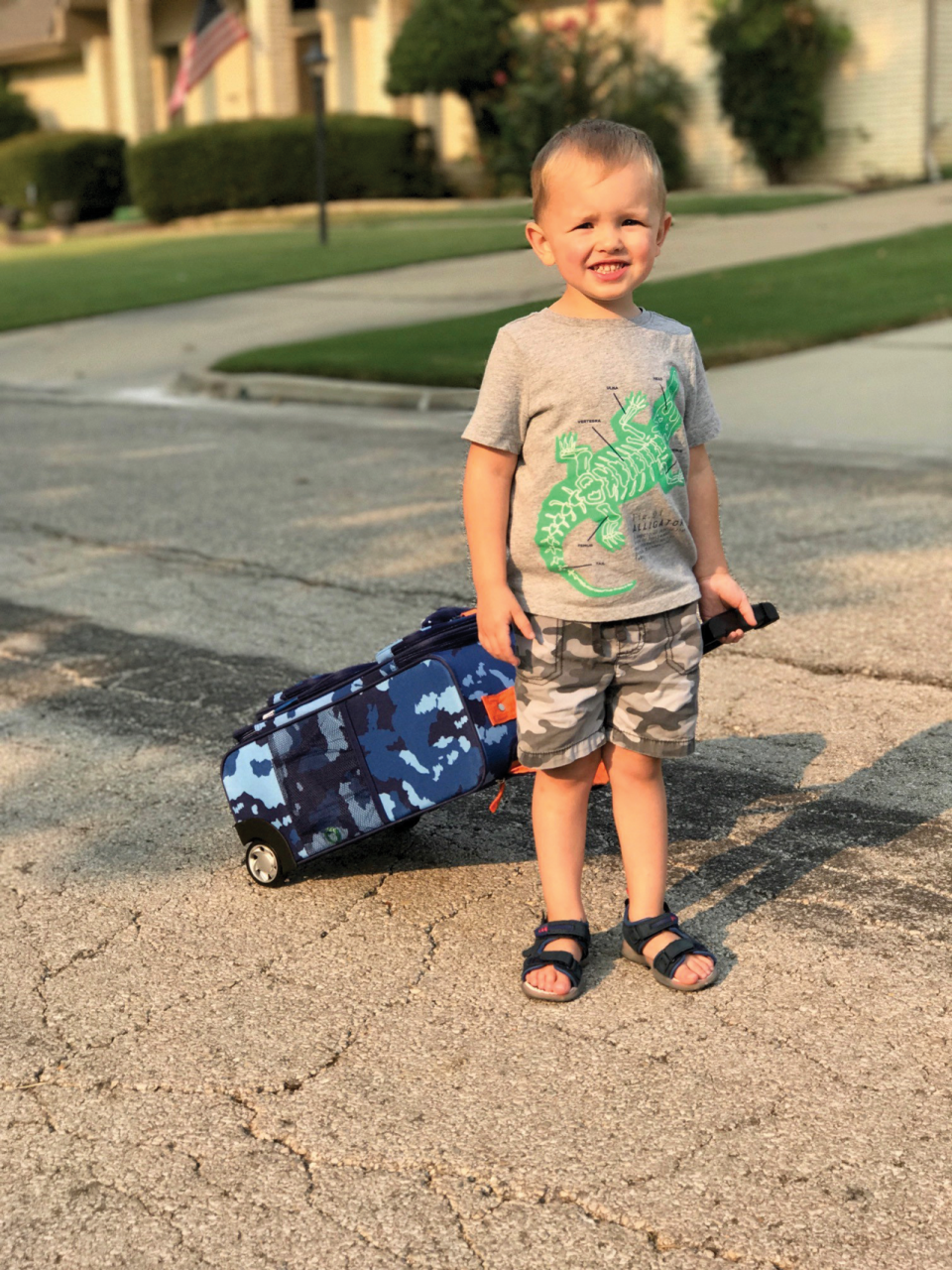 Honorable and Cohen the Goodhearted would be there to greet us. Nothing says "Welcome home" like two little boys yelling your name as soon as they see you.
As we came out of airport security, Titus spotted me and yelled "Poppy!" Then he ran to give Grammy a big hug. Smart kid. While we were waiting for our luggage to arrive, I pointed to our carry-on suitcase and whispered, "I have a surprise for you."
"What is it, Poppy?"
"I can't tell you; you'll have to wait until we get home."
He kept staring at the suitcase, which I thought was a little weird. When we got home, we opened the suitcase and gave him and Cohen their presents. He was about excited as someone who just received a letter from the IRS. He mumbled "thank you" and walked off. My wife, who is much more perceptive than I am, pulled me to the side and said, "He thought the suitcase was his present."
Now why would a kid who has just turned 4 years old want a suitcase? I found out that he and his family are planning a short vacation to Branson, Mo. They are going to stay at a hotel that has a water park inside. In fact, Titus thinks every hotel has a water park inside. While his family was getting ready, he informed them that he needed his own suitcase to put his clothes and toys in. He has his own backpack, his own sleeping bag and his own water bottle, so why wouldn't he come to the logical conclusion that he needed his own suitcase?
Later that day, we got a call from his mom, asking if they could borrow one small suitcase. Of course, Grammy being Grammy (she has the spirit of compassion and is the only one who knows the password for the ATM), she suggested we buy one instead.
So Grammy took off on a mission. Watch out, Navy SEALs and Army Rangers. When Grammy goes on a mission, nothing gets in her way. Several hours later, she returned with a child-sized, blue camouflage suitcase.
When Titus entered the house, he spotted it right away. "Whose is this, Grammy?" he asked with a big grin. He knew the answer before she responded.
"It's yours. Grammy got it for you."
"For me?""
"Yes, for you."
Maybe you know the old saying, "A young boy and his suitcase will never part." Well, maybe it isn't that old, but for the rest of the evening, Titus the Honorable dragged that thing all over the house. Up the stairs, down the stairs, "bumpety bump" we heard as the wheels clattered against the steps. I had to sit down and listen to his lecture on the purpose of each pocket and watch his demonstration about how the zipper worked. Then he began to dream about the adventures he and his suitcase would have.
"Poppy, when I come back over, I will bring my suitcase, and you and me can go hiking. When we catch a snake, we can put it in my suitcase."
Then it dawned upon me. It wasn't about the suitcase; it was about the adventure: preparing for the adventure, going on the adventure and using the suitcase to hold anything we caught on our adventure. In his little mind, that suitcase opened a whole new world.
And I dreamed right along with him. I carry mountain-climbing carabiners on my backpack. I don't travel without them. I have used them to thread through my belt loops when my belt broke. I have used them to hang my water bottle from the seat in front of me in an airplane. There's always another reason you need a carabiner.
I looked at the miniature suitcase. "Titus, you are missing something."
"What's that, Poppy?"
I reached over to my backpack, unhooked one of my carabiners and snapped it onto his suitcase. The look on his face was priceless. "Poppy, now I have everything I need to go on an adventure."
Yes, young Titus the Honorable, you can look at life one of two ways. Jesus taught me this. You can see the fields, or you can see the fields white unto harvest. "Don't you have a saying, 'It's still four months until harvest'? I tell you, open your eyes and look at the fields! They are ripe for harvest" (John 4:35).
When you see life through Jesus' eyes, it is always an adventure. And you'll need a suitcase every time.