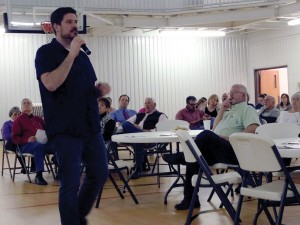 Starting with a goal of connecting, sharing a vision and passion for connecting people to the Gospel through small groups and Sunday School, members of the Baptist General Convention of Oklahoma (BGCO) ReConnect Sunday School team are traveling across Oklahoma this spring.
With the specific aim of starting new groups, team members Bob Mayfield, Tim Gentry, Todd Sanders, and Brett Selby are sharing the Great Commission strategy of small groups in associations and churches.
The team started the Road Trip on March 11 with a packed house in Washington-Osage Association at Bartlesville, Eastern Heights. To date, 221 churches have committed to start 655 new groups this year as part of Oklahoma's START Campaign.
The START Campaign has four elements that are essential to involving the church membership in disciplemaking by engaging lost and unchurched friends with the Gospel. Dates are suggested for each of the four elements because once something is calendared it is more likely to happen. Churches are encouraged to adapt the plan to fit their unique context. The START Campaign is 10 weeks in length and includes the following elements:
1. Start a new group (Sept. 7)
Start as many groups as possible, but start at least one. New groups provide new social circles for people to attach to and also involve more church members in leadership. Also, on average a new group will engage three lost people with the Gospel.
2. 10-week outreach burst
(Sept. 7 – Nov. 8)
Many churches abandoned weekly outreach due to the long-term commitment of weekly outreach and lack of people to visit. However, many people will commit to a shorter, 10-week outreach burst and most churches have enough guests in worship and Sunday School to follow-up. In addition, an outreach ministry provides an ingredient many churches lack; an opportunity to develop soulwinners through mentoring and experience.
3. Soulwinning Commitment Day
(Oct. 5)
On Soulwinning Commitment Day, church members will commit to pray for three lost friends during the month of October. In addition, a Gospel-presentation Bible study is available through the BGCO to help equip and prepare church members for soul winning.
4. Connection Day (Nov. 2)
Connection Day is an effort by the church's small group organization to involve as many members, lost people, and the unchurched in small group Bible study as possible. Groups are encouraged to contact and invite lost friends they have prayed for over the past four weeks to join them for Bible study and worship.
For more information about the START Campaign and ReConnect Sunday School, visit the webpage at www.bgco.org/sundayschool or call 405/942-3000, ext. 4656.
Road Trip Dates
 Tuesday, April 22 – Sans Bois Association
Thursday, April 24 – Cherokee Strip Association
Monday, April 28 – Panhandle Association
Wednesday, May 7 – Tulsa Metro Association