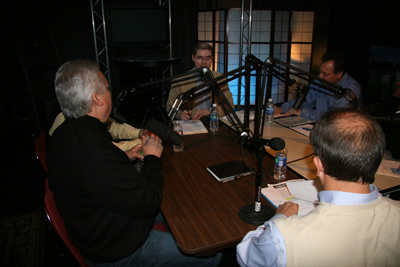 Tiger Woods, Elliot Spitzer, David Patterson, and Charlie Rangel – all men involved in public scandal showing evidence of private compromises and sins long before the pubic humiliation and exposure became apparent. Hearing these men speak about their lives is like observing a meltdown in the very fabric of the nation in ways which boggle the mind.
Yet, research points to the fact that for every public scandal there are hundreds – perhaps thousands – of far less public divorces, affairs, scandals, and breaches of integrity where men find themselves caught in a web of deceit and despair unable to free themselves from destructive patterns of behavior and even addictions which are crippling homes and corrupting children – even – perhaps especially – in the church.
What can be done? Study after study seems to point to the problem with men. What is the solution? Where and how can emotional and spiritual healing take place? How can personal sin be confronted in a way that would help open the path for repentance? How can men become honest and vulnerable enough to embrace the truth of Holy Scripture that Jesus is able to help them at the very point of brokenness, confusion, and despair?
Panel Discussion with:
Dr. Tom Elliff – former Senior Pastor of the First Southern Baptist Church In Del City, OK – past president of the Southern Baptist Convention who led the SBC to focus on family ministry during his term as Convention president, and now best-selling author with his latest book – The Broken Curse – which speaks of ways to remove the effects of hateful and harmful words which wound the heart and move toward wholeness in Christ.
Dr. Michael Catt – the Senior Pastor of the Sherwood Baptist Church in Albany, GA whose vision helped launch a series of award-winning movies – most notably Fireproof – which led the way and helped launch a nationwide initiative through the Love Dare book where marriages were challenged to an intentional outreach each to the other in order to strengthen marriages. He is author of Fireproof Your Life; The Power of Persistence; The Power of Surrender; and The Power of Desperation.
Carey Casey – the CEO of the National Center for Fathering who serves on the White House Task Force on Fatherhood and Healthy Families. He is author of Championship Fathering and was a member of the now famous football team in Alexandria, VA dramatized in the movie Remember the Titans. He is a graduate of the University of North Carolina – Chapel Hill where he played as a running back and helped lead his team to a 1977 ACC Championship.
Dr. Paul David Freed – a former Vice-President of Promise Keepers and expert in men's ministry – author of the Marriage Makers and Reaching Muslims for Christ, and Founder and President of Mighty Men of God. He travels the world helping men grow in their roles as friends, fathers, husbands, and sons.
Michael Jestes –the Executive Director of the Oklahoma Family Policy Council – a non-partisan and education organization headquartered in Oklahoma City – specializing in family policy and areas of public policy directly impacting the home and families in the state of Oklahoma.
Keith Burkhart –Family and Men's Ministry Specialist for the Baptist General Convention of Oklahoma.
Part I
Words and their power to wound; The power of words in the life of a man; Trials and the power for personal change; Teaching men to "push through to God;" Growing a personal prayer life; Marriage and its crisis with men; The Fatherhood Crisis; Family and its priority for men; Men and loss; The power of failure; Man to man – the power of friendship.
[audio:https://cdn.baptistmessenger.com/2017/04/05124057/Mens-Retreat-part-1.mp3]
To download, right click and select "Save Link As"
Part II
What is love?; The power of a role model; Loving, coaching, modeling; The power of acceptance; The crisis of men's ministry in the church; Churches get it wrong – men matter; Men training men; Mentoring; Preparing churches to impact men; Men and Christian discipleship.
[audio:https://cdn.baptistmessenger.com/2017/04/05124051/Mens-Retreat-part-2.mp3]
To download, right click and select "Save Link As"
Podcast: Play in new window | Download (37.3MB)
Subscribe: Apple Podcasts | Google Podcasts | Spotify | Stitcher | TuneIn | More