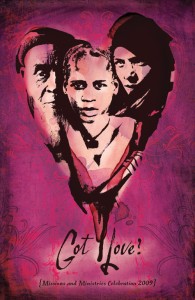 Oklahoma City, Glorieta, 7308 S. Western, will host the Missions and Ministries Celebration 2009 before sessions of the annual meeting of the Baptist General Convention of Oklahoma begin.
While convention sessions will be held at Moore, First beginning the evening of Nov. 9 and continuing through the next day, the celebration, sponsored by the BGCO women's missions and ministries office, will be conducted at the south Oklahoma City church from 1:30-4:30 p.m. on Monday, Nov. 9.
With the theme "Got Love," the program will feature three speakers and the Native American Praise Choir.
Featured speaker will be Charles Fielding (not his real name) who has worked in South Asia as a church planter among a large unreached Muslim population since 1995. Fielding cofounded the Medical Mission Response independent missions organization that mobilizes medical and dental teams to work alongside missionaries among the least accessed people groups. Fielding is the author of Preach and Heal.
Also speaking will be Daniel Goombi and Pat Wagstaff.
Goombi, a full-blooded Native American, is a member of the Kiowa-Apache Indian tribe—originally nomads who left Canada to settle in Oklahoma. He and his wife, Kimberly, serve as directors of Kansas Reservation Ministries sharing the Gospel with the Kickapoo, the Sac and Fox, the Iowa and the Prairie Band Potawatomi in Kansas.
Wagstaff, a member of Maysville, First, is completing her second term as Oklahoma state president for Woman's Missionary Union. This summer, she participated in MissionFest in Natchez, Miss., and has gone on short-term mission trips to Malawi, Africa. In addition to her duties as WMU president, she serves as recording secretary for the BGCO and on the nominating committee for the Southern Baptist Convention.
Wagstaff has been instrumental in developing WMU among Native Americans in Oklahoma.
The Native American Praise Choir is celebrating its 10th anniversary. The choir is comprised of members representing several Native American tribes in Oklahoma. They perform in English as well as some of the Native American languages.
Meetings connected with the celebration include Baptist Nursing Fellowship, Missionary Parent Fellowship and Missionary Appreciation Banquet.
"Healthcare Missions in the 21st Century" will be the theme for the nurses meeting at Glorieta from 10:30-11:30 a.m. on Monday. Speaker will be Fred Loper, a medical doctor and North American Mission Board missionary, who will discuss the need for free medical and dental clinics. For more information, contact Patsy Sanders at patsykaysanders@juno.com.
The Missionary Parent Fellowship for parents of IMB career missionaries, journeymen or International Service Corp, will be Monday at noon in the Junior High room at Moore, First, 301 N.E. 27. For information and reservations, contact Melanie Schantz at 405/607-6070, e-mail melschantz@hotmail.com.
The Missionary Appreciation Dinner will be Monday from 5-6:15 p.m. in the Senior High room at Moore, First.
Tickets are $15. There is no charge for current and emeritus IMB personnel, but reservations are required.
Contact the Women's Missions and Ministries Office at 405/942-3000, ext.4318, or e-mail kweir@bgco.org.