Greetings!
Great weather this week. Of course, no rain in the forecast. Do you know why? The State Fair has been cancelled.
Here's six timely topics for you. Thanks for reading!
Praying to end COVID-19 on Sept. 19
This is the second month I will observe my commitment to pray and ask God to end COVID-19. In the 19th hour (7-8 p.m.) on the 19th of every month, I will seek God's favor that He may remove this horrible disease that has hindered all of our lives and has caused numerous deaths.
I ask you to join me. If you are able to join me in person, I will be at Quail Springs Baptist Church in Oklahoma City. The north entrance will be open from 6:45 p.m. to 7:15 p.m. on Saturday, Sept. 19, and the prayer time will be observed in room 1321. Email me at cdoyle@oklahomabaptists.org if you would like more information.
If you can't meet me in person, join me where you are, and commit the whole 19th hour to praying to end COVID-19. I will be doing this every month until the virus has been cured and is no longer a worldwide threat.
We are Hope!
Hope Pregnancy Center (HPC) is having a virtual event that might interest you. On Sunday, Sept. 20 at 4 p.m., "We Are Hope" will be broadcasted across the state. Here's information that tells you how to tune in: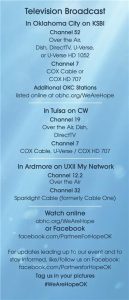 This is a great ministry that helps women and men who experience a pregnancy of which they feel they are unprepared. Of course, God is the Author of life and always has plans for each and every life. HPC is available to support everyone who faces such a pregnancy, as well as helping those who can find forgiveness from past abortion.
We Are Hope is a 30-minute broadcast that will feature HPC clients, sharing their stories and gaining confidence to parent their child. There also will be clients who experienced an abortion and how HPC has helped them find forgiveness.
Burk on Systemic Racism
Denny Burk is a great blogger. He is a professor at Boyce College and has an excellent perspective on many social issues.
This week, he blogged "Is 'Systemic Racism' a Useful Category for Christians to Use."
Burk gives great clarity to this popular philosophy and advisement on how those with a Christian worldview should address. The best part of his article is analyzing the difference between "systematic" and "systemic."
It would be worth your time to read.
Are they really Evangelicals?
I discussed in last week's DHD, LifeWay Research conducting surveys of "Evangelicals" who demonstrated views that contradict them being evangelical.
I bring this issue up again because of two other articles. One is another article on a LifeWay survey and the other involves the parody website Babylon Bee.
Aaron Earls wrote another article about needing to disciple parents to see more faithful teens and young adults.
Once again, the survey Earls presents offers some confusing results, including "half of evangelical parents (53%) say it is important their teen marries someone who shares their faith." If faith is not important for 47 percent of "Evangelicals" in their child's choice of marriage, can these people really be considered evangelical?
Babylon Bee came out with a satiric report that made me laugh in agreement to its point: "Survey Finds 95% of Evangelicals Don't Believe In God, Jesus, Bible."
Thunder hire amateur scout
The Oklahoma City Thunder made an interesting hire this week. Corey Evans is a highly respected evaluator of high school and college basketball players whom Pete Thamel reported as a good hire for the Thunder.
"Thunder general manager Sam Presti's move to bring on Evans comes at a time when the evaluation of high school prospects is at a premium," Thamel wrote, "as a new pathway to professional basketball has been created through the NBA G League via high school."
I know this doesn't seem like a move that gets Thunder fans excited, but considering the fact that the Thunder have "13 first round pics in the next seven NBA drafts," this could be a smart move for the Thunder rebuild.
Patience, Thunder fans, patience!
DR sharing Christ and care
Oklahoma Baptist Disaster Relief (DR) continues to help people in Lake Charles, La., recover from Hurricane Laura. Don Williams, state DR director, sent me information this morning about DR volunteers helping a family.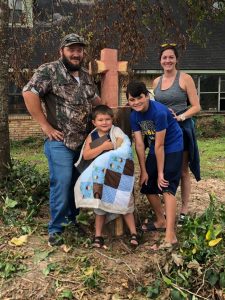 "Lake Charles, La., family pose for a picture in front of a red cedar cross," Williams said, "holding a quilt made by Campers on Mission and a Bible signed by members of the Oklahoma Baptist team who helped clear out numerous trees on their house."
Williams also reported, since Thursday, Sept. 17, 300 people have made professions of faith "because Southern Baptists were there to help!"
Check out another DR story about an OBU student who served with DR in her home area.