Greetings!
Thank you for reading this week's DHD! I also welcome your feedback.
Let's get to this week's six timely topics!
Zylstra and churches' reopening
I've shared in previous DHDs that I am a fan of Sarah Eekhoff Zylstra. I'm so much of a fan that I don't even have to check to make sure I've spelled her name correctly.
This week, she shared how five churches handled the reopening process last Sunday. Sarah did a lot of work to do this story, as she covered churches all over the country. I'm rather impressed!
Check out "Back to Church: How 5 Congregations Reopened Last Sunday," and see why she's one of my favorite writers. She's quite unique, as there are not many national writers who cover evangelical work like she does.
NBA & the Thunder return
It's official! The NBA is restarting the season next month. It's not a complete restart, as only 22 of the 30 NBA team will be competing, but thankfully, the Oklahoma City Thunder will be one of the 22.
If you haven't heard, all the games will be played in Orlando, in order to maintain healthy precautions amid COVID-19. I am curious to see how the Thunder perform. In some ways, this five-month pause could have a funny effect on teams.
The Thunder were at a good place when the season was suspended. They had won three in a row (eight of last 10) and were coming off a clutch win at Boston. Also, they were ranked fifth in the Western Conference, a game behind Utah, the team they were moments away from facing before everything came to a halt. Denver was not too far ahead with a 2.5-game lead on the Thunder for third place.
I'm not saying the Thunder were looking to be the ultimate world beaters (Lakers and Clippers are looking too strong, same with Milwaukee in the East), but consider where the Thunder started the season. They were expected to be rebuilding, and actually, they are rebuilding, since they lost the majority of key players and offensive production from the previous season.
Nobody, including me, expected Chris Paul to have the season he is having with Thunder. I never expected this team to gel like it has. I don't know how they will look in the restart, but if they keep up where they left off, I like the possibilities.
Falls Creek Road Show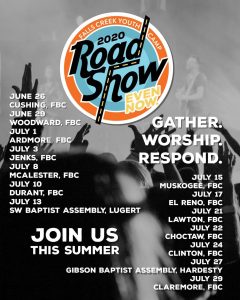 No camp happening at Falls Creek this summer, but Oklahoma Baptists are not putting the season in mothballs. Todd Sanders, Falls Creek program director, and his youth ministry crew are coming up with some exciting alternatives. They are taking camp on the road.
In 14 different locations across Oklahoma, a mini-version of the Falls Creek experience will be happening this summer. More details will be shared; some will be featured in next week's Baptist Messenger.
Stay tuned!
Too conservative to stay silent
I'm a fan of David Prince. I remember he gave a great review and background information involving the Jackie Robinson movie 42. You can read it here.
He also came out with a great op-ed piece this week titled "I'm too conservative to stay silent on racial injustices."
Prince and I are eye-to-eye on the topic. As a conservative evangelical Christian, I hope you feel the same. Everybody is speaking out with the atrocity involving the death of George Floyd, and I hope you have the same righteous anger when it comes to abortion. They go hand-in-hand.
I hope you will read Prince's column and will be just as convicted about both horrible injustices, as both—racial injustice and abortion—are against the sanctity of human life.
Stetzer and the President's Bible pose
Many people are upset with President Trump's photo op and the story behind him posing in front of St. John's Church.
I confess, it seemed silly to me more than it was offensive. The President has not appeared to be the most genuine when it comes to handling or referring to the Bible. I remember during the 2016 campaign, he referred to the New Testament epistle as "Two Corinthians" instead of "Second Corinthians."
However, it appears I am in the minority. Many friends and people I respect have taken the president's action to be insulting, and even a political prop, especially since it has been reported that demonstrators were cleared by using tear gas and smoke bombs, for the president to make his pose.
I do respect Ed Stetzer, and I appreciate his response in his article "The Bible Is Not a Prop: In Fact, We Need It Right Now." Here's the section from Stetzer's article I appreciate the most:
"In the past I have voiced my support when I have seen this president's administration do good things. I have worked with the administration toward their good efforts on opioid abuse and mental health.
"Moreover, I've prayed for President Trump regularly.
"But what Trump did on the steps of St. John's is what most pastors around the country remind their congregations not to do. The Bible will be as useful to you displayed on the fire mantle as it will when held aloft outside a church. Jesus himself warns against this in Matthew 6, cautioning to 'beware of practicing your righteousness before other people in order to be seen by them.'
"In other words, God is not pleased when we use the Bible as an ornament to be seen by others."
It is appropriate to hold the President in check and speak out when our nation's leader does something inappropriately. The way Stetzer did it, how he qualified his evaluation of the President, was done in excellent form.
Erickson and the President's pose
Continuing on President Trump's misuse of the Bible, conservative writer Erick Erickson tweeted out this message, "I don't get the sense that Trumps' walk to the church hurt him with the evangelicals who supported him in 2016. I get the sense his walk hurt him with the evangelicals who didn't support him in 2016, but decided they'd vote for him in 2020."
That's an interesting conclusion from Erickson. He has handled Trump's presidency fairly well. I appreciate the article he wrote titled "Can Someone Get This to the President? Please?"
If you've been a regular reader of DHD, you may know how I viewed the president when he was campaigning in 2016. Here's just one segment of how concerned I was about Trump actually being against abortion:
"As I have said before, I will not vote for any candidate in any election who does not value the sanctity of life. This is not the only important issue, but sanctity of life is THE number one important issue and should be for all Christian voters. Valuing the sanctity of life (at all stages of life) is the most obvious demonstration of honoring God, the Author of life. I am perplexed as to why more Christians don't share my ranking and desire to see an end to the horrible practice of abortion."
Now, let me put this all together. Donald Trump, when he ran for president in 2016, did not convince me that he would sincerely support the Sanctity of Life. I did not vote for him. Instead, I left the president portion of the ballot blank. I did not believe there was a presidential candidate in 2016 who valued life.
At this point, I now feel differently. The president has made many decisions I favor, including nominating Supreme Court judges who do value life. And these judges also have proven to support religious liberty, as both Gorsuch and Kavanaugh were against the recent ruling involving California's restrictions on worship gatherings.
With all that being said, so far, Trump has proven to make decisions I favor when it comes to both abortion and religious liberty. And these decisions seem to hold more weight than a brief photo pose.
In conclusion, I can respect somebody who will not vote for Trump, especially since that was my decision in 2016. However, I cannot respect anybody who would vote for somebody who will favor the abortion industry.
I welcome your feedback.