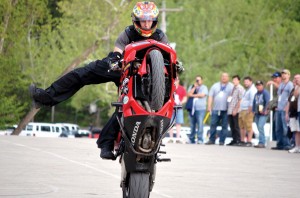 One popular topic from this year's Men's Rewired retreat was something that occurred during last year's retreat. Stunt rider Mike King drew a large crowd when he performed at Falls Creek Baptist Conference Center in 2013.
It was easy to understand how he could attract so many people, and his performance left quite the impact. Through his ministry, Kingdom Stunters, King performs for various church outreach events and school assemblies, and once he has their attention, the Gospel message is presented.
"I've had positive feedback," he said. "(People) appreciate the authenticity of how the Gospel is shared. In the past year, more than half of the events I have done have been with another outreach called Real Encounter. It's been a great experience. This is how we got in touch with 'America's Got Talent.'"
That's correct. King was not at this year's Men's Rewired because he was in California auditioning for NBC's "America's Got Talent" television show. At this time, it has not been announced how far King has made it through the audition process.
Brad Bennett is one of King's spiritual mentors and is president of Real Encounter ministries who has helped King and Kingdom Stunters expand their opportunities to perform and share the Gospel. Real Encounter, which includes various stunt performances with BMX bikes and motorcycles, has events scheduled throughout the United States and have performed in other countries, including Peru and Nicaragua.
Some of King's favorite experiences are going to a small town, where the majority of people will show up. He will perform at a school assembly during the day, and once the kids see him perform, they want their families to see King's show, too. So the families will show up for an evening event that usually is hosted by a church in town.
"It's a really neat ministry because you can go into a really small community and allow the local church to equip its members to disciple new believers," King said. "You can see more than half of the people in the community come to the event."
King said one of his future goals is to go to third world countries. He wants to reach out to people groups in places where they do not have paved roads and watch their reactions when he gets on a motorcycle—which they may have never seen—and do his performance.
For now, King will have to see if his stunt talents can draw more attention here in the United States. If he makes it on "America's Got Talent," his popularity will increase, allowing him more opportunities to share the Gospel.