I think that I am still processing from my recent trip to the Peruvian Amazon. The Bryan Baptist Association has adopted the Iquito people who live along the Chambira river, which is a tributary of the Amazon. I took a group of OBU students as part of a GO Trip specifically to build relationships and work with the people through chronological Bible storying.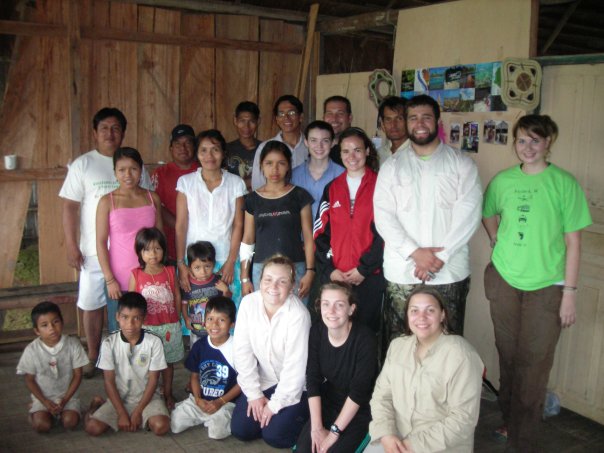 No amount of mental preparation, however, can prepare you for the reality of life in the jungle. We were expecting a camping-like environment and we brought food and supplies for our time there. What hit me particularly  hard was not the challenges that we faced, but the discovery of what life is like for these precious people. Everyday consists of hard work in difficult conditions. I spent one day carrying Balsa logs (each about 20 feet long) from deep in the jungle to the village. It was hot and humid. Once out of  the jungle we experienced the full intensity of the sun blazing in its midday strength. The terrain was muddy, uneven, and hilly.   There was no machinery, but only machetes and human strength. All of this was just to build a new hut.
Our bread, that we brought with us from the city, was completely covered in mold in about two days. The girls were going to throw it away, but the pastor's wife wanted it so she could feed it to her family.
I went hunting with the pastor. We did not hunt for recreation or to kill a trophy, but so he could have meat to feed his family. Not to mention, we spent a day hiking deep into the jungle, hacking through tons of vegetation, just to get to the spot where animals come to drink at night.
I helped the pastor burn a clearing so that they could plant more Yucca (a potato like root). I asked if he was farming to sell the crops and he looked at me like I was an idiot – "no it is for my family so we can eat."
We met every night for service under the subtle illumination of small kerosene lamps and flashlights. The church building was devoid of electricity (as was the entire village), carpeting, sound system or any of the modern accouterments that we think are indispensable for our churches.
The longer I was there the more I realized how different our two cultures were. We Americans thrive on convenience and disposability. We think nothing of throwing away our plastic cups, bottles, and bags. We drive to the local grocery store or Wal-Mart were we can purchase just about anything we could ever need or want. We often feel ashamed if we drive a vehicle that is more than 10 years old or wear the same clothes from a decade ago. Our churches have become sanctuaries that astounds the senses with the latest in interior design and technology. If we don't like our church, we can drive a mile down the road to another one.
I am not attempting to exalt jungle life by any stretch of the imagination. Nor do I wish to do away with all of our daily conveniences. My point is this: I think that because we are a culture of convenience it skews our understanding of Christianity. We take so much for granted and we think we are suffering if our electricity is out or if we don't have good cell phone reception.
For all of our technology, gadgets, and comforts, has it brought us any closer to Christ? Might I suggest that there is nothing convenient about following Christ?
He bids us to take up our crosses.
He says that the way to life is to die to self.
He said that if we are to follow him we must deny ourselves.
He warns that if we follow him we will be hated and persecuted.
To gain eternal life, we must be willing to lose all that we have.
He calls us to the poor and destitute.
He calls us to weep with those who suffer.
He even calls us to suffer.
I like all of my conveniences and comforts, but I find that they often distract me from the glory of knowing Christ, the fellowship of his suffering, and the conformity of his death.
Could it be that all of our conveniences have lulled us into a state of Spiritual slumber like the church in Sardis:
"To the angel of the church in Sardis write: These are the words of him who holds the seven spirits of God and the seven stars. I know your deeds; you have a reputation of being alive, but you are dead.   Wake up! Strengthen what remains and is about to die, for I have not found your deeds complete in the sight of my God." (Revelation 3:1-2)