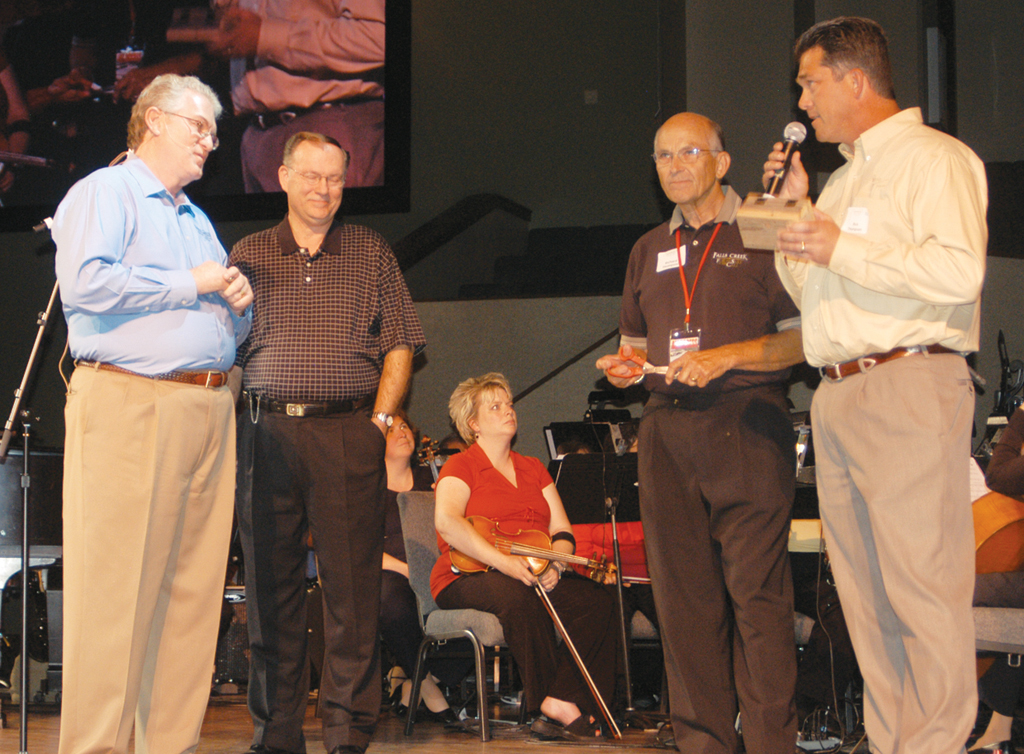 "Family, welcome home to Falls Creek," said James Lankford as he walked to the microphone to kick off the Falls Creek Tabernacle dedication program.
Lankford, BGCO student ministry and evangelism specialist, and emcee for the event, said the building was constructed to declare the glory of God from one generation to the next.
Leading the first corporate prayer in the new facility was Victor Cope, Indian Falls Creek director, who brought greetings from the 240 Indian congregations in the state.
Cope, who was called to the ministry at Falls Creek, said if it weren't for the founders of Falls Creek, "many just like me would never have been called into the ministry."
Scott Neighbors, music, church administration and education minister at Skiatook, First, and chairman of the Falls Creek Task Force, led a virtual tour of the Tabernacle, taking participants from outside the structure through the auditorium, counseling rooms and chapel via video and live narration. He quoted John Bisagno, frequent Falls Creek preacher, who said, "Give me 100 Falls Creeks, and I'll change the world."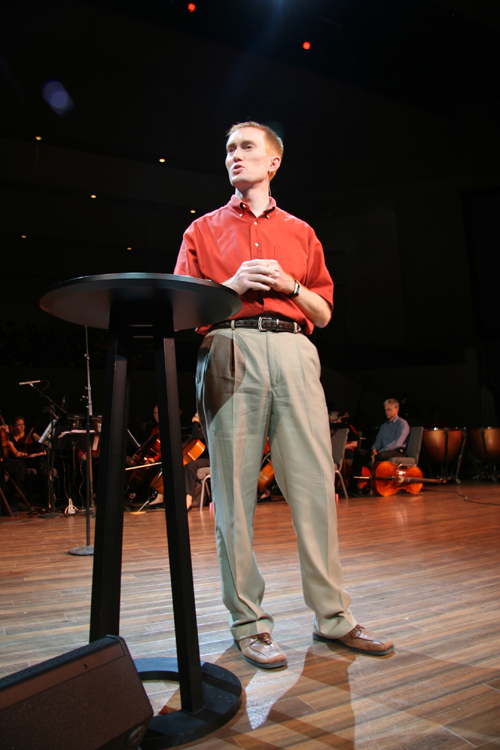 "There is only one Falls Creek," said Neighbors, "but what we are doing here will make it 100 times more effective."
Neighbors said the number of people donating to the Tabernacle construction is approaching 7,000, and that the purchase of seats has added $4 million to the campaign.
"These seats tell lots of stories," he said. "As we stand on the next mountain top, whose story do we need to tell?"
Former BGCO presidents, Wendell Lang, Bob Green and James Robinson led in prayers of dedication, including call to salvation, call to holiness and call to service. All three said Falls Creek has played a role in their lives.
Lang, who said he was not raised in a Christian home, prayed to receive Christ at Falls Creek, met his wife and asked her to marry him at Falls Creek, and their son, Lance, was saved at Falls Creek children's camp.
Green said Falls Creek was the place he began to search for God's will for his life.
And Robinson, who related that at Falls Creek, the Lord impressed upon his heart there was something he wanted him to do, said he snuck out of his cabin one night and went to an empty Tabernacle and preached his first sermon at Falls Creek.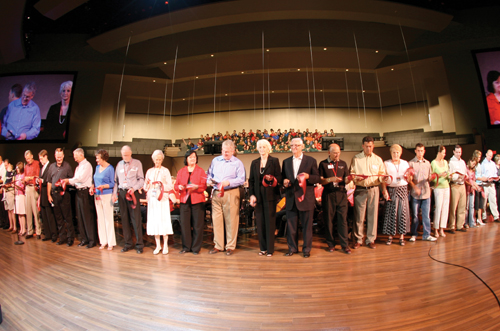 Bisagno, who was unable to be at the dedication, appeared on a brief video, talking about being saved.
"We use a lot of different words for it these days, but I got saved at Falls Creek," he said. "That may not be very good English, but it's great theology."
That statement was followed by long-time Falls Creek music director Bill Green leading the congregation in the old Falls Creek favorite, "Saved, Saved."
At a lunch earlier in the day, Jerry Rankin, president of the International Mission Board, commenting on the number of missionaries with Oklahoma ties serving around the world, said "I'm convinced we would not be the largest mission-sending organization in the world if it were not for Falls Creek."
Rankin said the significant legacy of Falls Creek is in a hymn, "Wherever He Leads, I'll Go."
"B.B. McKinney wrote that hymn at Falls Creek, and it bears the hymn tune name of Falls Creek," he noted. "People continue to sing that song, and God continues to call and thousands more will surrender as they sing that hymn at Falls Creek."
Dedication services were closed with those present singing "We Are Standing on Holy Ground."