When more animals than people show up at your evangelistic meetings, there must be something else going on.
And, indeed there is more, a lot more, with Thousand Hills Mission.
Thousand Hills is a ministry that delivers essential veterinary supplies, services and training to people of developing and third world countries.
"Our first purpose is evangelism," emphasized Mark McBride, president of the organization, and a member of Moore, First. "We make sure they hear the Gospel before we treat their animals."
McBride and Larry Quinton, associate minister of evangelism and missions at Moore, First, said there were 150 professions of faith recorded during their first mission trip to Nicaragua in 2003.
"The numbers have gone down some each year because it is a small area, and more and more of the people are hearing the Gospel," said Quinton.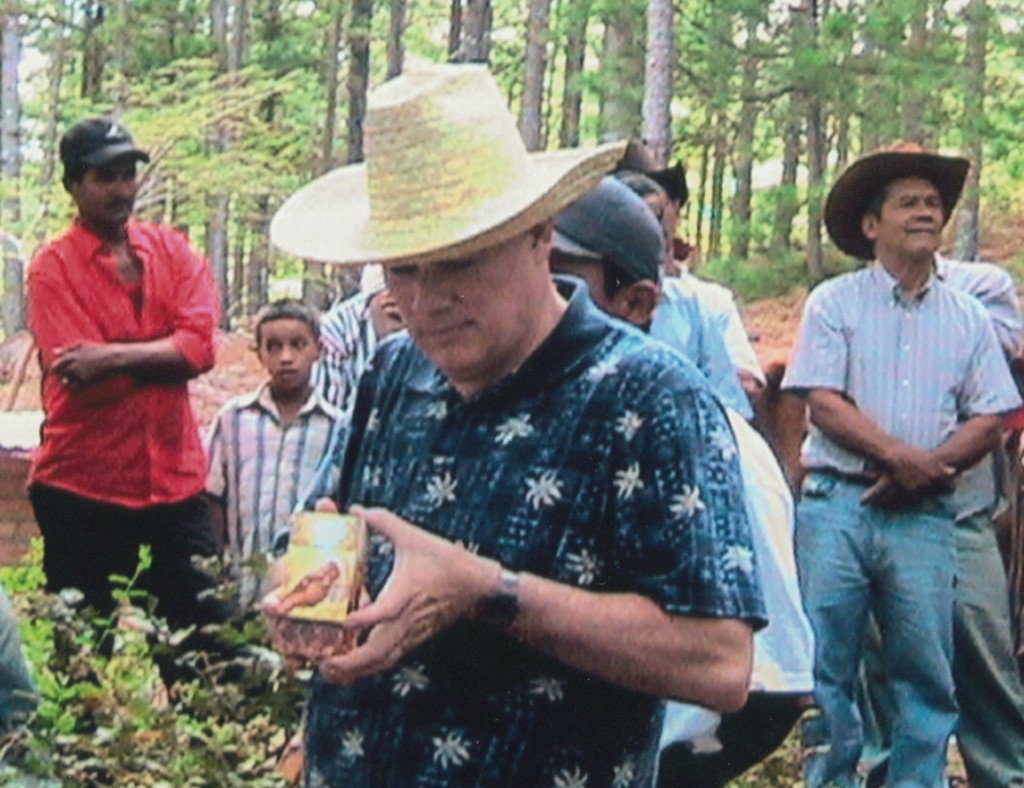 McBride said the area they minister to in Nicaragua is somewhere mission teams don't ordinarily go.
"There is no electricity, and the only way to get there is on mules," he said.
McBride said treating the farm animals helps open up the opportunity to share the Gospel.
"The economies of rural villages in developing nations are highly dependent upon small, family farms," he noted. "In these areas, animals and humans substitute for the heavy machinery we normally associate with farm operation. The reliance upon animals only increases the need for treating them with a care regimen other parts of the world consider fundamental."
McBride, who works in construction, but has been a farmer and rancher most of his life, started the mission with his wife, Alana, J.P. Fox and Gus Downing after his first trip to Nicaragua in 2003.
"We went with a medical team from our church, and we also vaccinated animals," he recalled. "On the way home, he and his wife discussed the possibility of a ministry that worked just with lifestock.
"In lands where there's an absolute dependence upon cattle, oxen, mules, horses, pigs, sheep, goats and chickens, necessary treatment for these animals-vaccinations, wound dressings, antifungal preparation-are not affordable or available," he said. "We bring veterinary and agricultural expertise, a teaching mentality and vital supplies so that the people may begin to care for their animals in a manner that is both vitally important and ultimately humane."
The mission teams work with local veterinarian Luz Luna, who Quinton led to the Lord during the first trip there.
Thousand Hills is planning a to construct a building where the people can have Bible studies and also where children can attend school. The building will be dedicated to McBride's 21-year-old son, Trevor, who was killed recently in an automobile accident.
McBride said they hope also to build a veterinary clinic and a small medical clinic in a area with a larger population that people can go to maybe twice a month to receive help.
In addition to about three trips a year into the Nicaraguan mountains, McBride also organizes a spring break trip for college students involved in Christian Veterinary Fellowship.
"We have taken groups from the University of Tennessee and Colorado State University, and are working now with a group from Oklahoma State University hoping to arrange a trip for them," McBride said.
McBride said the reason teams return to the same area is they want to develop relationship, not do hit-and-run missions.
"These people are farmers, ruffians, tough guys, my kind of people," said McBride. "They see Americans willing to get dirty with them, and realize we don't think we are better than they are. They know we've brought them goodies, but the best thing we've brought them is salvation."
McBride told of one man who lives at an intersection and has people of all faiths coming and telling him their way is right.
"They never come back," the man said. "But you came back."